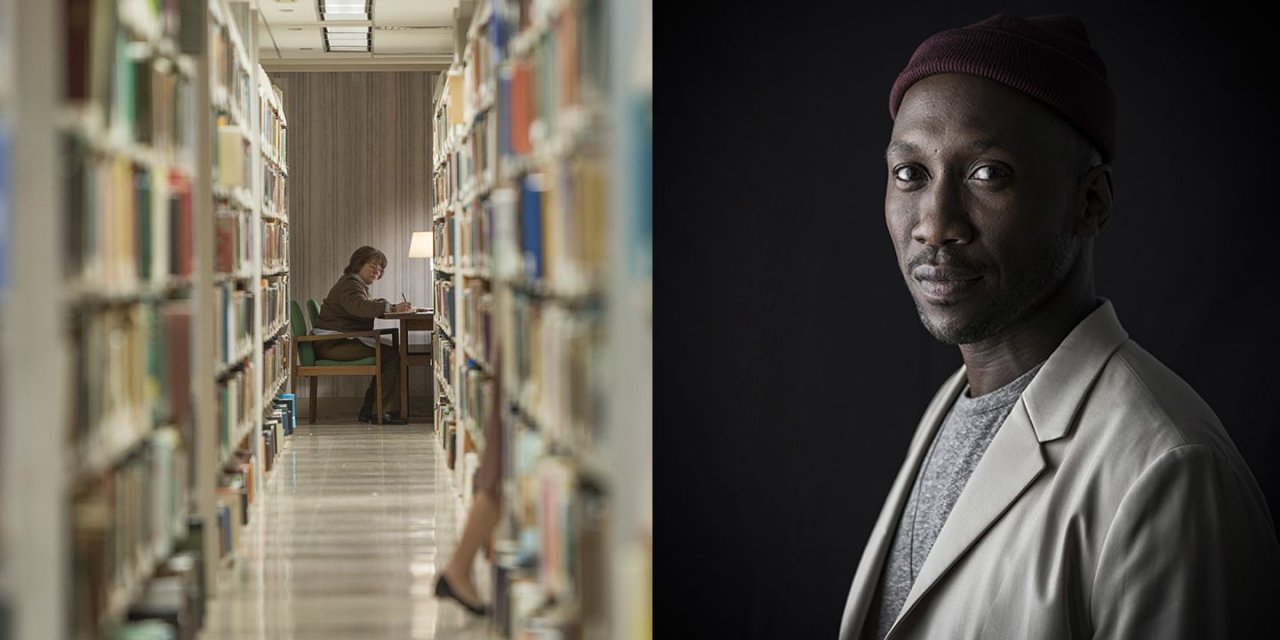 No good roles for minorities and women? This year put a significant dent in that maxim. Our list of the best performances is as diverse—in race, gender, age—as any in memory. In a fraught year, these artists provided catharsis, vicarious diversion and (this being entertainment) deep pleasure. You can find nearly all of the performances on streaming platforms or in theaters. The holidays are the perfect time to catch up—for amusement, naturally, but also to prepare for the awards season, an onslaught currently in progress. Without further ado, our 38 reasons to celebrate in 2018.
Melissa McCarthy, Can You Ever Forgive Me?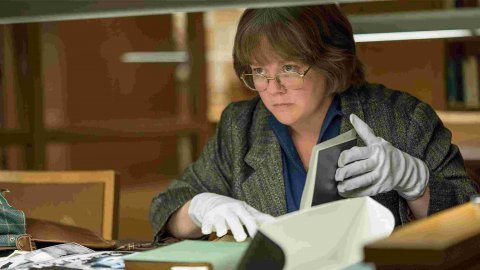 Yes, the actress known for comedy blockbusters like Spy and The Heat can do drama. And, yes, McCarthy is already sick of that narrative. "I find it very strange that we have to categorize," she says. "There's no difference in how I prepare, how I read a script or how I fall in love with the character." In this case, she fell for a real person: Lee Israel, an American author best known for forging and selling letters "written" by famous authors in the '90s. On paper, there's no reason to root for the rude, antisocial Israel as she dupes New York literary enthusiasts, yet, as played by McCarthy, you can't help it.
"Lee was a prickly pear, to say the least," says the actress. "But I don't know any human being who hasn't felt undervalued and lonely. I've played a lot of assertive women, but Lee's the first time I've played someone who cocoons within herself. It was a very different energy, to keep it in instead of out." Given the acclaim she's receiving (and with Oscar buzz building), let's hope she keeps it in again. —Anna Menta
Mahershala Ali, Green Book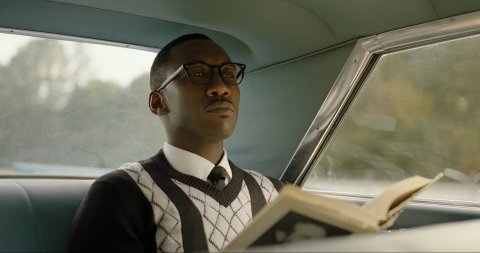 After winning an Oscar for Barry Jenkins's Moonlight in 2016, Ali was "searching for the project that spoke to me." He chose Green Book, the true story of Don Shirley, a celebrated Jamaican-American concert pianist who toured the Deep South in 1962 with an Italian-American driver, Tony Vallelonga (Viggo Mortensen). Vallelonga's son Nick, who co-wrote the screenplay, informed Mortensen's performance; Ali had only a documentary, Lost Bohemia. "Shirley appeared for a total of eight minutes," says the actor, "but I observed his rhythms, his gestures and how he articulated himself."
Ali has heard the criticism regarding the film—that it's a feel-good drama about racism created by white men (Peter Farrelly co-wrote and directed). "Whether the writer is white or black, I'm always open to play a complex black character," counters Ali. "It could always be deeper—it's not a Barry Jenkins movie. But I'm proud to introduce Don Shirley. I take my work extraordinary seriously, and this challenged me more than any other job." —AM
Julia Roberts & Stephan James, Homecoming (Amazon Prime)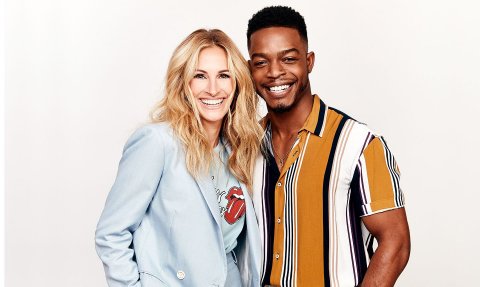 Both actors have delivered outstanding performances apart (Julia Roberts in the film Ben Is Back, Stephan James in If Beale Street Could Talk ), but their chemistry in Sam Esmail's Amazon mystery—adapted from a popular podcast—is notable: a poignant flirtation between a middle-aged white caseworker and her young, black military vet patient that felt uniquely post-racial. Roberts is aging into a more interesting actress—one who uses rather than overuses that blinding smile—and James is a powerhouse in the making. Here, they generate lonely warmth in Esmail's cold, sinister universe. —Mary Kaye Schilling
Sandra Oh & Jodie Comer, Killing Eve (BBC America)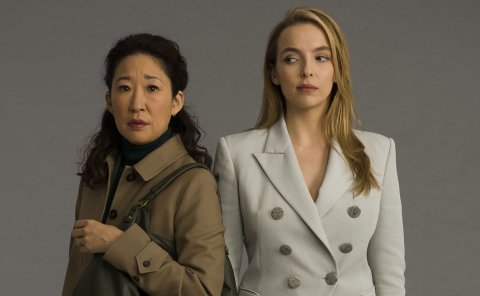 Thank British creator Phoebe Waller-Bridge for the most addictive TV show of the year, and for the oddest of couples: bored, desk-bound MI5 security officer Eve (Sandra Oh) and heartless Russian assassin Villanelle (Jodie Comer). Waller-Bridge has a way with highly sexed, scabrously funny female sociopaths (see Fleabag ), and she's hit pay dirt with Comer. The British actress creates a delicious confection: the predatory goofball, one with a taste for luxury and casual child cruelty. And Oh—she of the gymnastic eyebrows and dry verbal parry—is her perfect earthy foil. A married woman who finds her G-spot stalking a serial killer, Eve is at once repulsed and enchanted by her seductive prey. Or is she the prey? Season 2 can't come soon enough. —MKS
Jameela Jamil, The Good Place (NBC)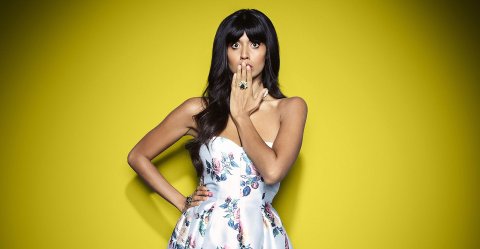 There isn't a weak link in Mike Schur's perfectly cast sitcom about the afterlife, but one of the show's particular pleasures is watching the face of Jamil's British socialite, Tahani al-Jamil. If her passive-aggressive insults and insufferable name-dropping weren't so hilarious, we'd happily watch an episode devoted to her silent reactions: imperious complacency, snooty repugnance and extreme bafflement. Her impeccable comic timing implied years of TV credits, but the 32-year-old, London-raised Jamil had never acted before casting director Allison Jones discovered her; her experience had been limited to hosting morning TV and radio shows. "I lied to Allison and said I had stage experience," says Jamil. "I was referring to my 9-year-old self playing Titania in A Midsummer Night's Dream."
In lieu of acting lessons, Jamil's strategy was to copy her co-star, sitcom savant Ted Danson, and do "absolutely everything he does," she says. "When we're running away from a sinkhole in [Season 1] Episode 5, I looked at Ted, saw what his face was doing and copied that." There are worse ways to learn. Jamil drew from real-life inspiration as well. "I used to DJ high-fashion parties and met a lot of Tahanis," she says. "There was one in particular, and she definitely knows because she unfriended me on Facebook." Taking a cue from Tahani, she adds, "I'm not sorry!" —AM
Read Newsweek's full interview with Jamil.
John Leguizamo, Latin History for Morons (Netflix)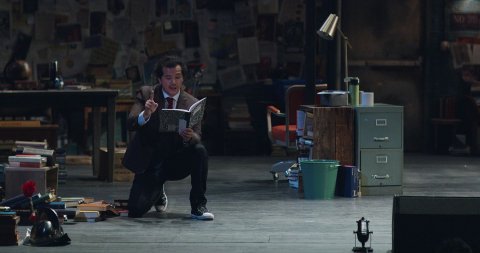 Because it's so refreshing to see American history told minus the white imperative. John Leguizamo, the feverish instructor behind these stringent and uproarious lessons, uses the conceit of helping his son prepare for a school assignment on Latin heroes. He soon realizes that, having been raised on U.S. textbooks, he's as clueless as his kid. And so begins a 90-minute tour de force exploration of not just Latin history but American identity, sprinkled with Leguizamo's priceless one-liners. His description of Spanish conquistadors among the Aztecs: "NBA players at a Kardashian pool party." —MKS
Christian Bale, Vice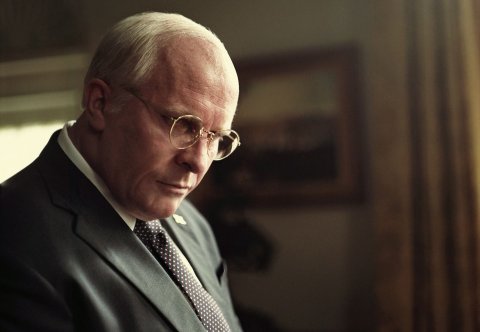 With its satirical grip on semi-recent tragedy, Adam McKay's balls-out follow-up to The Big Short is likely to divide critics as sharply as George W. Bush's administration divided the country, but Christian Bale won't regret saying yes to gaining 40 pounds and donning a bald cap to play Dick Cheney. The actor nails the former veep's physical mannerisms—the clenched jaw, the percussive grunt—and serves as an able interpreter of the staid D.C. lifer's relentless drive and puzzling rise to power. —Zach Schonfeld
Florian Munteanu, Creed II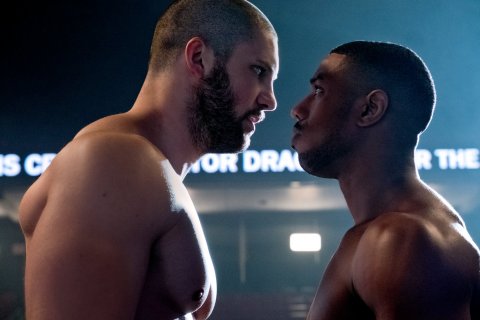 If the sequel to Creed is less haymaker than conventional jab, it's no fault of its star, Michael B. Jordan, who delivered his usual dazzle. But who was that other guy, the one playing Ivan Drago's son? Didn't he kind of steal his scenes? The character of Viktor, described as "born in hate," had to be a badass, and the first-time actor knows his way around a ring; Munteanu is a former heavyweight boxer. Possibly his nickname, Big Nasty, helped with casting. "I got that when I was 12," says Munteanu, "playing Ultimate Fighter on Xbox with friends. For some reason they picked that name for me." For some reason. The kid was already boxing, inspired by, yes, the Rocky films. The hardest part of the film was losing weight. "Michael is naturally smaller, and we wanted to make our physiques look as equal as we could," he says. "He was coming in at 190. To look super-shredded, I had to drop 25 pounds, to 225. I was hungry all the time." As for Jordan's skills, Munteanu was pleasantly surprised by the actor's natural athleticism: "Boxing is a tough game. You cannot play-box—you actually get punched. I was worried about Michael being a pussy, but he's a real man." —Janice Williams
Paul Dano, Wildlife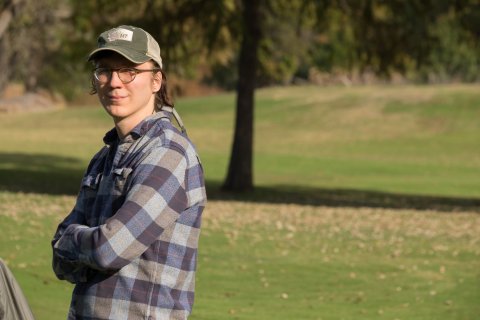 It was a big year for actors turned filmmakers: Bradley Cooper's A Star Is Born, Jonah Hill's Mid90s (both warmly received) and Paul Dano's acclaimed Wildlife, an anguished period piece co-written with his real-life partner, actress Zoe Kazan. The 1960s-era film, an adaptation of Richard Ford's 1990 novel, stars Jake Gyllenhaal as a screw-up husband and father who accepts a dangerous job fighting forest fires—and those flames are the least of his problems. Dano's instincts are exceptional as an actor (see his slyly seductive turn in HBO's Escape from Dannemara) and they clearly inform his work as a director: In Wildlife, Carey Mulligan—as the abandoned wife unhinged by grief and rage—delivers arguably the best performance of her very fine career. —ZS
Regina King, If Beale Street Could Talk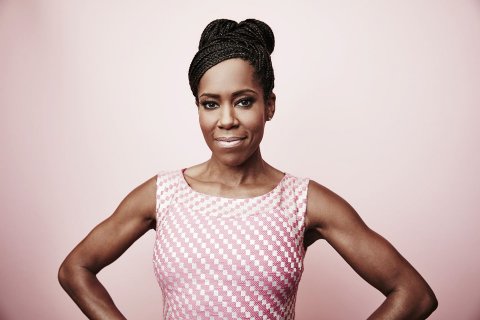 King will lead HBO's upcoming adaptation of Watchmen by D.C. Comics, but she's been a superhero of acting for some time. She's best known for her TV work (Seven Seconds, The Leftovers, American Crime), so it's good to see this indomitable actress showcased in a feature—Barry Jenkins's emotionally transfixing adaptation of the 1974 James Baldwin novel. As the mother to one of two young lovers torn apart by racist policies, King embodies the film's dignity and resilience in the face of tragedy, and provides it with its most shattering moment.—MKS
Rami Malek, Bohemian Rhapsody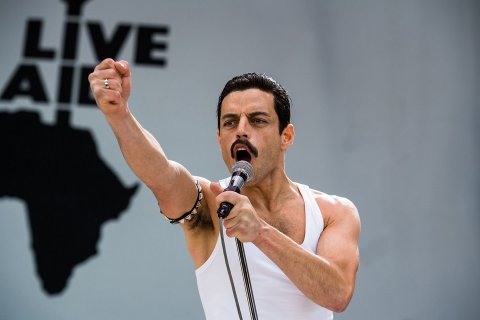 Freddie Mercury's 1985 Live Aid performance is Rami Malek's first memory of Queen. "He could capture people in a way that made you feel as if he was singing and gyrating directly towards you," the actor tells Newsweek. "He had something you can't create." Anyone who has seen Bohemian Rhapsody would beg to differ. While the film frequently strays from the facts (Mercury did not, for instance, receive his HIV diagnosis as early as 1985), Malek succeeds, thrillingly, in embodying the paradox of the rock superstar, an intensely private man who could transfix fans with otherworldly charisma. —ZS
Adam Driver & John David Washington, BlacKkKlansman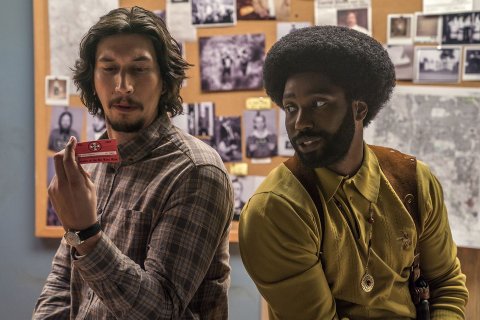 Spike Lee's scathingly funny work of political art—based on the memoir of Ron Stallworth, the first black detective hired by the Colorado Springs Police Department in the '70s—is his strongest film in years. The fiery Ron, played by John David Washington (Denzel's son), teams up with the slow-burning Flip, a Jewish cop played by Adam Driver, to infiltrate the KKK. In doing so, they create the best black-and-white buddy heat since 48 Hours. Spinoff? —MKS
Olivia Colman, The Favourite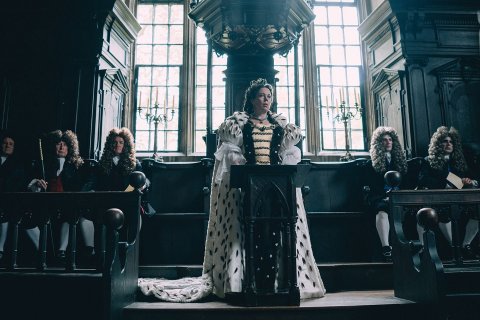 Director Yorgos Lanthimos's wildly entertaining and profane farce about Britain's Queen Anne contains three exceptional female performances: Emma Stone and Rachel Weisz play women maliciously jockeying to be the "favourite" of the dizzy, morose and mutable Anne, played by Olivia Colman. The latter will soon be taking on another monarch, the middle-aged Queen Elizabeth II on The Crown, but she won't be having this much fun. Colman, one of Britain's busiest actresses, always delivers, but here she is sublime. —MKS
Viola Davis, Widows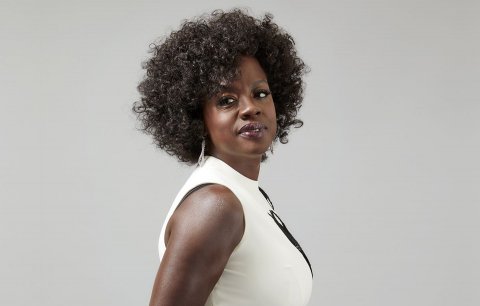 Has Viola Davis ever given a less than commanding performance? The answer is no, and in this heist film by Steve McQueen, she'll also make you gasp. Flipping between intense grief and a focused resolve, Davis leads a crew of four women, each desperate in her own way, to commit a high-stakes robbery. This ain't no Ocean's 8; it's that film's violent, grim opposite. —AM
Tessa Thompson & Lakeith Stanfield, Sorry to Bother You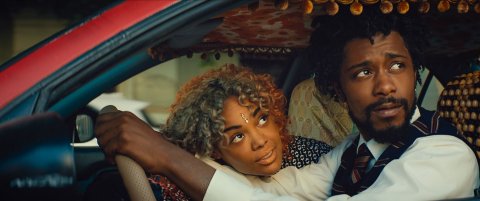 The talented and busy Ms. Tessa Thompson co-starred in the sci-fi movie Annihilation and was back for Season 2 of Westworld and another round playing Michael B. Jordan's baby mama in Creed 2; Lakeith Stanfield returned as the stoned heart of Atlanta in the show's outstanding second season. But in Boots Riley's dystopian satire—a surreal evisceration of racism and economic inequality—Thompson's luminous humanity provides the perfect setting for Stanfield's trippy cartoonishness. Together, they create a beautiful perversion. —MKS
Related: Summer's Wildest Movie Is Here: Boots Riley's 'Sorry to Bother You'
Rachel Brosnahan, The Marvelous Mrs. Maisel (Amazon Prime)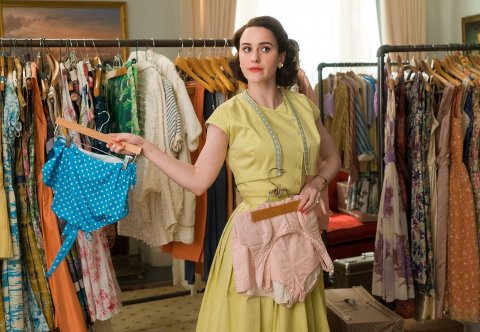 Season 2 has Rachel Brosnahan's aspiring stand-up comic Midge talking even faster, if that's possible, and delivering, hands down, the most joyously kinetic performance currently streaming. The recent Emmy winner has the retro glam appropriate to her character's time (the hat- and glove-wearing 1950s) and a ballsy electricity that allows her to transcend it. Midge is still finding her way as a comedian, but underestimate her at your peril. —MKS
Bill Hader, Barry (HBO)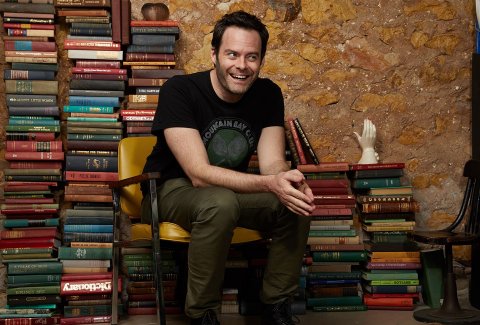 The Saturday Night Live grad won this year's Emmy for best actor playing Barry Berkman, an Afghanistan vet turned hit man. Hader co-created the comedy with Alec Berg, and he muscled up and deepened his voice to transform himself into the title character. But that's just icing: What makes Barry, and the series, irresistible is the actor's ability to pull off two opposing tones: the daffy and the truly dark. —MKS
Related: Best Actor In A Comedy? Bill Hader Deserves An Emmy for HBO's 'Barry.' In The Meantime, He's Being Terrorized By A Clown In The 'It' Sequel
Awkwafina, Crazy Rich Asians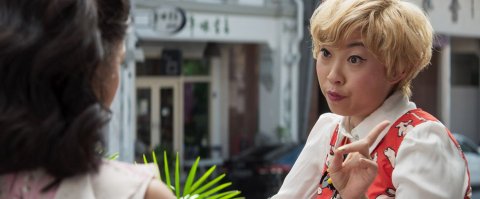 The summer blockbuster was notable for its corrective to Hollywood racism, which generally sidelines Asian characters to subservient roles. A straightforward adaptation of Kevin Kwan's 2013 best-selling rom-com, the movie may not surprise audiences, but what it lacks in subtlety it makes up for in scene-stealing supporting roles—and none more than raspy-voiced rapper Awkwafina, who mines gold out of Singaporean socialite Peik Lin. —AM
Related: 'Ocean's 8' Star Awkwafina on Her Breakout Year and Rising Star Anxiety
Letitia Wright, Black Panther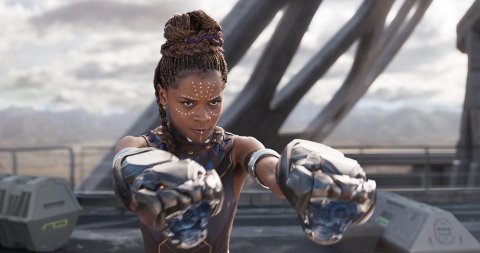 No other superhero film has claimed this much cultural clout, or the possibility of a best picture nomination, or so many award-winning actors—including Chadwick Boseman, Michael B. Jordan and Lupita Nyong'o. And there's not a weak performance in the bunch. But it was Letitia Wright who stole our hearts. As Shuri, the snarky tech whiz sister of King T'Challa, the Guyanese-born British actress blew up every scene she was in. Looking forward to more: In October, Marvel released a Shuri spinoff comic. —AM
Hasan Minhaj, Patriot Act (Netflix)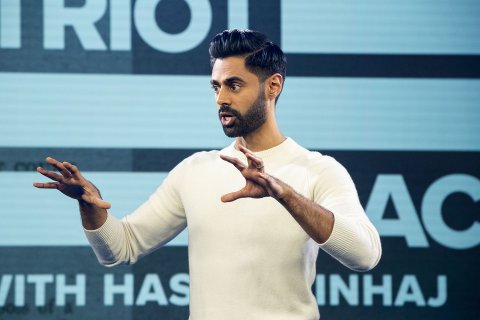 You can see the DNA of fellow former Daily Show correspondents John Oliver and Samantha Bee in this latest comedy news show, while also noting how it's chipping away at the late-night political comedy mold: The pacing comic Hasan Minhaj eliminates the desk-couch setup in favor of a diamond-shaped stage before a phalanx of screens. ("Like Michael Bay directed a PowerPoint presentation," he joked in the first episode.) But it's the POV that's truly radical—that of an Indian-American and Muslim who speaks to every American. —AM
Related: How Hasan Minhaj Went From Demeaning Auditions to Netflix's 'Patriot Act'
Childish Gambino & Hiro Murai "This Is America"
Bruce Springsteen's "Born in the U.S.A." was once misconstrued by Reagan America as a flag-waving patriotic anthem. Childish Gambino's deeply cynical and violent "This Is America"—in which the artist strikes a Jim Crow–era stance while shooting a black man—is not likely to suffer the same fate. Gambino is the alter ego of Donald Glover, who, with director Murai, creates FX's Atlanta. The video is, all at once, an acerbic meditation on gun violence, a choreographed dance homage and an unsettling entry in the Afro-surrealism movement (see: Boots Riley's Sorry to Bother You and, of course, Atlanta). —ZS
Richard Madden, Bodyguard (Netflix)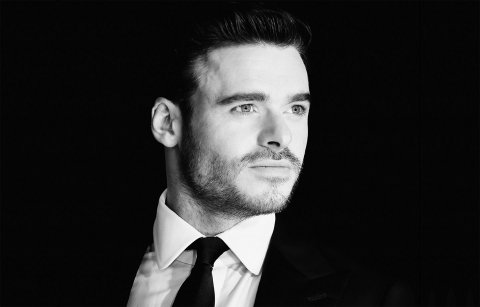 Whether you binged the six-part series because you'd heard it was the biggest hit drama in the U.K. in a decade or because the title's bodyguard, David Budd, is played by Game of Thrones's Robb Stark (or, rather, the actor who played him), you were treated to a stomach-clenching tale of political corruption. Richard Madden makes the most of Budd, a sketchily drawn military vet turned secret service agent; it's easy to overplay trauma and stress, but the actor handles the role artfully—and relentlessly. —MKS
Yalitza Aparicio, Roma (Netflix)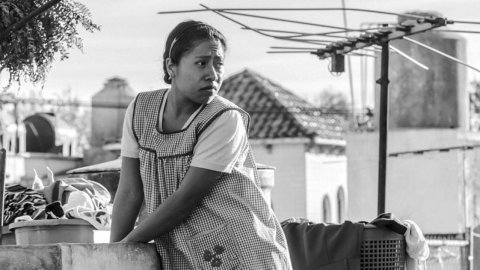 The New York Film Critics Circle has already bestowed best director and film on Oscar-winner Alfonso Cuaron's moving memory piece, and get ready for more awards to rain down. The story, set in Mexico City in the '70s, centers on Cleo, an indigenous maid (based on Cuaron's childhood nanny) working for an upper-middle-class family as they—and the city—implode. Yalitza Aparicio, 24, is a nonprofessional actress (she teaches preschool), and perhaps that accounts for the astonishing naturalism of her performance. Then again, such shimmering soulfulness can't be taught. —AM
Jodie Whittaker, Doctor Who (BBC America)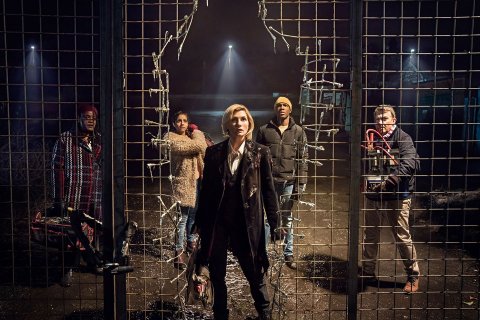 The heavily male Who-verse gave Jodie Whittaker, the 13th actor to play the doctor and the first woman, a predictably hard time when casting was announced. Apparently, despite all the various forms the alien Time Lord has taken (most recently Peter Capaldi) and all the laws of physics the good doctor can break, not having a penis was the one thing fans could not fathom. But Whittaker, best known for playing the grieving mother on Broadchurch, proved she's more than up to the part, deftly honoring the character's spirit while adding her own goofy, galvanizing charm. —MKS
Bryan Cranston, Network on Broadway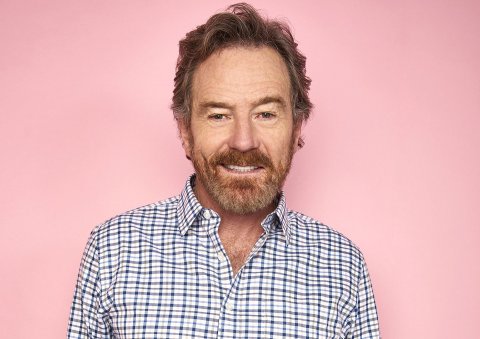 There's a scene in the Broadway stage adaptation of the 1976 film Network that should be required viewing for every acting student: when Bryan Cranston's mentally unraveling news anchor Howard Beale builds to his mad-as-hell moment—a transformation that segues from bafflement to avenging angel in five or so minutes. But there's a little of everything in Cranston's Beale, a role that allows the actor to showcase his ambidextrous gift for comedy and drama (the former showcased on the sitcom Malcolm in the Middle; the latter on Breaking Bad, for which he won four Emmys). The key here, says the actor, is vulnerability. "You have to be willing to show it. The truth is, when vulnerability is shown, you're only in danger of humiliation if you're in middle school or high school. A decent person—and most people are decent—wants to protect you." If there's a downside to such a titanic performance, it's that you mourn every second he's not onstage. —AM
Ethan Hawke, First Reformed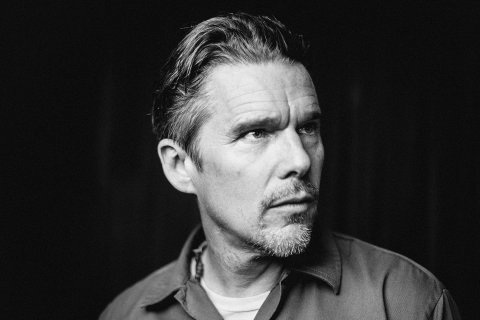 If you had informed a young heartthrob, fresh off Reality Bites and Before Sunrise, that at 47 he would experience a career revival depicting a Protestant minister haunted by the specter of a climate apocalypse, it wouldn't compute. Yet when Ethan Hawke received the script for First Reformed—the brainchild of Taxi Driver screenwriter Paul Schrader—he did not hesitate. "By Page 3, I thought I had to play this part," Hawke told Newsweek in August. A singular and uncompromising film, First Reformed succeeds, in large part, due to Hawke's tenable torment as the Reverend Toller and his commitment in trusting the film's unsettling, supernatural twists. "When I asked Paul about the ending of the movie," Hawke said, "he had this fantastic answer, which was 'A great movie starts as you walk out of the theater.'" —ZS
Related: Ethan Hawke Discusses 'Blaze,' His Nicolas Cage Obsession and Why He Had to Do 'First Reformed': 'I Felt It in My Bones'
Elsie Fisher, EighthGrade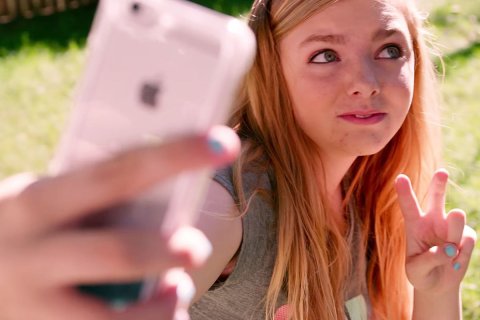 The tender heart of Bo Burnham's acclaimed comedy is gawky, lonely Kayla. And thanks to the then-13-year-old Fisher's performance—sprinkled with stumbling "ums" and "likes"—it doesn't matter if you're a tween now or were one 50 years ago; middle school's harrowing challenges are perennial, with or without social media. —AM​​
Related: Bo Burnham on 'Eighth Grade' and Why the Internet Makes Him Anxious
Carla Gugino, The Haunting of Hill House (Netflix)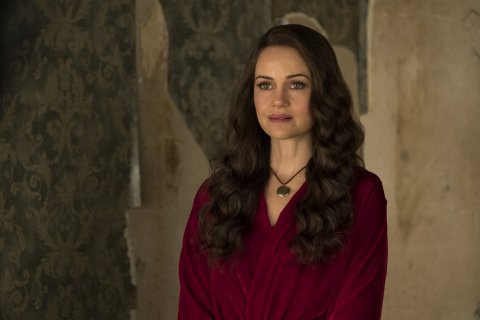 Mike Flanagan's 10-part Hill House has scares, but the series is also a tragedy; it's not just the house that's haunted, it's the family inside it. Gugino is particularly fine as the delicate, bohemian mother of five whose sanity seems to degrade along with their home. It's a hard line to walk, playing a devoted parent who also wants to kill her children, but she does that while also sidestepping every horror matriarch cliché. —MKS
Glenda Jackson, Three Tall Women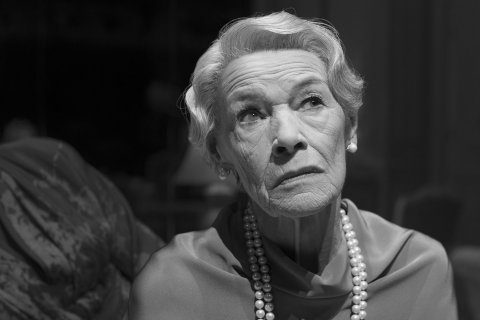 As we eagerly anticipate the British actress in the critically acclaimed role that brought her back to acting after nearly three decades in politics—that of King Lear in next spring's production on Broadway—let's take a moment to remember her Tony-winning performance as a ferociously spiteful mother in last spring's revival of Edward Albee's play: She was spectacular. And if you read the U.K. reviews of 2016's Lear, her gender-bending king takes that ferocity and raises it. —MKS
Related: 'Three Tall Women' Star Glenda Jackson Was a Superhero Slaying Female Stereotypes Long Before Time's Up and #MeToo
Tim Blake Nelson, The Ballad of Buster Scruggs (Netflix)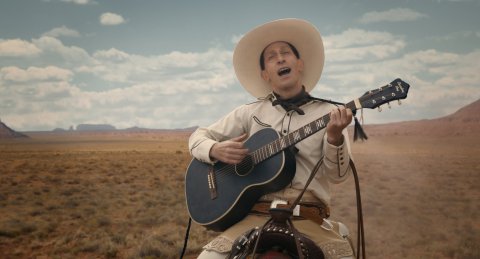 The six distinct chapters in Joel and Ethan Coen's latest—a parody of Western tropes and clichés—are told with antic hilarity and (this being a Coen brothers film) shameless violence. The unearthly title episode features Blake Nelson as Scruggs, the proverbial singing cowboy, a toothy dandy who—surprise, surprise—also happens to be a deadly gunslinger. No spoilers, but if anyone had a better time delivering a performance this year, we'd like to meet them. —MKS
Willem Dafoe, At Eternity's Gate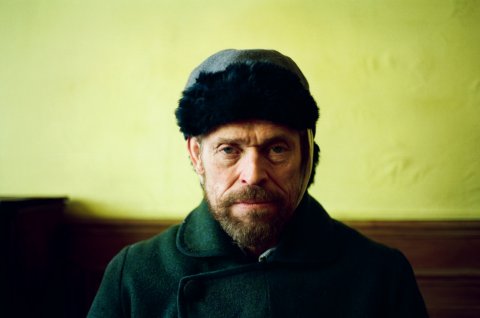 Did we need another film about Vincent Van Gogh? With the muscularly fragile Dafoe, yes. In Julian Schnabel's appropriately impressionistic film, the actor busts through the "Vincent the mad genius" myth, excessively focused on Van Gogh's suffering, to create a portrait of an artist that embodies his lifelong desire: "to paint what I feel and feel what I paint." —MKS
​Saoirse Ronan, Mary Queen of Scots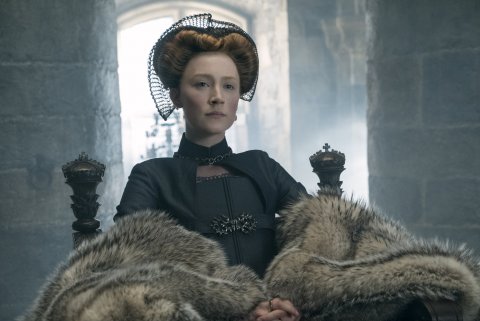 Theater director Josie Rourke puts a feminist spin on the Scottish queen, beheaded by her cousin Queen Elizabeth I in 1587. But it's Ronan, a three-time Oscar nominee, who humanizes her, saving the headstrong 19-year-old from anachronism—besting even Vanessa Redgrave, who played Mary in 1971, in the process. —MKS
Anders Danielsen Lie, 22 July (Netflix)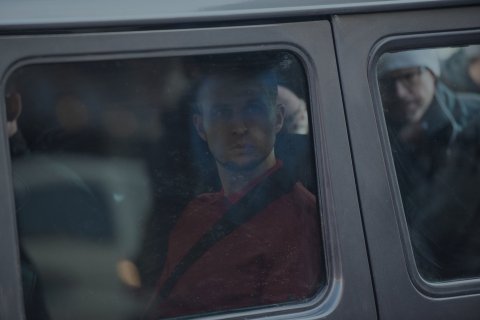 Paul Greengrass's meticulously horrifying film about Norway's 9/11 has evil at its core: Anders Behring Breivik, the homegrown terrorist who killed 77 people and wounded 200 in 2011. In playing the white nationalist, Lie had a choice: He could take the easy route and focus on his immovable arrogance or build an actual human being. By choosing the latter, Breivik's inhumanity is that much more terrifying—and unforgivable. —MKS
Related: 22 July Director Paul Greengrass on his new film—and what Trump and EU leaders share with far-right terrorist Anders Breivik.
Matt Damon as Brett Kavanaugh, Saturday Night Live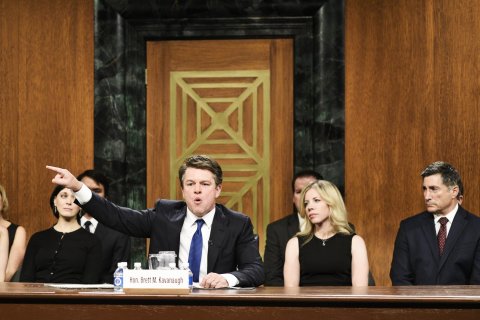 Saturday Night Live was right to recognize that spoofing Christine Blasey Ford's Senate testimony would have been a terrible idea—and yet not spoofing Brett Kavanaugh's sob-filled testimony would be impossible. Who but Damon to portray an ego-bruised jock with an entitlement complex, wavering between rage and tears over old calendars from the '80s. —ZS
Nicolas Cage, Mandy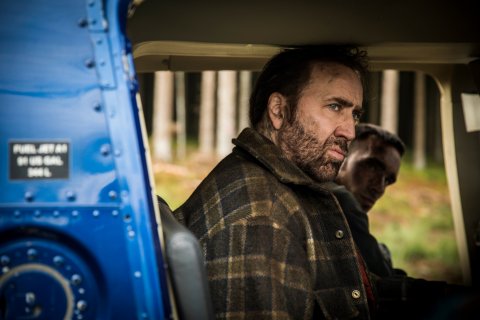 Every five years or so, this actor gives a performance that reminds critics: Nic Cage is a great actor! That performance arrived this year in Mandy, a retro revenge-horror flick from the filmmaker Panos Cosmatos. A reclusive logger avenging the death of his girlfriend, he ascends from domestic tranquility to chainsaw-wielding rage in record time. Yes, he goes to 11. —ZS
Patrica Arquette, Escape at Dannemora (Showtime)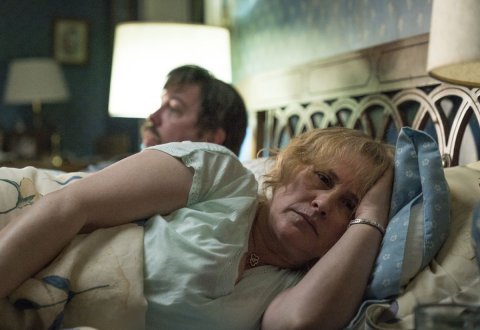 Wow is perhaps the only word to describe Arquette as Joyce "Tilly" Mitchell in Ben Stiller's series based on a real-life prison break. Wow because, as the prison employee who helps two convicts escape, Arquette is virtually unrecognizable as a frowzy-haired women who falls for two men she supervises (played by Benicio del Toro and Paul Dano). And wow because she takes the exceptional dedication showcased in Boyhood (for which she won the Academy Award for Best Supporting Actress) and expands it into a performance that is at times delusional, at times conniving and always hard to watch—if only you could take your eyes off her. —MKS
Steve Coogan and John C. Reilly, Stan & Ollie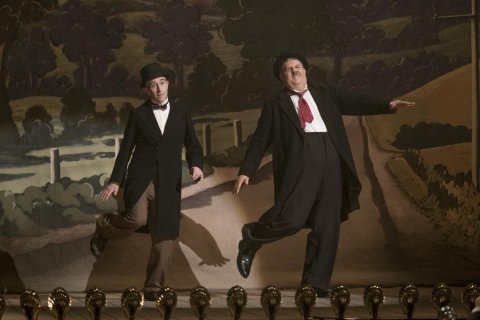 The benign silliness of comedy duo Stan Laurel and Oliver Hardy—two of early Hollywood's biggest stars—is of its time. But in this warm tribute, focusing on their later years, the considerable art behind the slapstick is revealed. As the two pros attempt to revive their flagging career with a sad little tour of the British Isles, the considerable art of Coogan and Reilly (splendid, too, in Jacques Audiard's The Sisters Brothers ) is also revealed; the actors—best known for cocksure characters—display an elegant finesse here, all but disappearing into these gentle men. (Opening December 28.) —MKS
Bob Odenkirk and Rhea Seehorn, Better Call Saul (AMC)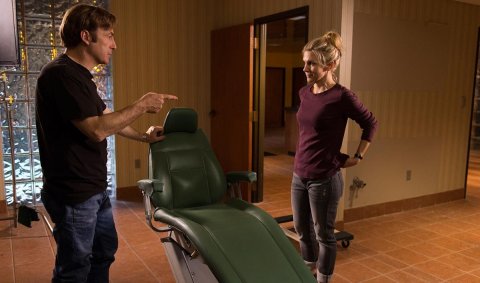 Let the breaking bad begin again! Spoiler alert: In Season 4 of this ingenious spinoff, Seehorn's stalwart Kim follows Odenkirk's slippery Jimmy down an increasingly dark rabbit hole. Naturally, you don't see it coming (creators Vince Gilligan and Peter Gould are our most inventive tricksters), but the actors have so assiduously built their characters—and this most believable of TV couples—that you swallow every twist and beg for more. —MKS
The cast of My Brilliant Friend (HBO)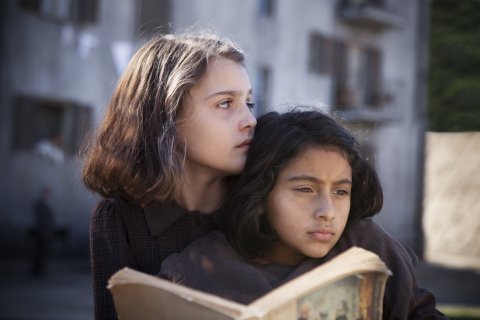 Fans of Elena Ferrante's series of Neapolitan novels—a global literary sensation—were justifiably concerned about this adaptation of the first book, which follows the early years of a rivalrous and ardent friendship between two girls raised in poverty, circa 1950. Few writers have been able to delineate as provocatively the friendships of women, which can be as essential (often more so) than romantic relationships. Ferrante's two main characters, Lenù and Lina, are often angry, unlikable, contradictory and mean—as is virtually everyone in the claustrophobic slum where they grow up. The fear was that an English or American adaptation would soften an often violent, always messy world, but minutes into this Italian adaptation any trepidation evaporates. There isn't a shred of sentimentality here, and filmmaker Saverio Costanzo has cast the series like old school icons Roberto Rossellini and Federico Fellini, with each indelible face as integral to setting the tone as the script, cinematography or music. Most remarkable are the four young actresses who play introspective narrator Lenù and fiercely brilliant Lina. It is a world, like Ferrante's books, driven by the often explosive, sometimes destructive desires of women. —MKS
Glenn Close, The Wife and Mother of the Maid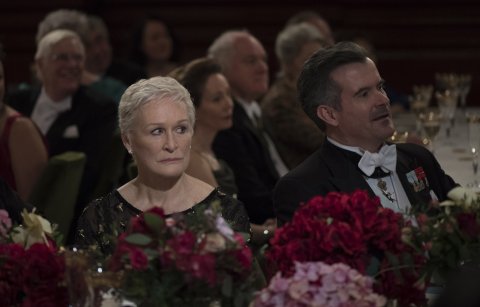 Jane Anderson handed the Emmy and Tony-winner two formidable roles in one year: Her play about Isabelle Arc, a humble and superstitious 15th century peasant who also happens to be the mother of warrior Joan; and her screenplay for the tragi-comic drama The Wife (an adaptation of Meg Wolitzer's novel), in which Close's character happens to be named Joan. The latter deliciously nuanced performance might give Close another shot at Oscar (she's been nominated six times and never won). The former, which played at New York's Public Theater, revealed an incandescence that would light up a starless night—slightly unfair to the young actress playing Saint Joan, who would have benefited from a fraction of Close's radiance. Like Jackson in Three Tall Women or Cranston in Network, this is an actor at the very top of her power. —MKS