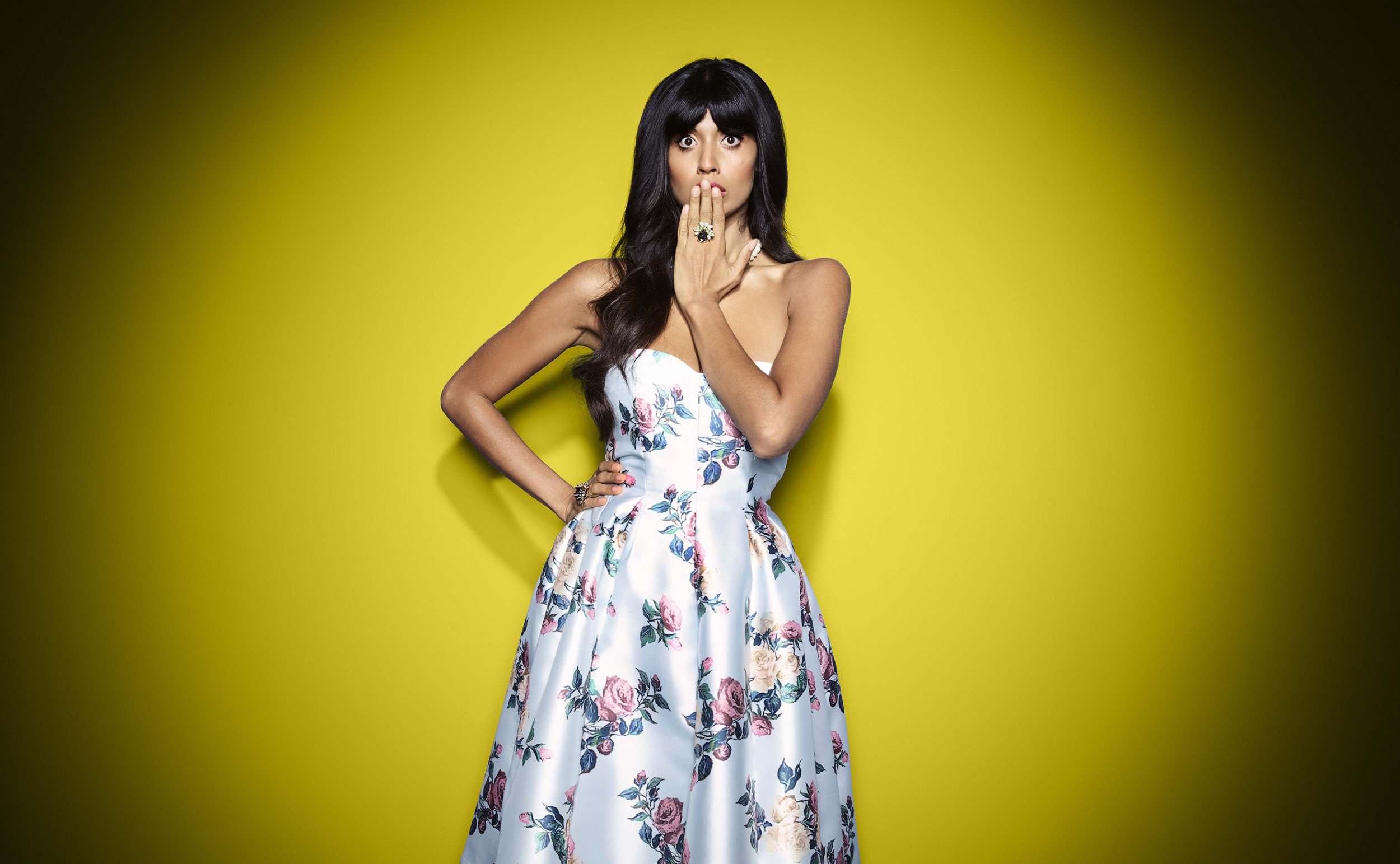 There isn't a weak link in The Good Place—Mike Schur's perfectly cast sitcom about the afterlife recently nominated for a Golden Globe for Best Comedy Series—but one of the show's particular pleasures is watching the face of Jameela Jamil as the British socialite, Tahani Al-Jamil. If her passive-aggressive insults and insufferable name-dropping weren't so hilarious, we'd happily watch an episode devoted to her silent reactions: imperious complacency, snooty repugnance and extreme bafflement. Her impeccable comic timing implied years of TV credits, but the 32-year-old, London-raised Jamil had never acted before casting director Allison Jones discovered her. (Her experience had been limited to hosting TV and radio shows.) "I lied to Allison and said I had stage experience," Jamil tells Newsweek. "She didn't realize I was referring to my 9-year-old self playing Titania in A Midsummer Night's Dream ."
Newsweek featured Jamil in its list of Best Performers of 2018, and spoke to the actress about her process—which includes shameless imitation of co-star Ted Danson and real-life inspiration—and her appreciation for the daily erotic fan fiction she receives.
Tell me about your audition for The Good Place.
The first audition was just Allison Jones, who couldn't have been kinder to me or more welcoming. It was a two-minute experience. Another actress had tried to sabotage me that day—I was lost on my way to the audition, and I bumped into a beautiful Indian woman and asked her if she was going to that same audition. She told me she wasn't and sent me in the wrong direction. When I finally found the spot, she was in there! Like a classic Hollywood tale. I couldn't believe that stuff actually happens.
Then, to my amazement, I got called back. I thought they'd either made a mistake or were very desperate and all the other woman in Hollywood had died. This time it was with Mike Schur and all of the producers—which was incredibly intense, especially when I had to read the lines with Mike!
Where were you when you heard you got the part?
I was on my street in West Hollywood. My agent left it until 9:30 p.m. to tell me, because that's how long it took to close the deal. They all phoned me together at which point I felt like my heart stopped beating. I started to crouch to the ground and they said, 'Congratulations you just signed a 7-year-deal with Mike Schur, you're going to be in his brand new series as one of the leads.' I had to lie down in the middle of the road!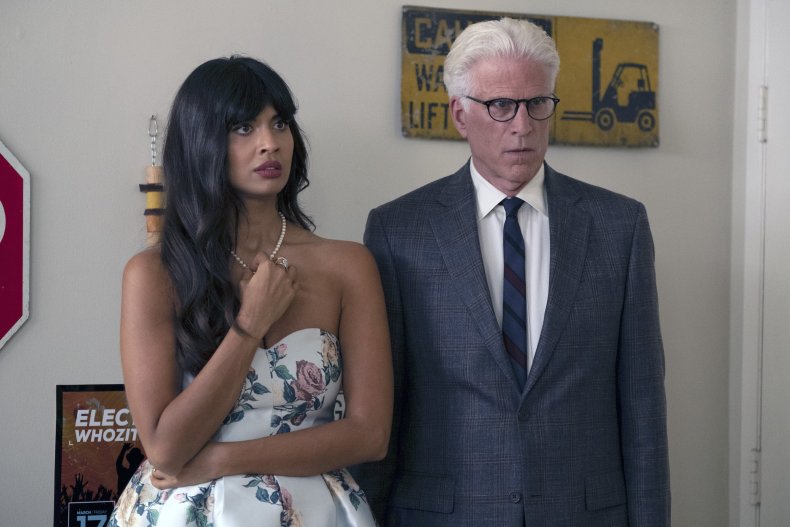 [A few Good Place fans interrupt our phone call to get pictures with Jamil. ]
That must seem so staged! I'm sitting outside a supermarket called Arrow One in West Hollywood. It's opposite a girls' school so they all came walking down for their lunch break and saw me. Hysterical timing.
Is getting recognized an odd experience for you?
When I moved over to America I said that I didn't want to be in the public eye. I struggled with that in England, and I didn't want to end up in that situation again. But people are so nice and respectful here, maybe because I'm playing a character rather than being myself. Sometimes when you're yourself on camera, people can be a bit aggressive. They feel like they know you. When you're a character on a show that they love, they're sweet, excited and respectful.
After you got the part, did you take a crash course in acting?
I asked Mike Schur if I needed acting lessons and he told me to keep doing exactly what I had been doing. Whatever I'd found was what he wanted for the character—it didn't even necessarily mean I was very good. He said, 'Leave it alone, don't touch it, if anything changes I'll let you know.'
I would learn my lines the night before, go in, try to learn from the directors and copy absolutely everything that Ted Danson does. When we're running away from a sinkhole in [Season 1] Episode 5, I would look at Ted Danson, see what his face was doing, and then I would do that. I just ripped him off! I'm the worst—a dumpster fire of trash. But I'm not sorry, because three years with Ted Danson feels like 10 years of the best drama school in the world.
How did you find the connection to Tahani?
I knew a lot of insufferable socialites in London. [Laughs.] I used to DJ very high fashion parties, and you meet a lot of Tahanis at those parties. As soon as I read for the character, there was one socialite in particular who I find unbearable that I pulled from.
Do you think she knows?
Almost definitely. She's unfriended me on Facebook. [Laughs.] But I'm not sorry!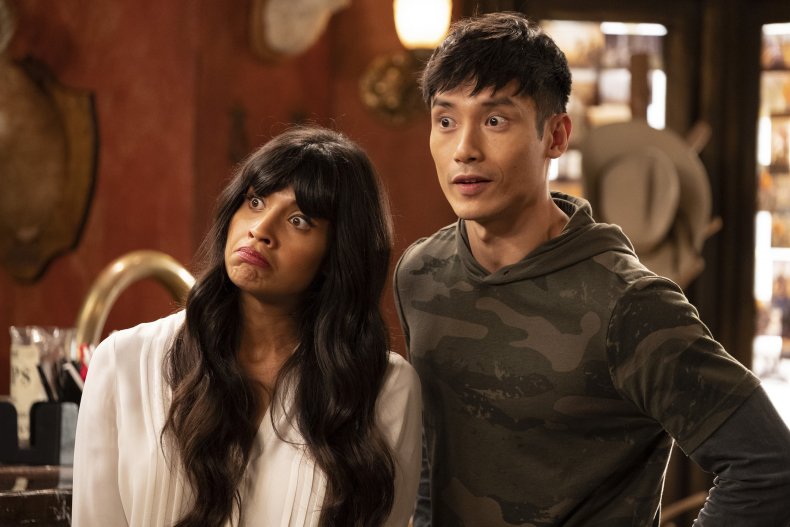 How will Tahani evolve in the second half of the Season 3?
You're going to see her become a team player. Tahani has never had a family. She was raised by two people who instigated competition between her and her sister. This is the first time we're ever seeing Tahani understand what real friends are. I mean, she'll be an unbearable name dropper until her death—and the name drops only get more ridiculous as the season goes on.
Many fans would love to see Eleanor and Tahani together, as a couple. Thoughts?
I'm down! I don't think that story gets told enough, and we know that it's very clear that Eleanor is bisexual. I think Mike [Schur] would write that relationship brilliantly. But I have to say, the way the relationship between Chidi and Eleanor has been built… I'm not sure there is room anymore for a relationship with Tahani. I feel like I would be intruding on a special union. We'll see what happens! I've received wonderful erotic fan-fiction. They get sent to me every day, and I read all of them. I'm very much in support of that. Some of them are very nicely done.
What can you say about your upcoming film with Emma Thompson, Build A Girl ?
The film is based on a brilliant book by Caitlin Moran. It's a coming of age story about a young girl and all of the things that young girls go through. I have a small part as a very weird character. I'm not allowed to tell you who I play or what I do, because I'll be murdered.
You also have an internet movement, "I Weigh," which encourages women to measure their "weight" in accomplishments and self-love, rather than pounds. What inspired that?
I was sick to death of seeing women—really accomplished, iconic women—reduced to nothing but the number on a scale. I suffered from an eating disorder and body dysmorphia when I was younger, and now I'm in an industry that perpetuates that. I'd like to be a part of the solution and not part of the problem. No one is allowed to airbrush my image when I'm in magazines or on camera. If my face isn't good enough as it is to be shown on camera, then you shouldn't shoot me. It's ageist, fat-phobic and quite racist. My skin color gets lightened often in magazines, and my nose gets made to look smaller and more Caucasian. I'd rather not work in this career than be complicit in the lie.