Bryan Kohberger's Hyundai Elantra Could Prove Key to Deciding Idaho Verdict
Investigators said they honed in on the suspect in the slayings of four University of Idaho students through a white sedan that was spotted near the scene of the crime.
Kaylee Goncalves, 21, Madison Mogen, 21, Xana Kernodle, 20, and Ethan Chapin, 20, were found stabbed to death in a rental home in Moscow, Idaho, on November 13.
According to a probable cause affidavit, the vehicle seen speeding away from the scene in the early hours of that morning was narrowed down to a 2011-2016 white Hyundai Elantra. Police told regional law enforcement to be on the lookout for a vehicle matching that description in late November.
An officer at Washington State University found a 2015 Hyundai Elantra registered to Bryan Kohberger—a 28-year-old doctoral student in criminology—on November 29. Another officer that day saw Kohberger's vehicle in a parking lot, looked up his name and noted he had switched his car registration from Pennsylvania to Washington on November 18—five days after the murders.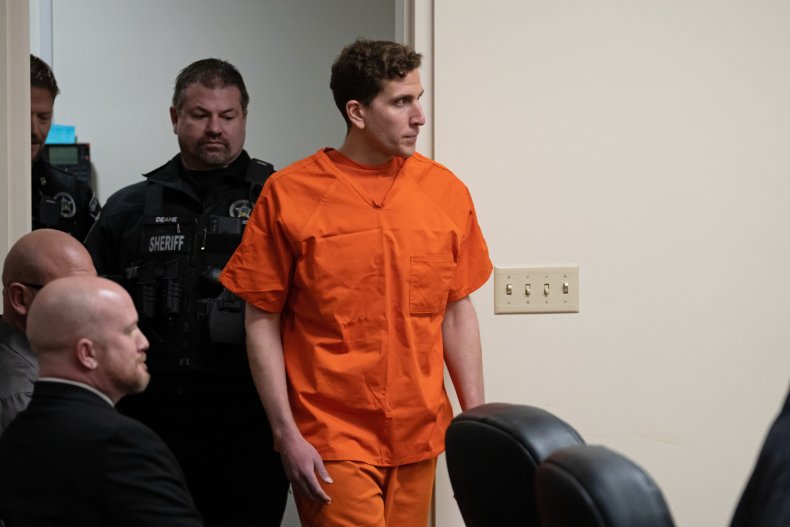 The affidavit said investigators looked at Kohberger's history and saw he had given a deputy a cell phone number during an August traffic stop. Using surveillance footage and cell phone data, they sketched out a possible travel route on the night of the killings.
Kohberger was tracked by FBI agents as he made a cross-country drive to his parents' home in Pennsylvania for the Christmas holidays. He was arrested on December 30 after DNA recovered from trash discarded at the home was connected to DNA on a knife sheath found at the crime scene.
He is charged with four counts of first-degree murder and one count of felony burglary. He has not entered a plea, but a lawyer representing him previously said Kohberger was "eager to be exonerated."
A preliminary hearing is scheduled to begin on June 26, when Latah County Prosecutor Bill Thompson will seek to convince a magistrate judge that there is enough evidence to support the charges against Kohberger.
Newsweek asked several experts how important Kohberger's Hyundai Elantra could be in the case against him.
Joseph Giacalone, adjunct professor at John Jay College of Criminal Justice
"The vehicle will take center stage," Giacalone said.
If investigators have identified blood or any other trace evidence from the victims in Kohberger's vehicle, that "would be huge," he said. "If they can uncover evidence of trying to get rid of evidence, such as bleach, that will also be damaging for the defense."
Duncan Levin, managing partner of Levin & Associates
"Kohberger's car is a critical piece of evidence because he allegedly changed the title and license plate to the car five days after the murders, and it was seen on video driving around the area of the house where the murders took place," Levin said.
"It may also be used if law enforcement is able to find any forensic evidence in the car, like blood. Given today's forensic technology, you can't clean your car well enough to cover up what law enforcement can find."
Michael McAuliffe, former federal prosecutor and elected state attorney
The vehicle's movements "before, during and after" the murders will be key, McAuliffe said.
That "will surely play an important role in connecting the murders to Kohberger," he added.
Joseph Scott Morgan, professor of applied forensics at Jacksonville State University in Alabama
Morgan said prosecutors will seek to demonstrate that Kohberger's vehicle was used to follow the victims, purchase items for use in crimes, arrive to and flee the crime scene, and travel across the country to avoid prosecution.
And if anything from the victims is found in the vehicle, especially DNA, that "would be damning," Morgan said.
"The key is, what is the source of the sample? Skin, blood, something else?" he said. Skin is "much easier to explain away," but if it is bloody it would be very difficult to explain, he said.
"This car will have been taken apart down to its base elements... seat cushions, armrests, dashboard, subflooring.... this car will make an appearance in court piece by piece."
Neama Rahmani, president and co-founder of West Coast Trial Lawyers
Rahmani said the vehicle would be "better evidence" if surveillance footage had captured the license plate.
"The Hyundai Elantra would be better evidence if the prosecution had a license plate, or if they could at least narrow down the year of the vehicle," he said.
"For now, it's more of an investigative tool or weak circumstantial evidence that won't be the focus of the state's case-in-chief."
But he added: "Of course, we still don't know what the search warrant of the car revealed. If criminalists found the victims' blood, that's smoking gun evidence that will put Kohberger on death row."