Bryan Kohberger's 'Lovesick' Fan Calls Alleged Killer 'Divine Masculine'
A Kentucky woman with a history of romantically pursuing killers has professed to being "lovesick" for Bryan Kohberger, the man accused of killing four University of Idaho students this past November.
Brittney J. Hislope, a 35-year-old single mother, has made numerous posts in the last few weeks professing her feelings of love for Kohberger, many of which were highlighted in a Saturday report from the New York Post. Across the posts, she describes the accused murderer as "my love interest" and "her perfect man," while also admitting that she does not expect to hear back from him.
"One way to describe my feelings for him over the last week or so... is kind of like being lovesick," Hislope wrote in one of the posts.
At other points, she notes that she and Kohberger share an astrological sign, Scorpio, and uses birth charts to say that he is her "divine masculine" counterpart, a term in spiritualist communities to refer to one's most aligned romantic partner.
Kohberger was charged with four counts of first-degree murder and one count of felony burglary in the fatal stabbings of University of Idaho students Kaylee Goncalves, 21, Madison Mogen, 21, Ethan Chapin, 20, and Xana Kernodle, 20, on November 13 in an off-campus residence in Moscow, Idaho. The 28-year-old Ph.D. student who was studying criminology at Washington State University was arrested at his parents' house in Albrightsville, Pennsylvania, on December 30.
He has not entered a plea, but a lawyer who represented Kohberger has previously said he is "eager to be exonerated."
"I know that the last I had heard weeks ago is that Bryan is being kept isolated from other inmates, and so I know that we do both likely sleep alone as I mentioned in a past post, and with me sleeping alone prior to his incarceration, I wonder if he did back then as well," Hislope wrote on Friday.
She continued: "Although I mentioned something about getting certain confirmations from him about his feelings and him being my divine masculine, I don't mean that I reach out to him to receive anything back at all from him, since I do that from a place of caring about him, sharing my feelings, and knowing what a serious situation he's in. But it's understandable how I wonder how he feels about me although I know that he has other things to worry about with the situation he's in."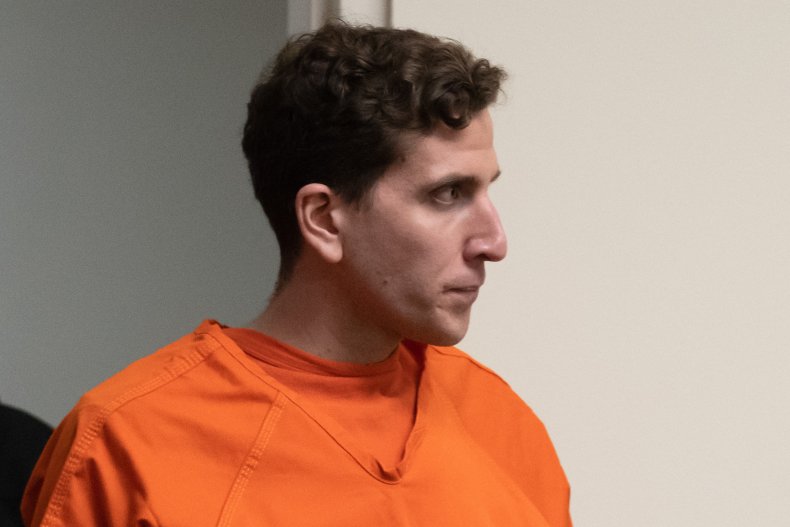 As is noted by numerous comments on her Facebook posts, Kohberger is not the first accused killer that Hislope has professed feelings for. In the past, she made similar posts pining after Cody Tyler Hall, a Kentucky man convicted of killing 50-year-old Lilburn Scott Holbrook in 2017. Following that incident, he also carried out attacks on his sister and another woman with a machete. He was sentenced to 23 years in prison in 2019 for his various charges.
In a 2018 post, Hislope wrote about visiting Hall in prison, even going so far as to add funds to his commissary account. However, he ended up blocking her from visiting him further.
​​"I visited him, put money in his [commissary] account, wrote him letters, and I wanted to be in a loyal, commited [sic] relationship with him," she wrote. "When I say I was in love with him, I mean I was completely and truly in love with him."
Newsweek reached to criminal psychology experts for insight.