Bryansk Fire Videos Show Explosions, Massive Inferno at Russian Oil Depot
New videos of a blast at a fuel depot in Bryansk proliferating on social media suggest that a second unconfirmed fire broke out in the Russian city in addition to one reported by Russian authorities on Monday.
In several clips shared by Twitter users, what appears to be a second blaze can be seen burning bright in the dark Bryansk sky in the early hours of April 25 next to another, smaller fire, suggesting that two locations caught fire during the night in the Russian city, which lies about 95 miles from the Ukraine border.
One of the videos was posted by @Osinttechnical, a journalist with the UK Defence Journal, a defense news website.
Russian news agencies officially reported on Monday morning that a large fire had broken out at a fuel depot facility in Bryansk in the early hours of Monday.
"The Emergency Situations Ministry has confirmed there's a fire," the government's press office is quoted saying by Russian news agency TASS. "There's also a confirmation that it's the fuel tanks."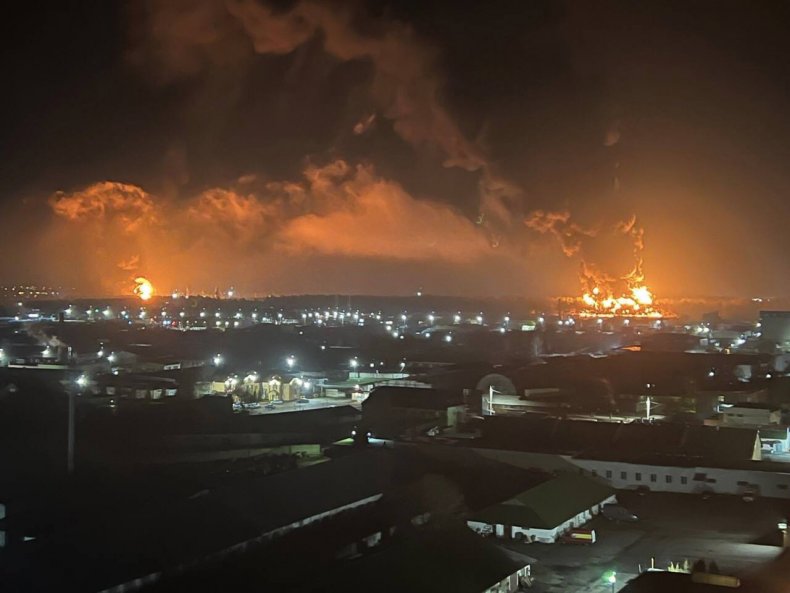 There was no immediate indication of whether the fires were connected to the war Russia is waging in Ukraine.
The Druzhba fuel depot on fire belongs to Russian state-controlled oil pipeline company Transneft. The depot's location is strategic for the conflict in Ukraine. Bryansk, a city of 400,000 people and the administrative center of Bryansk Oblast, lies 93 miles from Ukraine and serves as a logistics base for Russian troops fighting in the neighboring country. The city is some 240 miles from Moscow.
According to TASS, the first report of a fire was made at 2 a.m. Moscow time. The first responders had left for the scene when the government's press office talked to the Russian news agency.
The Emergency Ministry added that there had been no need to evacuate any part of the city.
In footage shared on social media, it can clearly be seen that one of the fires is burning at what looks like an oil refinery. The Kyiv Post reports that online reports geo-locating the fires suggest that the second fire was at a refinery owned by Russian state-owned energy company Rosneft. The claims have not been independently verified.
Telegram user "Military Informant" Voenny Osvedomitel, followed by over 400,000 people, said that the second fire was likely burning at the 120th arsenal of the Main Rocket and Artillery Directorate, but there is no confirmation that that is true.
It is unclear where the second fire is burning, and a second blast has not been confirmed by Russian authorities. There has been no official explanation of what caused the fire, and neither Russian nor Ukrainian news agencies reporting the fire mention that the blast was related to the war.
Newsweek has contacted the Ministry of Civil Defense, Emergencies and Disaster Relief of the Russian Federation for comment.