Becky G had BTS fans' spidey senses in overdrive after posting a rather cryptic video on her Instagram story on Tuesday evening. The singer shared a video of Korean snacks, causing some fans to speculate that she may be collaborating with at least one of the group's members for a new song.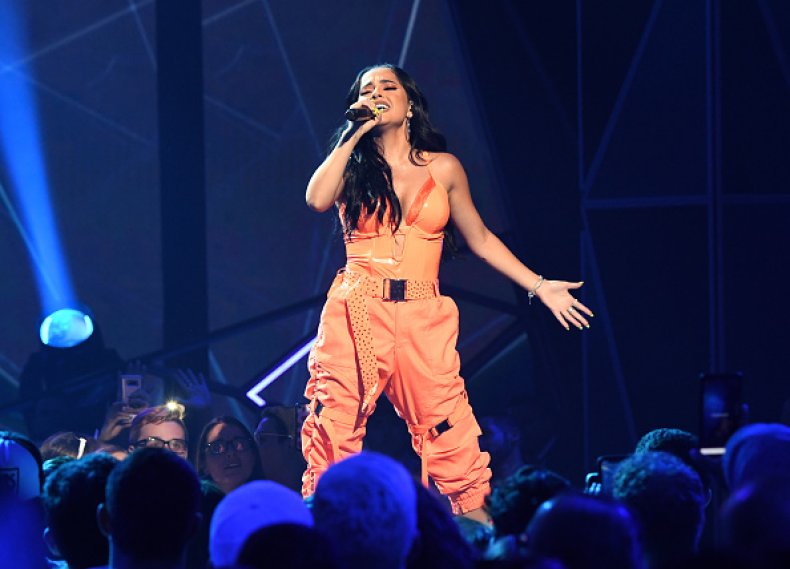 The BTS Army—as the superstar group's fans are affectionately called—were under the assumption Becky may be working on new music with one of the seven-member bandmates, J-Hope, whose real name is Jung Hoseok.
Back in May, BTS listed the names of several artists they'd like to collaborate with while speaking to 102.7 KIIS-FM radio. Along with performers like Troye Sivan, Coldplay and Khalid—whom the group confirmed they were actually already working on new music with—J-Hope specifically named Becky as someone he'd be interested in creating with.
Fueling the speculation, J-Hope was seen arriving in the U.S. at LAX Airport in Los Angeles, which is Becky's hometown, just a day before the "Dollar" singer shared her video.
While it's unclear what, if anything, Becky and J-Hope have in the works, the Latin singer did reveal plans to work with BTS in some fashion during an interview with 103.5 KTU radio in June. Noting her own obsession with the band, Becky claimed she "definitely connected" with the group and said they "might have a little something-something" on the way.
"I was freaking out, is this really happening?" she gushed. "We're doing it for the music, we're just mixing it up. Hopefully, when things line up time-wise we will make this happen."
Despite the coincidental timing of Becky's post and J-Hope's arrival in Los Angeles, the odds of a group project between BTS and Becky happening anytime soon seems unlikely now that the band has officially gone on a professional break. BTS announced they were taking an extended and much-needed period of rest and relaxation on August 12, after working consistently over the last two years, belting out three consecutive albums in 2018 alone followed by another in 2019.
The break may not necessarily rule out a solo project from J-Hope, which would make a collaboration with Becky more feasible.
BTS is known for working individually on their own projects from time to time. Members RM and Suga have previously released their own singles and mixtape albums, as well as J-Hope, who released a seven-song project Hope World in March 2018.