Four K-pop stars, including BTS member Jungkook, Seventeen's Mingyu, NCT's Jaehyun, and Astro's Cha Eun Woo, were confirmed to have spent a night out together in Itaewon, the neighborhood in the South Korean capital of Seoul where a cluster of new cases has sparked a second outbreak of infections in the country.
All four men tested negative for the virus, according to statements from the agencies of each band member. The agencies apologized for the mismanagement of their artists who had not followed social distancing guidelines.
The four artists were said to have visited entertainment venues in Itaewon from the evening of April 25 until dawn on April 26, Dispatch reports.
South Korea's Central Disaster and Safety Countermeasures Headquarters (CDSCHQ) and the Korea Centers for Disease Control (KCDC) have advised anyone who visited entertainment facilities, including bars and clubs, in Itaewon between April 24 and May 6 to remain at home.
The outing of the four K-pop artists occurred about a week before the first case of the second wave of infections was confirmed. None of the four artists were reported to have shown any virus symptoms since the incident.
The agencies of all four artists initially did not reveal the identities of the K-pop band members, noting that the incident concerned their personal lives.
Big Hit Entertainment, the management company of BTS, said in a statement: "On the evening of April 25, Saturday, Jungkook visited a restaurant and bar in the neighborhood of Itaewon with his acquaintances. He showed no symptoms of COVID-19 such as coughing or a fever following the visit. He voluntarily received a test for COVID-19 at a government-designated hospital and tested negative. The artist himself is currently feeling deeply regretful for not having faithfully contributed to the entire society's social distancing efforts."
The statement added: "There is no room for excuse regarding the fact that we, as the agency of the artist in question, had not properly recognized the heavy importance of social distancing and prioritized the protection of the artist's private life over it. We bow our heads to everyone in apology."
A statement from Pledis Entertainment, the agency of the band Seventeen, said: "Immediately after confirming that he had visited the area during the period specified by the CDSCHQ, he [Mingyu] was voluntarily tested for COVID-19 at a government-designated hospital even though he did not show symptoms of COVID-19 such as coughing or fever. After he received negative results, he has been in self-isolation and has carefully followed the guidelines of personal hygiene."
"We at the agency feel deeply responsible that a situation like this has arisen due to our careless management of the artist. We sincerely apologize for causing concern and worry to fans who send love and attention [to our artists]," the statement from Pledis added.
In a statement, Fantagio, the agency for Astro, confirmed that "Cha Eun Woo went to the neighborhood of Itaewon on April 25. We apologize that he didn't follow social distancing guidelines and caused concern due to our careless management."
"Cha Eun Woo did not go to the location that became a problem in early May with a confirmed case, and when we asked the Korea Centers for Disease Control and Prevention on if he is a subject for COVID-19 testing, we were told that it is not required if he does not have symptoms. However, he was tested for the health and safety of the artist and those around him, and he tested negative.
"No matter the reason, it was a thoughtless action for our artist Cha Eun Woo to visit the Itaewon area when the entire nation is practicing social distancing, and the artist himself is deeply reflecting on not faithfully contributing to the social distancing efforts," the statement said.
SM Entertainment, the agency for NCT, confirmed in a statement that: "Jaehyun did not show symptoms, but when COVID-19 broke out in the club in Itaewon and started to spread, he voluntarily received a COVID-19 diagnosis test and tested negative."
"Jaehyun is deeply reflecting on the fact that he was not careful during the period of social distancing when everyone should be refraining from everyday gatherings.
"We also deeply apologize for failing to guide and manage our artist to ensure that he carefully follow social distancing protocols in his personal time as well," SM Entertainment said.
A new wave of cases emerged in South Korea after a 29-year-old man visited several nightclubs and bars in Itaewon earlier this month.
More than 2,100 nightclubs, bars and discos in Seoul were closed after the incident, while other venues were urged to enforce precautionary measures. Gyeonggi province and Incheon saw similar closures.
There are 11,065 confirmed cases in South Korea, including at least 168 related to the nightclub cluster in Itaewon, as of Monday, according to the KCDC. Among the 168 cases related to the Itaewon cluster, there are at least 93 cases in the Seoul City region, 33 in the Gyeonggi province, 23 in the Incheon City region, nine in the Chungbuk province, four in the Busan City region, and one each in the South Chungcheong province, North Jeolla province, Gyeongnam province, Gangwon province and Jeju province, the KCDC reports.
"In light of the recent rise in local transmission from club cluster cases to others in bars, karaoke rooms, after-school private academies, KCDC urged people to refrain from social gathering or visiting any enclosed/confined/crowded spaces that are frequented by many people," the KCDC said.
"The infection cluster, which recently occurred in entertainment facilities, has raised awareness that even during the stabilization phase, similar situations can arise again, anytime, anywhere in an enclosed, crowded space," South Korean President Moon Jae-in said last Sunday.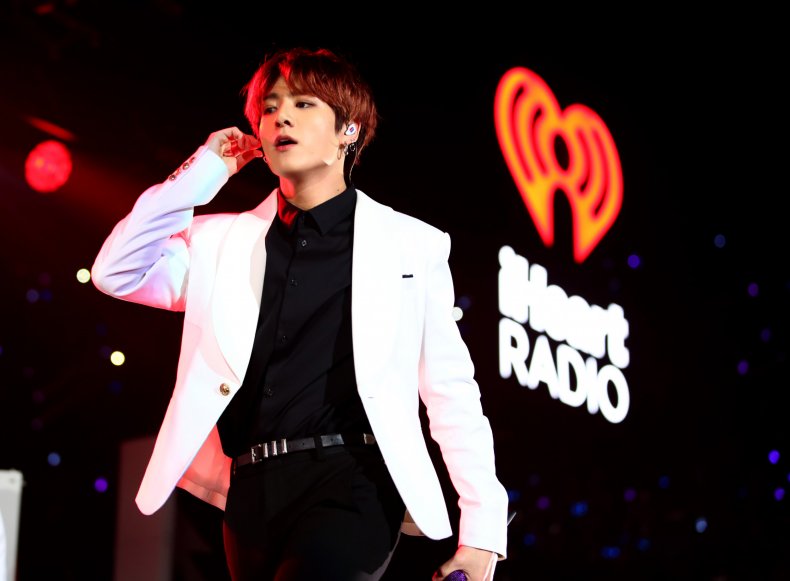 Last week, the director of the KCDC, Jeong Eun-kyeong, was hesitant to call the latest outbreak a second wave of cases, noting "the epidemic is ongoing."
The novel coronavirus, which was first reported in Wuhan, China, has infected more than 4.7 million people across the globe, including over 315,300 who died following infection. More than 1.7 million people have reportedly recovered from infection, as of Monday, according to the latest figures from Johns Hopkins University.
The graphic below, provided by Statista, illustrates countries with the most confirmed COVID-19 cases.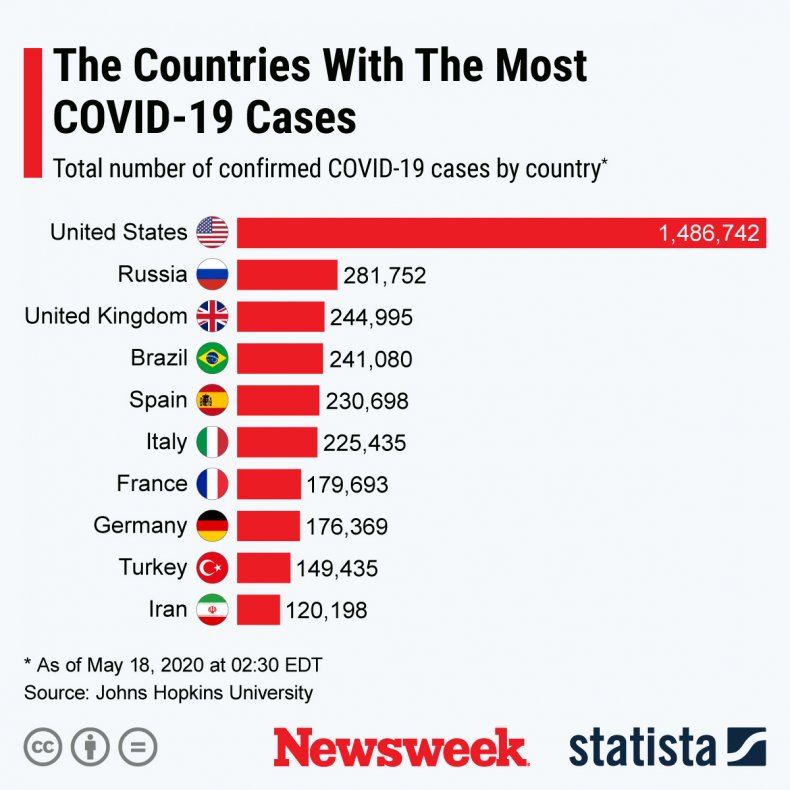 About the writer
Soo Kim is a Newsweek SEO Reporter is based in London, UK. She reports on various trends and lifestyle stories, from health, fitness and travel to psychology, relationships and family issues. She is also a South Korea expert who regularly covers Korean culture/entertainment for Newsweek, including the latest K-dramas, films and K-pop news, and is the author of the book How to Live Korean, which is available in eight languages. Soo also covered the COVID-19 pandemic extensively from 2020 through 2021 after joining the general news desk of Newsweek in 2019 from the Daily Telegraph (a U.K. national newspaper) where she was a travel reporter/editor from 2010. She is a graduate of Binghamton University in New York and the journalism school of City University in London, where she earned a Masters in international journalism. Languages spoken: English and Korean.
Follow her on Twitter at @MissSooKim or Instagram at @miss.soo.kim
You can get in touch with Soo by emailing s.kim@newsweek.com