Best BTS Moments on 'The Late Late Show With James Corden'—And THAT 'Dynamite' Performance
Global K-pop band BTS returned to The Late Late Show With James Corden on Tuesday, following their multiple wins at the American Music Awards on Sunday (including the coveted Artist of the Year award) and their second Grammy Award nomination on Tuesday for Best Pop Duo/Group Performance.
The K-pop group sat down with Corden to talk about everything from how they relax to "that joke" (more on this later) and graced the studio stage with a live performance of the BTS track "Permission to Dance."
But there is more "coming soon" from BTS on The Late Late Show With James Corden. Sharing a clip of BTS filming dance moves on a crosswalk, the show tweeted: "Before tonight's #LateLateShow with @bts_twt, here's a little peek at the incredible Crosswalk Concert they filmed today that will air in an upcoming episode!"
In the meantime, below we look at highlights from their latest appearance and other best BTS moments on the late night talk show, including THAT "Dynamite" performance.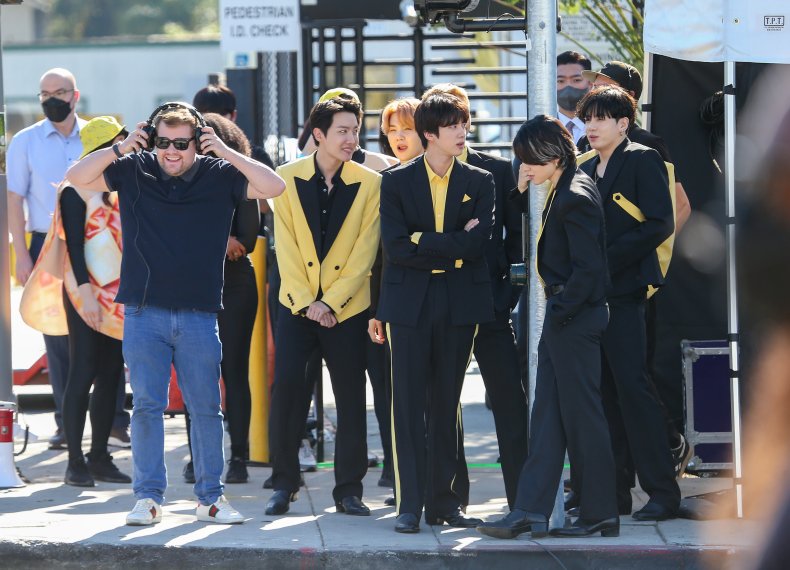 Jimin Shows Off His Thighs
Touching BTS member Jimin's right arm, Corden asked BTS last night: "Is it just me?...but I feel like the 'Baby Mochi's [Jimin's nickname] been hitting the gym. Is this true?" Jimin bashfully admitted he's been "lightly exercising" in the form of running and climbing stairs.
BTS member V then weighed in and said Corden needs to "touch his [Jimin's] thighs," which saw Jimin stand up and strike a full-flex pose. Poking Jimin's thigh, Corden gasped, noting: "That's a piece of wood."
RM's Dig at Corden About 'That Joke'
In a tweet Tuesday, the show's official Twitter account tweeted: "And now, the moment you've all been waiting for... Namjoon [BTS member RM] asks James about ~that~ joke #BTSxLateLate."
That joke refers to Corden's remarks in a September episode of the show when he described BTS fans as "15-year-old girls" in relation to BTS's appearance at the United Nations SDG (Sustainable Development Goals) Moment event as part of the 76th session of the UN General Assembly.
Corden faced backlash from BTS fans following the remarks, which also included him describing the band as "pretty unusual visitors" to the UN.
During Tuesday's episode of the show, noting his elation over reuniting with the band "in the flesh" for the first time in two years, Corden asked: "How are you doing? Are we all well and good?"
RM replied with a cheeky response, saying: "It's so good to be back, we're very well. But James, how about [you]—you've been in some hot water with Armies [ 'ARMY' being the collective name for BTS fans]. Are you alright?"
Looking slightly red-faced and laughing, Corden later explained: "We did two jokes, which I didn't think were offensive in any way to anybody...
"This was where I think it was wrong. We said that your fans were 15-year-old girls, which of course isn't true because I'm 43 years old and I consider myself one of the biggest BTS fans on planet Earth.
"I hope you know this but we absolutely love you [BTS] and we love the entire ARMY," Corden said.
THAT 'Dynamite' Performance
Fresh off the back of their first Grammy Award nomination in late November 2020, the K-pop stars returned to the show for a special performance of the BTS song "Dynamite," for which the group was nominated in the Best Pop Duo/Group Performance category of the Grammys.
The dynamic performance unfolded on "a very familiar-looking set," which was a recreated version of the set of The Late Late Show With James Corden.
For a portion of the song, the band was also seen performing aboard a Korean Air aircraft on what looked like an airport tarmac, which also featured a cargo truck bearing The Late Late Show With James Corden logo on the side as well as the BTS name on the top.
In a tweet at the time, Corden said: "This performance from @BTS_twt tonight genuinely made me a bit emotional. The effort they put into it, the vision to recreate our set. Extraordinary. It made all of us so proud x."
BTS Play Hide-and-Seek With Ashton Kutcher
During an episode back in late January 2020, the K-pop stars played a game of hide-and-seek with Hollywood actor Ashton Kutcher, who was also a guest on the show that night.
The segment saw BTS members hide in different corners of the studio, from underneath desks and behind curtains to the control room, while Kutcher and Corden set out to find them and carry them back to the stage.
At one point, Jin was shocked to see Kutcher had discovered him hiding in a photo booth. The actor lifted him over his shoulder to bring him back to the main stage.
BTS Singing in Carpool Karaoke
The K-pop stars previously appeared in an episode of Corden's Carpool Karaoke for the show. The segment sees Corden drive celebrities around a neighborhood while singing along to various songs the host plays on the car's music player.
Among the songs BTS covered during the episode included "Circles" by Post Malone and "Finesse (Remix)" by Bruno Mars featuring Cardi B.
The segment saw Cardi B even tweet a joke about BTS's Carpool Karaoke segment. The artist tweeted a meme of a cartoon figure holding out a cup asking for money, alongside the words: "Me homeless cause hobi [BTS member J-Hope] & joon [BTS member RM, also known as Kim Nam-joon] took my job."
Jimin Teaches a 'Master' Dance Class
During the aforementioned Carpool Karaoke episode, Corden and the band briefly hijacked a PlyoJam cardio dance class where Corden attempted to convince BTS that he's got the dance moves to join the K-pop boy band as its eighth member.
The segment saw Jimin put Corden and others in the class through their paces, leading them in a series of challenging, fast dance moves.
Sharing a video clip of that segment, the show's Twitter account wrote at the time: "the baby mochi becomes the master #BTSCarpool."