Bubba Wallace never dreamed of pursuing a career in motorsports while he slept in his racecar bed as a youth in North Carolina. He also never figured he would be the epicenter of social justice changes within NASCAR last summer.
A "persistent ego," as he calls it, led him to being on NASCAR's top circuit prior to a summer of change for the country in 2020. And that ego also led to social changes within his own sport, which is steeped in southern heritage, Confederate flags and a culture that has been mostly-white for so long.
Wallace's eventual path into motorsports at age 9 seemingly led him to be the right person, at the right time and at the right place for the sport in 2020, though.
"It was polarizing for sure. A crazy year with everything that's gone on during the pandemic, and everything that's gone on in our sport," Wallace said of social justice changes that trickled into NASCAR. "A lot of good, positive changes. We still have a lot of work to do to get the sport where we want it to."
Now the sole driver for NBA legend Michael Jordan and NASCAR great Denny Hamlin's new team called 23XI (pronounced 23-Eleven), Wallace is excited about a new journey in 2021.
Team 23XI on Monday announced partnerships for the upcoming season, starting with the Daytona 500 on February 14, 2021. The "founding partners" for Wallace's No. 23 Toyota Cambry include DoorDash, McDonald's, Columbia Sportswear, Root Insurance and Dr Pepper.
All of those had previous relationships with Wallace, sans Dr Pepper.
Wallace sat down with Newsweek this week—social distanced by several hundred miles on a Zoom call—shortly after 23XI announced its founding partnerships and goals. Wallace said the creation of 23XI began from unsubstantiated rumors of Michael Jordan (MJ) and three-time Daytona winner Denny Hamlin collaborating to create their own racing team.
"There were some rumors floating around that Denny and Michael were trying to start up a team, which weren't true to start with," Wallace told Newsweek. "They weren't true at all, as funny as it sounds. But I believe MJ had texted Denny saying, 'Hey, if you want to make these rumors true, let me know.' I think Denny was kind of surprised by that. He questioned whether he was serious or not and next thing you know, one thing led to another and here we are with 23XI and I'm their driver."
Wallace is the only Black driver on NASCAR's top circuit, the Cup Series. Last summer, after the May 25 death of George Floyd at the hands of Minneapolis police officers set off a nationwide burst of protest against police brutality and social injustice in America, Wallace became a driving force in his sport to spark change.
At the time, no other pro sport in America besides NASCAR had rebooted after COVID-19 postponed all of them in March. NASCAR got back on track with no fans in the stands. And when the social justice movement swept America, the driver of Petty Motorsports' No. 43 car, Wallace, stepped up.
Wallace successfully got NASCAR to prohibit the Confederate flag from its events and all NASCAR properties. NASCAR also laxed its rules of requiring all team members to stand for the national anthem, which would allow people to take a knee during the anthem.
Newsweek asked Wallace if he felt that he was the right person, at the right time and the right place, to help steer social changes within NASCAR.
"I don't know. Maybe, maybe not. It's not like I wanted any of this extra attention. It just kind of happened," Wallace said. "You're put into places for a reason and it's up to you how to navigate through it. Some people will fold under pressure. I just want to go out and kind of deliver and keep my mind on the task at hand."
Wallace said there were NASCAR drivers who had his back and stood by his side during the summer, and then there were those who stood in the shadows while new changes unfolded.
"There were a handful of drivers that were able to step up and speak out on things that were going on, but still there were many that remained behind the scenes and behind the curtain because it doesn't affect them," Wallace said.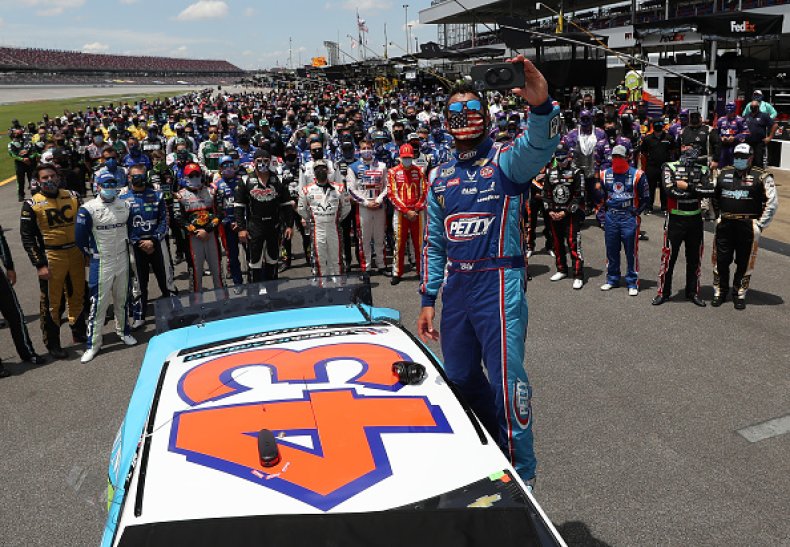 Wallace wasn't sure whether or not NASCAR changes would have been made without his presence, but he believes being there helped lead toward small, yet significant changes in his sport.
"Without my persistent ego, I don't know if it would've happened," Wallace said. "We always gotta keep changing the sport and changing the world one day at a time and one person at a time."
William Darrell Wallace Jr. was born in Mobile, Alabama and raised in North Carolina. His nickname "Bubba" was something his sister called him, and the name just stuck.
Bubba played basketball as a youngster in North Carolina, the hub of NASCAR and home state of Jordan, who starred at the University of North Carolina and won a national title as a freshman. Jordan went on to win six NBA titles for the Chicago Bulls, all while wearing No. 23—the same number of the Toyota Camry that Wallace will drive.
Just after the turn of the century, Wallace went with his father to a motorcycle shop, and they learned of nearby go-cart races. They attended, and Bubba fell in love with it. Next thing you know, Bubba got into local racing for kids his age, and basketball went by the wayside.
Wallace, who said he has a "persistent ego," now races for a couple of owners who have established their own egos through winning titles. So is there pressure for Wallace to start winning immediately in 2021?
"I'm sure there's gonna be a lot of egos involved. There already are," Wallace told Newsweek. "We're confident. There's a fine line you walk between confident and cockiness, and everyday I try to walk proudly on the confident side because I know my abilities and what I can do. Denny knows his abilities, and MJ knows his abilities, of course. If you put all those abilities together it should be a force to be reckoned with for sure."
Wallace said his new team owners have his back when it comes to standing up for social justice, and that the sponsors that followed him back him as well. Wallace said standing for social justice is just one track, but it can't be the total focus in a sport where winning races is also the ultimate goal 38-42 times a year.
"I don't know if we'll ever get to where we want to just because you always gotta have goals for yourself and goals for the sport," Wallace said. "So it keeps you chasing something as long as you can never achieve it. Obviously, you want to achieve everything on the list. But as soon as you do that you're like, "Man, what's next?"
Wallace told Newsweek in the interview that while he never dreamed of motorsports as a child growing up, he did sleep in a bed shaped like a race car. He said that, thinking back, it was shaped like an Indy Car and not a stock car.