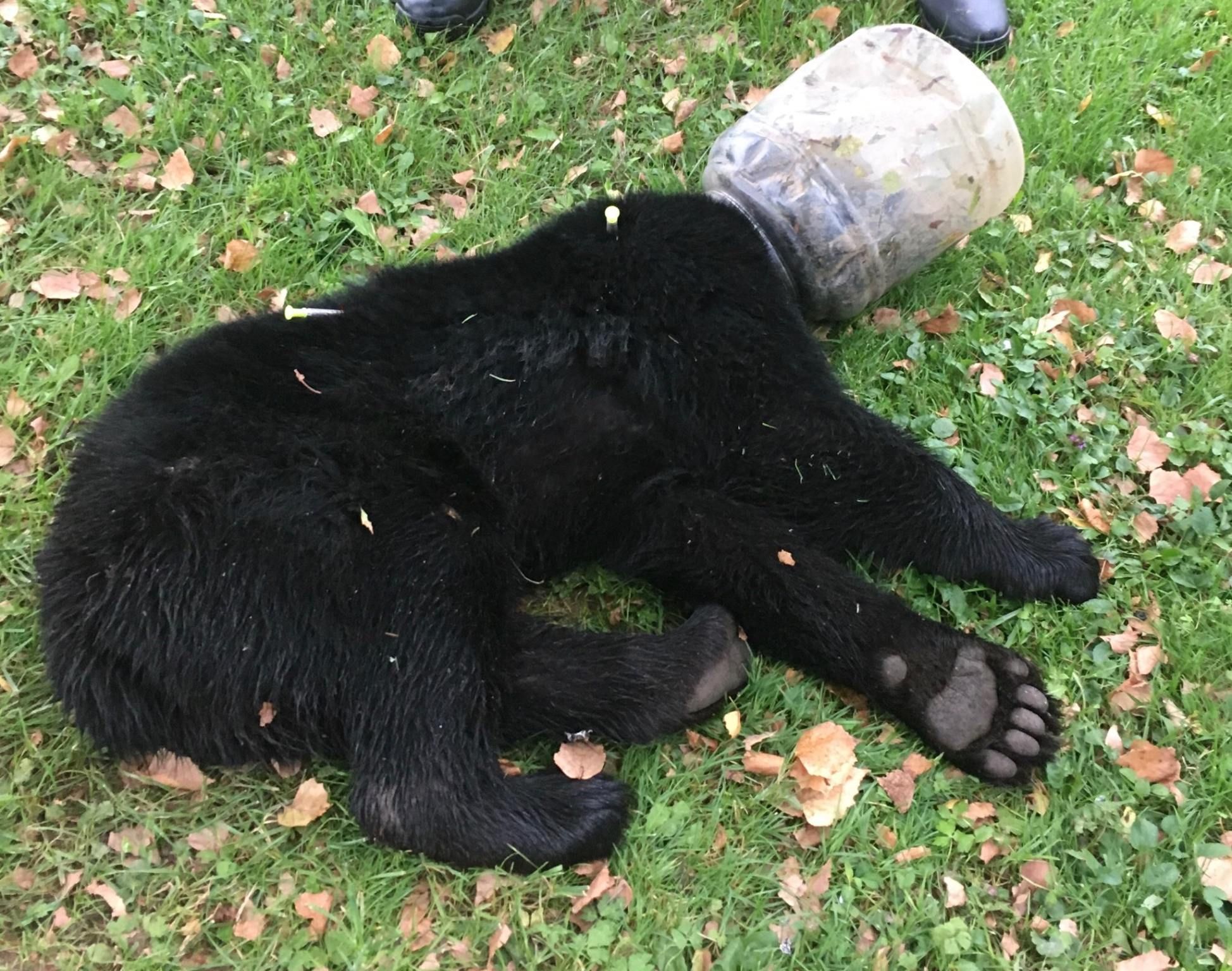 A black bear cub in Maryland who got his head stuck in a plastic jar has been saved by local rangers.
"Buckethead," as the cub has been affectionately nicknamed, was the subject of a three-day search as wildlife workers looked for the bear. Wildlife and Heritage Services—from the Maryland Department of Natural Resources—eventually tracked the 100-pound ursid to a festival in McHenry.
A crowd formed to watch the Wildlife and Heritage Services workers remove the plastic jar. According to the group's Facebook page, onlookers at Wisp Resort were "giddy" to see the cub freed. Before removing the jar, they sedated the bear cub. Once free, Buckethead was returned to the woods near his mother.
Facebook users were full of praise for the Wildlife and Heritage services staff. "Great job folks," one person wrote. "Our MD DNR Wildlife and Heritage Service staff really put forth the extra effort every day and then there's time like this when they dig their heels in and make wonderful things happen."
"Poor little one," another person wrote. "Thank you for helping him. Good job guys." It is not known how the bear cub got his head stuck in the jar to begin with.
Earlier this month in Alaska, a competition was held to determine the fattest bear on the Brooks River. Fat Bear Week, which ran from October 3 to 9, saw Facebook users vote for the biggest bear in Katmai National Park & Preserve. The victor, 409 Beadnose—which has been monitored since 1999—has been given affection nicknames including "huge blimp," "adorable chunk" and "empress of lard."
409 Beadnose managed to beat out the other finalist—known simply as 747—in the final polling. Some of the other bears 409 Beadnose defeated include 151 Walker, 480 Otis and 854 Divot. "Ladies and gentlemen, sows and boars, the Fattest Bear of 2018 is… 409 Beadnose," Katmai National Park & Preserve announced on its Facebook page.