Bud Light Boycott Could Cost Anheuser-Busch 26 Percent of Earnings
Nearly two months after a transgender influencer promoted Bud Light online, the subsequent brand boycott is still taking its toll on parent company Anheuser-Busch's earnings.
On Tuesday, JPMorgan analysts said they now expect Anheuser-Busch's U.S. earnings, before interest and tax, to fall 26 percent this year—a decline in sales they do not expect to be recovered by the end of the 2024 fiscal year in October.
Anheuser-Busch faced a fierce backlash last month after transgender influencer Dylan Mulvaney posted an Instagram video on April 1 featuring Bud Light beers that were sent to her, including a can with her face on it, to celebrate her first year of womanhood.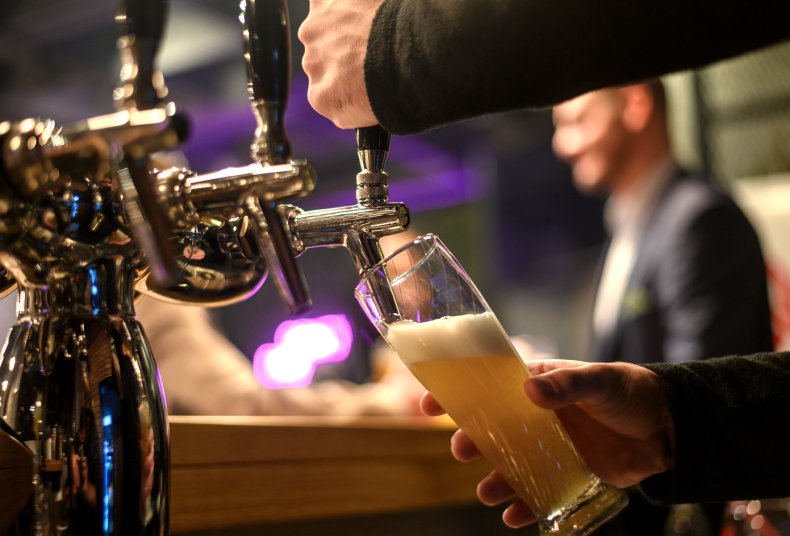 "We believe there is a subset of American consumers who will not drink a Bud Light for the foreseeable future," JPMorgan analyst Jared Dinges wrote in a client note.
Newsweek has reached out to Anheuser-Busch via email for comment.
Within days of Mulvaney's Instagram post, the beer brand found itself in the middle of an anti-trans firestorm and conservative calls to boycott Bud Light, including attacks from names like musician Kid Rock, GOP Senator Marsha Blackburn and controversial media figure Caitlyn Jenner.
The boycott quickly led to a drop in sales for the nation's top-selling beer brand. Nearly two months later, experts do not expect those sales to recover in the short-term.
Bud Light sales were down 24.6 percent in the week ending May 13, according to industry data by Bump Williams Consulting and NielsenIQ research.
Last year, Bud Light brought in $4.8 billion in sales, Bump Williams reported.
The controversy appears to also be hurting other Anheuser-Busch brands, such as Budweiser and Michelob Ultra, while boosting rival brands like Coors Light and Miller Lite, which Beer Business Daily reports seeing a 16.9 percent and 15.1 percent sales increase, respectively.
It is not only conservatives or anti-trans consumers that have criticized Anheuser-Busch in recent weeks. Some LGBTQ+ groups, such as the Human Rights Foundation, have also criticized the company for its handling of the Mulvaney backlash, saying it raises "considerable concern" for members of the community.
Two weeks after the video was posted, Anheuser-Busch InBev CEO Brendan Whitworth released a statement saying, "We never intended to be part of a discussion that divides people. We are in the business of bringing people together over a beer."
"My time serving this country taught me the importance of accountability and the values upon which America was founded: freedom, hard work and respect for one another," Whitworth said in a statement titled "Our Responsibility to America."
"As CEO of Anheuser-Busch, I am focused on building and protecting our remarkable history and heritage."