Buddy the Cat in Stable Condition After Teens Allegedly Set Dogs on Him
Buddy the cat is now in stable condition after two teens allegedly set their dogs on him and encouraged them to attack.
The cat was left with life-threatening injuries after the incident, which was caught on video and released by the animal welfare charity Pennsylvania Society for the Prevention of Cruelty to Animals (Pennsylvania SPCA). The footage showed the dog owners verbally encouraging the vicious attack, as they allowed it to continue.
In the video, the dogs continued to maul the cat, as the owners stood by and watched. One of the owners was caught on camera shouting "good boy" at the dog. The attack ended when a local family, who looked after the cat, came outside.
On March 25, the dog owners were identified as two teens and were detained by authorities.
The incident has sparked outrage across the internet and Buddy, who has been receiving intensive veterinary care at Pennsylvania SPCA, has captured the hearts of social media users.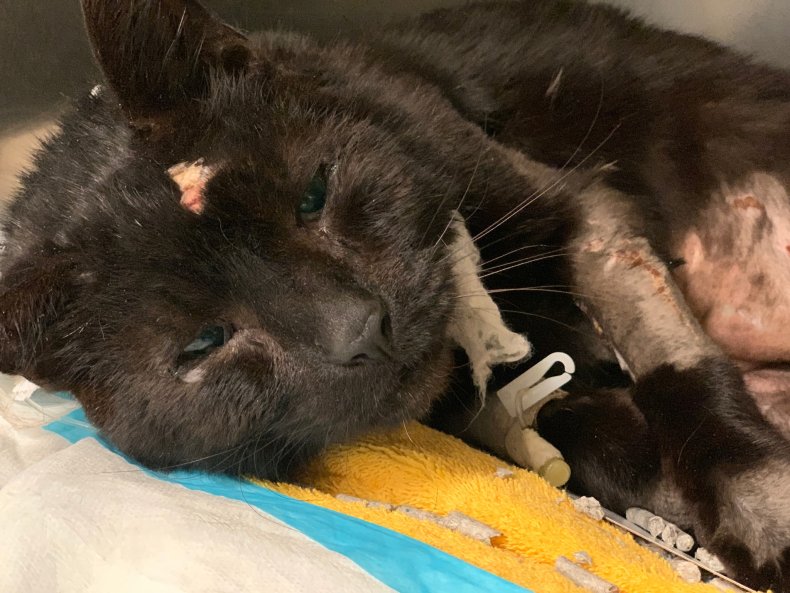 A spokesperson for Pennsylvania SPCA told Newsweek that Buddy is now "doing wonderfully" and his condition has been upgraded to stable.
"We are hopeful that he will make a full recovery. It is quite miraculous that just a little over a week ago he was in such critical condition," the spokesperson said.
A video shared by Pennsylvania SPCA shows Buddy after his surgery, happily licking up a treat. Buddy can be seen wearing a cone and bandages for his injuries.
After the attack, Buddy suffered from wounds all over his body, The Huffington Post reported. Luckily, he did not have internal bleeding or broken bones.
Once the video of Buddy's attack was shared online, it generated outrage among animal lovers across the world.
Pennsylvania SPCA has received a flurry of donations from all over the world, pouring in for the cat's care. On Facebook, the organization said it was "overwhelmed" by the outpouring of support for its "beautiful fighter, Buddy."
The video of the attack has since been taken down due to its graphic nature.
Buddy had been a stray before the incident happened, The Huffington Post reported. He had been neutered by a local family but had not wanted to go inside, the news outlet said. Instead, the family left food out for him.
Pennsylvania SPCA confirmed that Buddy will be put up for adoption once he is fully recovered.
The teens responsible for the attack face felony charges of animal fighting and aggravated animal cruelty, and an additional charge of conspiracy. None of the charges are among the kinds that allow juveniles to be charged as adults. Since they are minors, no other information about their identities has been released to the public.