In accordance with the White House's position that it will refuse to "participate" in House Democrats' impeachment inquiry because of legitimacy and procedural objections, a top budget official said Monday that he and another official will refuse congressional requests to provide closed-door depositions this week.
Lawmakers spearheading the impeachment investigations want to question Russell Vought, the acting director of the Office of Management and Budget, and Michael Duffey, an OMB official who handles national security programs, about the timeline in President Donald Trump's withholding of hundreds of millions of dollars in military aid to Ukraine to combat Russian aggression. Democrats have alleged that Trump's actions were part of a quid pro quo to pressure the country into investigating former Vice President Joe Biden and his son Hunter.
"I saw some Fake News over the weekend to correct," Vought wrote in a tweet. "As the WH letter made clear two weeks ago, OMB officials - myself and Mike Duffey - will not be complying with deposition requests this week. #shamprocess."
Democrats have said that any refusals to cooperate would be viewed as further obstruction by the White House and could result in an obstruction of Congress article of impeachment.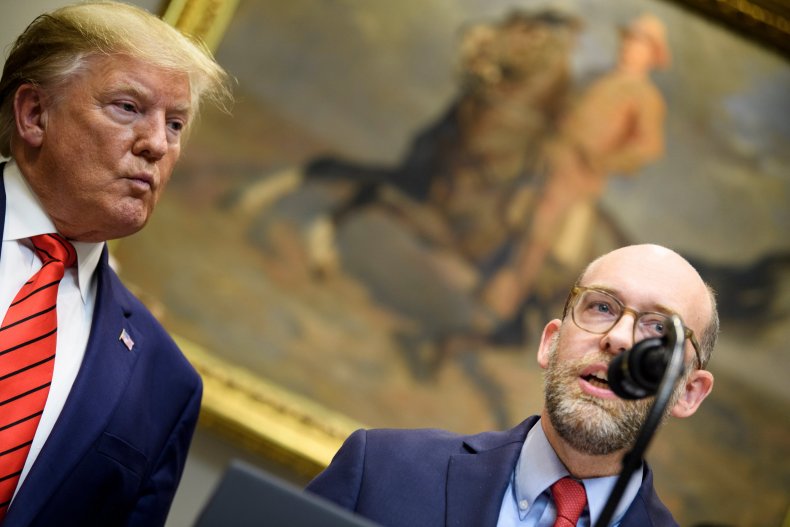 It's unclear whether the OMB officials had been subpoenaed or were just asked to appear for private testimony. The Intelligence Committee, one of three House panels leading the inquiry, declined to comment. Vought was subpoenaed earlier this month for documents, but he refused to provide them by last week's deadline.
In recent weeks, the White House has sought to block several administration officials from testifying, but the subsequent issuing of subpoenas led several officials to defy the White House and answer lawmakers' questions.
It's unclear what action the committee may choose to take in response to Vought's and Duffey's refusals. The panel pointed to a "Dear Colleague" letter penned last week by Chairman Adam Schiff, which said the "flouting of congressional subpoenas and requests as we conduct an investigation of immense constitutional gravity is unacceptable."
"We will consider defiance of subpoenas as evidence of the President's effort to obstruct the impeachment inquiry, and we may also use that obstruction as additional evidence of the wrongfulness of the President's underlying misconduct," Schiff said.
The Wall Street Journal reported that earlier this year, Duffey, with the White House's authorization, continued to withhold the military aid from Ukraine after OMB staffers questioned the legality of the delay.
White House acting chief of staff Mick Mulvaney, who is also the OMB director, admitted last week there was a quid pro quo when speaking about the conditions the White House wanted Ukraine to agree to in order to receive the congressionally appropriated funding. He has since walked back those comments.