White House Accuses Dems of Trying to 'Reverse' 2016 Election, 'Influence' 2020 with 'Invalid' Impeachment
The White House accused House Democrats on Tuesday of trying to "reverse" the results of the 2016 presidential election and of attempting to "influence" the outcome of 2020 by conducting an "invalid" impeachment inquiry that is unconstitutional and lacks due process for President Donald Trump.
White House counsel Pat Cipollone told Speaker of the House Nancy Pelosi (D-Calif.) and other top Democratic leaders in an eight-page letter that Trump will continue to not cooperate with their impeachment proceedings, which includes not complying with subpoenas for documents and witness testimonies, stating the president "cannot permit his Administration to participate in this partisan inquiry under these circumstances."
"Put simply, you seek to overturn the results of the 2016 election and deprive the American people of the President they have freely chosen," Cipollone wrote. "Many Democrats now apparently view impeachment not only as a means to undo the democratic results of the last election, but as a strategy to influence the next election, which is barely more than a year away."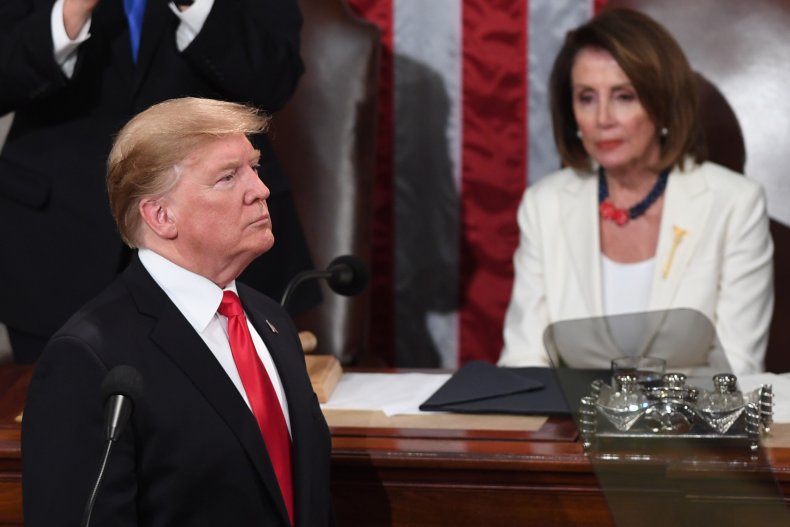 Trump's continued refusal to cooperate with various congressional probes, including the impeachment inquiry that Pelosi said was officially initiated last month, has caused Democrats to warn him that obstructing Congress could become an article of impeachment. One of the articles against President Richard Nixon was a charge for contempt of Congress.
Cipollone stated his belief that House Democrats lack "any legitimate constitutional foundation" with their inquiry, given that the chamber has not voted to authorize it. However, the Constitution gives the House broad discretion in this matter, and it does not require that a vote take place. And even if the chamber votes to do so, a senior administration official told reporters on a conference call that the White House would not necessarily then comply with the inquiry.
Pelosi has resisted demands from Republicans to hold a vote, knowing that by doing so, it would place swing district, moderate Democrats in a difficult spot with constituents.
Cipollone said they believed Trump's due process rights are being violated because the White House lacks access to all of the evidence being provided to Democratic-led committees, including documents, transcripts of witness testimonies conducted in private and the ability to cross-examine or call their own witnesses.
Trump and congressional Republicans have accused Democrats of operating their impeachment inquiry as a "kangaroo court" that is a "sham" impeachment process.
"Given that your inquiry lacks any legitimate constitutional foundation, any pretense of fairness, or even the most elementary due process protections, the Executive Branch cannot be expected to participate in it," Cipollone continued.
Responding via statement, Pelosi accused Trump and the White House of making false claims about the Constitution, House rules and impeachment proceedings precedent. She said Trump was trying to "make lawlessness a virtue."
"The White House letter is only the latest attempt to cover up his betrayal of our democracy, and to insist that the President is above the law," the California Democrat said. "Mr. President, you are not above the law. You will be held accountable."
On the same day as Cipollone's letter that outlined their refusal to cooperate, the White House instructed U.S. ambassador to the European Union Gordon Sondland not to provide a deposition to select House committee members just hours before he was scheduled to do so behind closed doors. The move prompted the Democratic chairmen of three House committees to subpoena the U.S. diplomat for private testimony and to produce any communications he's had with officials regarding Trump requesting a foreign leader to investigate a political rival.
"The failure to produce this witness, the failure to produce these documents we consider yet additional strong evidence of obstruction of the constitutional functions of Congress, a coequal branch of government," Intelligence Chairman Adam Schiff (D-Calif.) told reporters earlier in the day.
House Democrats have been investigating the circumstances around Trump's July phone call with his Ukrainian counterpart, where he pressured Ukrainian President Volodymyr Zelenskiy to investigate former Vice President Joe Biden and his son, Hunter. Democrats are also exploring whether there was a quid pro quo extended to the foreign leader due to the U.S. withholding hundreds of millions of dollars in military aid from Ukraine at the time. They're also probing if there were any subsequent attempts by top U.S. officials to cover-up details of the call to Congress, which lawmakers first learned about from an anonymous whistleblower complaint.
In her statement Tuesday night, Pelosi labeled Cipollone's letter as "another unlawful attempt to hide the facts of the Trump Administration's brazen efforts to pressure foreign powers to intervene in the 2020 elections."
This story was updated to include a statement from Pelosi.
Correction: An earlier version of this story incorrectly said hundreds of "billions" of dollars was being withheld from Ukraine, rather than "millions."