Why Pelosi Doesn't Need a Full House Vote for an Impeachment Inquiry, Despite Trump's Demand
President Donald Trump confirmed Friday that he intends to send a letter to House Speaker Nancy Pelosi (D-Calif.) stating that, until the full House votes to authorize the chamber's ongoing impeachment inquiry, the administration will not comply with subpoenas and other demands for witness testimony and documents.
Trump and Republicans—who've been daring Pelosi to vote on the matter—believe that a vote by the full chamber would put vulnerable swing district Democrats in a tough spot and force members to more officially go on the record, as all but a handful of House Democrats support an impeachment inquiry into Trump.
The White House has refused for months to cooperate with various congressional subpoenas for witness testimonies and documents, and its directed current and former officials to not comply. The response to subpoenas and information requests under Democrats' impeachment inquiry in recent weeks has—thus far—been no different.
"The Democrats—unfortunately, they have the votes. They could vote very easily, even though most of them—many of them—don't believe they should do it," Trump told reporters on the South Lawn. "A lot of them are in—they call them Trump districts, where I won... I think [Pelosi] is afraid to lose her position."
It was not clear as of Friday afternoon when the White House will issue the letter to Pelosi.
But the California Democrat has reiterated she has no intention to hold a floor vote and has stated her belief that one is not required to launch an inquiry—a conviction that is backed by legal experts and the Constitution.
"There is nothing in the Constitution that requires a full House vote to launch an impeachment inquiry," Berkeley Law School Dean Erwin Chemerinsky told Newsweek. "That has been done before, but it is not a constitutional requirement. President Trump is wrong in saying that it is not a legitimate impeachment inquiry without a floor vote."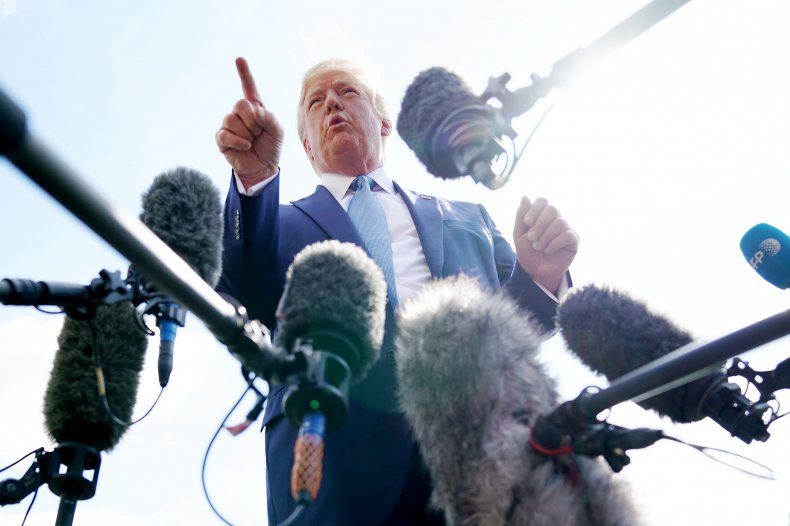 Article I, Section 2 of the Constitution states: "The House of Representatives shall [choose] their Speaker and other Officers; and shall have the sole Power of Impeachment." The ambiguous language offers the chamber discretion as to how it conducts impeachment proceedings.
Republicans have pointed to past precedent as a template to how such inquiries should operate, such as the impeachment proceedings of former Presidents Richard Nixon and Bill Clinton, where the full House authorized an inquiry with a vote. Congressional Republicans have also pointed to said precedent for weeks, as they accuse their Democratic counterparts of conducting a faux investigation.
Indeed, even among Democrats, there has been confusion as to if and when the party officially began an impeachment inquiry. House Judiciary Committee Chairman Jerrold Nadler (D-NY) and other Democrats on the panel argued in court documents as far back as July that they'd begun an impeachment inquiry, while Pelosi announced they were launching one last month.
"There's no requirement that there be a floor vote," Pelosi told reporters in the Capitol Wednesday.
Republicans this week continued to make procedure the focal point of their arguments against impeachment this week.
Sen. Lindsey Graham (R-S.C.), chairman of the Senate Judiciary Committee and an impeachment manager in the House under Clinton, said Democrats "cannot be allowed to hide behind" Pelosi, while House Minority Leader Kevin McCarthy (R-Calif.) demanded the Speaker immediately suspend the chamber's impeachment inquiry to establish ground rules going forward and to vote on the matter.
"Unfortunately, you have given no clear indication as to how your impeachment inquiry will proceed—including whether key historical precedents or basic standards of due process will be observed," McCarthy wrote in one of two letters to Pelosi on Thursday. In the second, he labeled House Democrats' impeachment inquiry as a "fulfillment of a partisan goal to reverse the 2016 election."
In her response, Pelosi reiterated she would not hold a floor vote, writing that there's no requirement to do so under the House rules, the Constitution or precedent. There is, however, some precedence, considering the floor votes taken under Nixon and Clinton that authorized impeachment inquires.
"I received your letter this morning shortly after the world witnessed President Trump on national television asking yet another foreign power to interfere in the upcoming 2020 elections," Pelosi told McCarthy. She was referencing Trump's stated hope that China also investigates former Vice President Joe Biden, something the president has asked his Ukrainian counterpart to do. "We hope you and other Republicans share our commitment to following the facts, upholding the Constitution, protecting our national security, and defending the integrity of our elections at such a serious moment in our nation's history."