These Are the Democrats Who Have Yet to Support Impeachment Proceedings
A wave of House Democrats came out in support of launching impeachment proceedings against President Donald Trump this week in the wake of House Speaker Nancy Pelosi announcing the party was initiating an "official impeachment inquiry."
But there still remain 10 holdouts, most of whom are what's known as Frontline Democrats: freshmen members from swing districts who likely flipped a Trump district and were vital to the party retaking the House last year.
While the number shrinks nearly every day, those who've yet to endorse impeachment proceedings are more moderate than most of their colleagues. And backing a move that could result in the chamber voting on articles of impeachment is no small feat for these Washington newcomers.
Pelosi's move to finally back an impeachment inquiry, something that Judiciary Committee Democrats for months have said they were already conducting, came amid the news that Trump asked Ukrainian President Volodymyr Zelensky during a July phone call to investigate a political opponent—former Vice President Joe Biden and his son—as the U.S. was withholding hundreds of millions of dollars in military aid from Ukraine.
An unknown whistleblower in recent months alerted the call to the inspector general of the Intelligence Community, who then passed the report along to acting Director of National Intelligence Joseph Maguire. Maguire, who at first did not turn over the whistleblower report to Congress, was grilled by Democrats on Thursday in a congressional hearing and defended his decision to not immediately turn over the report because of matters involving executive privilege and the need to first consult with the White House and Justice Department.
The following is a list of those who've yet to join the roughly 225 House Democrats—plus Republican-turned-Independent Justin Amash of Michigan—their state, the district they represent and their recent comments on the topic of impeachment. The list will be updated if the stance of any member changes.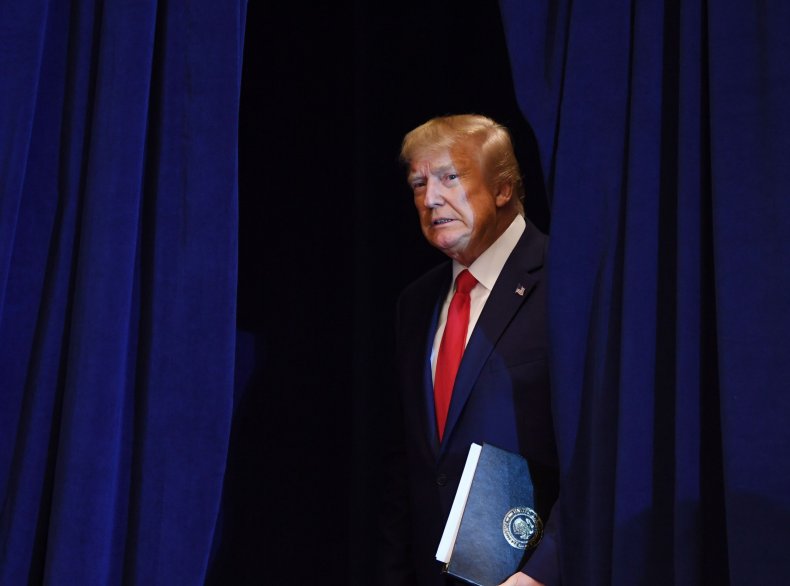 Anthony Brindisi, NY 22: Brindisi, in a series of tweets, characterized the whistleblower's allegations as a "grave and troubling accusation... "We cannot play politics with our national security. We need to know the facts to fulfill our Constitutional duty," he said, prior to the release of the whistleblower's complaint, the partial transcript of Trump's phone call and the inspector general's letter to Maguire.
Joe Cunningham, SC 1: "I've warned members of my own party that a partisan rush to impeach the president would be bad for the country," Cunningham said in a statement to McClatchy.
Jared Golden, ME 2: "The House of Representatives must take every action necessary to combat this administration's stonewalling of the rule of law," Golden said in a statement.
Kendra Horn, OK 5: "We need all of the facts," Horn said in a series of tweets. "This should be a detailed and responsible investigation and not one conducted in a media circus."
Eddie Bernice Johnson, TX 30: In a statement, she said that only if Trump or his administration "withhold [the whistleblower] information from Congress, or if the allegations of his abuse of power are substantiated, I will be placed in a position where I must fulfill my constitutional duty and support impeachment proceedings."
Ron Kind, WI 3: Kind said in a statement to various local media outlets that the administration needs to turn over the whistleblower report "so Congress can investigate these claims as part of its constitutional duties."
Ben McAdams, UT 4: "Before making any judgments, I want to know the facts of what occurred between the president and Ukraine," he said in a statement.
Collin Peterson, MN 7: "Without significant bipartisan support, impeachment proceedings will be a lengthy and divisive action with no resolution," Peterson said in a statement. "I believe it will be a failed process that will end up even further dividing our country and weakening our ability to act together on issues like passing USMCA, containing foreign threats and growing our economy."
Xochitl Torres Small, NM 2: "I will act to support and defend our Constitution by insisting on a transparent process," she said.
Jeff Van Drew, NJ 2: "I don't oppose investigating further, I oppose impeachment and I oppose going down that impeachment road," Van Drew told reporters. "I'm trying to really ride this down the middle and do the right thing and think about it intellectually, and mentally in a way that is appropriate and is responsible... I hope everybody realizes the seriousness of this and how it can even backlash."
Lawmakers who've come out in support for impeachment proceedings since the publication of this story:
Colin Allred, TX 32: On September 26, Allred issued a statement that read, in part: "After reading both the memo of the President's call w/ the President of Ukraine and the whistleblower complaint, I've concluded that a formal impeachment inquiry should begin and investigations must continue in order to protect our national security & rule of law."
Conor Lamb, PA 17: Lamb also announced his support for impeachment proceedings September 26 on CNN's Cuomo Prime Time. "We're in a different place today than we were last week because of these allegations and I think that's going to ramp up the urgency behind these investigations," he said. "I absolutely support Chairman [Adam] Schiff's investigation. The Speaker put the impeachment inquiry label on that on [Tuesday], so that's what it is."
Tulsi Gabbard, HI 2: "Up to this point, I have been opposed to pursuing impeachment because it will further divide our already badly divided country," the 2020 Democratic presidential candidate said in a statement on September 27. "However, after looking carefully at the transcript of the conversation with Ukraine's President, the whistleblower complaint, the Inspector General memo, and President Trump's comments about the issue, unfortunately, I believe that if we do not proceed with the inquiry, it will set a very dangerous precedent. Future presidents, as well as anyone in positions of power in the government, will conclude that they can abuse their position for personal gain, without fear of accountability or consequences."
Max Rose, NY 11: "I have opposed a rush to judgment to date because the American people deserve to know that when this country is in crisis, we're going to react responsibly and deliberately," Rose said at a town hall October 2. "While the president might be willing to violate the Constitution to get re-elected, I will not... It is for that reason that I intend to fully support this impeachment inquiry and follow the facts."
"But," Rose continued, "I want to make something else very, very clear: nothing, nothing at all—impeachment or otherwise—will distract us, will distract me from my work fighting for you."