Nancy Pelosi Announces Official Impeachment Inquiry: Trump Has 'Seriously Violated the Constitution'
House Speaker Nancy Pelosi on Tuesday officially came out in support of impeachment proceedings against the president the United States, becoming one of several dozen Democrats in recent days to take such a stance.
The announcement from the speaker, made at a press event after talking privately with colleagues in two separate meetings, marked a pivotal moment for the chamber's ongoing "impeachment investigations"—as Democrats have labeled them for months in ongoing litigation. It marked the first time Pelosi has publicly supported a process that could end with President Donald Trump's impeachment.
The tipping point for House Democrats as a caucus arrived in the wake of news reports—and even partial admissions by the president himself—in recent days that he allegedly pressured a foreign country to investigate a political rival, going so far as to temporarily withhold hundreds of millions of dollars in military aid.
It remains unclear whether the full House will take a vote in the coming days to formally launch impeachment proceedings or if the Democratic-led Judiciary Committee, in addition to other House panels investigating Trump, will simply continue with the investigations it's been in the process of conducting.
But Pelosi made clear she's no longer shying away from the "I-word," a stance she once held for fear of endangering vulnerable, freshmen Democrats and alienating the electorate ahead of the 2020 election.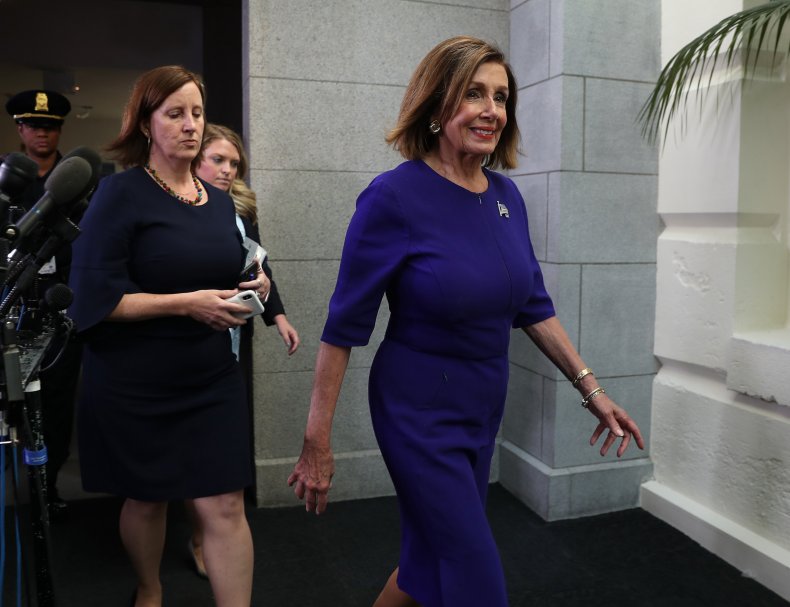 "The actions taken to date by the president have seriously violated the constitution... The actions of the Trump presidency [have] revealed dishonorable facts of the President's portrayal of his oath of office, portrayal of our national security and betrayal of the integrity of our elections," she said. "Therefore, today, I'm announcing the House of Representatives is moving forward with an official impeachment inquiry. I'm directing our six committees to proceed with their investigations under that umbrella of impeachment inquiry."
"The president must be held accountable," the California Democrat continued. "No one is above the law."
Bombshell media reports first revealed the existence of a whistleblower whose complaint to the inspector general of the Intelligence Community allegedly said Trump repeatedly pressured Ukrainian President Volodymyr Zelensky during a July phone call to investigate former Vice President Joe Biden and his son for their former involvement in a gas company. Acting Director of National Intelligence Joseph Maguire has refused to provide the complaint to certain Congress members at the direction of the Justice Department, an act he'll have to discuss in a public hearing before the House Intelligence Committee on Thursday.
Rep. Adam Schiff (D-CA), chairman of that committee, revealed Tuesday afternoon that the whistleblower wants to speak privately with his panel and "has requested guidance from the Acting DNI as to how to do so."
"I can say with authority, the Trump administration's actions undermine both our national security and our intelligence and our protections of whistleblowers," Pelosi said in her press remarks, where she declined afterward to answer any questions.
Trump also announced Tuesday afternoon that he would be authorizing the release of the transcript of his phone conversation with Zelensky, saying it was a "very friendly and totally appropriate call." He also denied reporting that said he temporarily withheld hundreds of billions of dollars in military aid from Ukraine ahead of his phone call with Zelensky to exert pressure.
"No pressure and, unlike Joe Biden and his son, NO quid pro quo!" the president added in a tweet.
Trump has admitted in recent days to the press that he spoke with Zelensky about investigating Biden and his son, claiming without evidence that corruption exists. However, no such claims have ever been reported to be true.
Just over the course of the past few days, dozens of crucial members have come out to support impeachment proceedings—many of them the exact sort of swing-state lawmakers Pelosi once felt she needed to protect by holding back on impeachment talk, in addition to chairmen of committees. Following her announcement, Democrats continued to come out in support of impeachment proceedings, including House Majority Leader Steny Hoyer (D-MD).
"Getting back to our founders, in the darkest days of the American Revolution, Thomas Paine wrote that 'times have found us.' The times found them to fight for and establish our democracy," Pelosi said. "The times have found us today—not to place ourselves in the same category of greatness as our founders, but to place us in the urgency of protecting and defending our constitution from all enemies foreign and domestic."
In a series of at least five tweets within minutes after Pelosi finished speaking, Trump lashed out, again characterizing the actions of House Democrats as "PRESIDENTIAL HARASSMENT!" and a "total Witch Hunt!"
"Such an important day at the United Nations, so much work and so much success, and the Democrats purposely had to ruin and demean it with more breaking news Witch Hunt garbage," Trump, who was at the United Nations General Assembly in New York, continued. "So bad for our Country!"
His re-election campaign also sent out text messages, telling supporters they "need you on my Impeachment Defense Team."