Republican House Minority Leader Mocked for Asking Nancy Pelosi To 'Halt' Impeachment Inquiry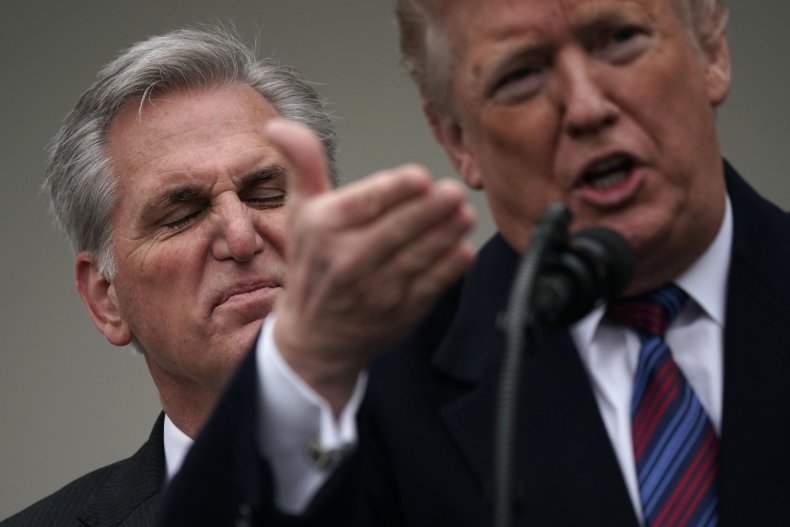 House Minority Leader Kevin McCarthy called on House Speaker Nancy Pelosi to "halt" the impeachment inquiry Thursday, and Twitter isn't having it.
In a letter, McCarthy called on Pelosi to answer ten questions before proceeding, including whether the speaker intends to provide President Donald Trump's counsel the right to attend all hearings and depositions. He also accused her of handling the process so far with "swiftness and recklessness."
"By answering 'no' to any of the above, you would be acting in direct contradiction to all modern impeachment inquiries of a sitting president," McCarthy wrote.
Before Pelosi had a chance to respond, Twitter had a few suggestions for the speaker.
One Twitter account named in honor of 15th U.S. President James Buchanan posted a "live view" of the document proceeding directly from Pelosi's printer into a paper shredder.
Others referenced a video clip of Trump talking to the press just a few hours prior.
"So I would say that [Ukrainian] President Zelensky, if it were me, I would recommend that they start an investigation into the Bidens," Trump said in a video posted by CBS News. The statement constitutes one of several instances where the president encouraged, or said he encouraged, Zelensky to investigate Trump's political rival former Vice President Joe Biden.
"Dude, your tweet is barely 5 minutes old and it already hasn't aged well," wrote @KevINthe406.
"Hey Kevin you missed your orange leader admit to crimes on national TV!" Rita Pesini chimed in.
"Ummmm," wrote @mrbigg450, "Trump just said what you are trying to protect him from. You might as well take that statement to the bathroom with you."
Pelosi probably didn't jot down these responses, but she took a similar approach in her letter back to McCarthy Thursday afternoon.
"As you know, our Founders were specifically intent on ensuring that foreign entities did not undermine the integrity of our elections," the speaker wrote. "I received your letter this morning shortly after the world witnessed President Trump on national television asking yet another foreign power to interfere in the upcoming 2020 elections."
At least one Republican in favor of impeachment tweeted at the House minority leader, too.
"As a military family, this is devastating," @GoldenRuleLover wrote about an hour ago. "Where are all the so called patriots that were upset for Kap taking a knee? If we are okay with foreign adversaries, convicted felons, & pickled foreign agents shaping US foreign policy, why did they serve?" He finished the tweet with the hashtag #RepublicansForImpeachment.
Still, party lines were on display in McCarthy's thread. Many conservatives praised him for the move using the hashtag #StopTheImpeachment. Several accused Democrats of impeaching Trump on the grounds that they don't like him personally.
"Im praying for a God intervention!" wrote @StephMcMurphy, "These Democrats are evil to the core."
An account by the name of "Mr Moore" said "only Democrats may collude with foreign government," and then they're not investigated for it, he said.
Another agreed the speaker should at least follow Congressional precedent. "How on earth can it be called 'an impeachment inquiry' based solely on the Speaker's declaration? This is NOT a House impeachment inquiry," she said.
McCarthy's letter is the latest attempt by Republicans to delegitimize the impeachment inquiry, but the constitution does not specifically describe how impeachment is governed, according to NBC News. Still, at issue is the fact that Pelosi chose not to seek a full house vote to launch the investigation.
Pelosi addressed this in her response to the congressman. "There is no requirement under the Constitution, under House Rules, or House precedent that the whole house vote before proceeding with an impeachment inquiry," she said.
Meanwhile, The New York Times reported last week that the Trump administration was buckling under impeachment pressure. The White House communications staffers "have seen their roles subsumed by Mr. Trump," wrote the Times reporters, while any attempt by aids to tell the president things he doesn't want to hear results in getting "dismissed or marginalized."
Yesterday was a busy day in Trump impeachment land. Secretary of State Mike Pompeo acknowledged he listened in the president's phone call with Ukraine a day after accusing Democrats of trying to "bully" department officials they wanted to interview. Trump also lashed out against Democrats and reporters alike, after Congress said they would subpoena his administration for documents related to the call.
Still, many Americans don't seem to mind the president's alleged misdeeds. According to a recent poll, Trump's approval rating has climbed to a new high for 2019.
10/3/19, 3:51 p.m.: This story has been updated with Speaker Nancy Pelosi's response to House Republican Leader Kevin McCarthy.