Buffalo Braces for Third Major Winter Storm in Already Historic Season
Buffalo, New York, is expected to face its third major winter storm in a matter of months as a massive storm progresses eastward across the United States this week.
This year's winter season has already caused distress in the United States with a slew of historic weather. Buffalo, New York, has already faced two devastating winter storms—one in November that dumped 7 feet of snow on the city and another roughly a month later when a December arctic blast moved across the United States, plummeting some states into record-breaking cold. During the arctic blast, another 4 feet of snow fell on Buffalo, and blizzard conditions ensued, making roads impassable. The December storm killed 39 people in Buffalo—more than the historic Blizzard of 1977—with many stranded in their cars unable to escape the storm.
Despite unseasonably warm temperatures in some parts of the United States, winter isn't over. A massive winter storm trekking east across the United States is expected to bring snow and ice to nearly a third of the nation.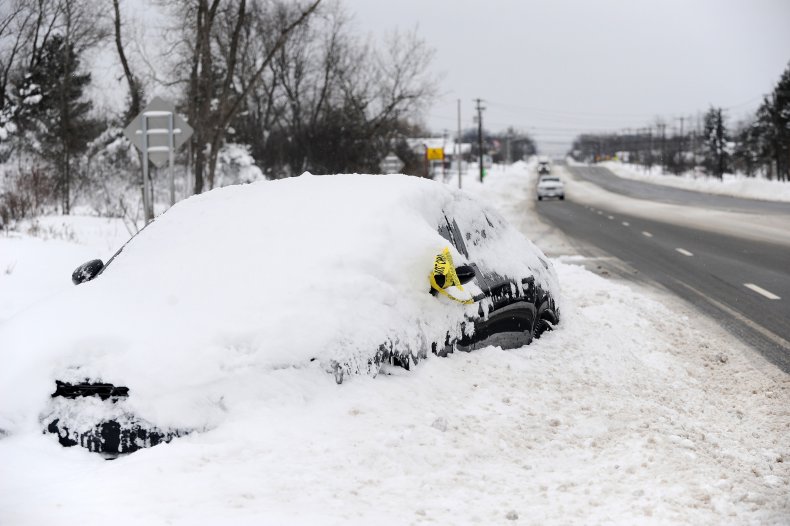 AccuWeather Senior Meteorologist Dan Pydynowski told Newsweek that ice and freezing rain will hit areas south of forecasted snow. Buffalo, New York, is forecast to be in the storm's path once again and will receive both snow and ice.
NWS Buffalo tweeted that the Buffalo area may receive around 9 inches of snow starting Wednesday, and freezing rain and ice will follow Wednesday night into Thursday. The forecast predicts almost a quarter-inch of ice to fall in Buffalo by Thursday. Most precipitation will fall Wednesday night.
Pydynowksi told Newsweek there "could be enough freezing rain accumulation to be worried about more widespread power outages."
The biggest risk with ice will be impeded travel and possible power outages as ice accumulates on power lines and tree branches. Pydynowksi told Newsweek strong winds are expected to follow the ice and could delay power crews' response times to reported outages.
Much of the snow—predicted to reach up to 2 feet in some parts of the nation—will hit Minnesota. Meteorologists are comparing the incoming storm to the blizzard that decimated Buffalo in December.
"Twin Cities now into the EXTREME IMPACT criteria for Winter Storm Olive. Aside from the mountain peaks, Buffalo and Watertown were the only other cities to have such an impacting winter storm this season!" The Weather Channel meteorologist Chris Bruin tweeted Tuesday.
The National Weather Service's "extreme impact" effects include extremely dangerous travel conditions, widespread outages and possible life-saving actions.