Buffalo Shooting 'False Flag' Operation, Suggest Wendy Rogers, Nick Fuentes
Wendy Rogers and Nick Fuentes, two prominent right-wing influencers, suggested Saturday that the racially-motivated mass shooting in Buffalo, New York, could be a false flag operation.
Ten people were fatally shot inside a Tops Friendly Market north of downtown Buffalo Saturday afternoon, and officials have said the suspected shooter is believed to have been motivated by racial animosity. Many people, in the wake of the shooting, have called for renewed efforts to deal with rising hate crimes across the country.
As many politicians from both major parties expressed their sympathies for the victims following the deadly shooting, some far-right influencers instead promoted an unfounded conspiracy theory that the shooting was a false-flag operation.
Arizona state Senator Wendy Rogers, who is endorsed for reelection by former President Donald Trump, wrote in a Gettr post Saturday that "fed boy summer has started in Buffalo," referring to the theory among some right-wingers that FBI agents are behind acts of violence and are seeking to blame conservatives.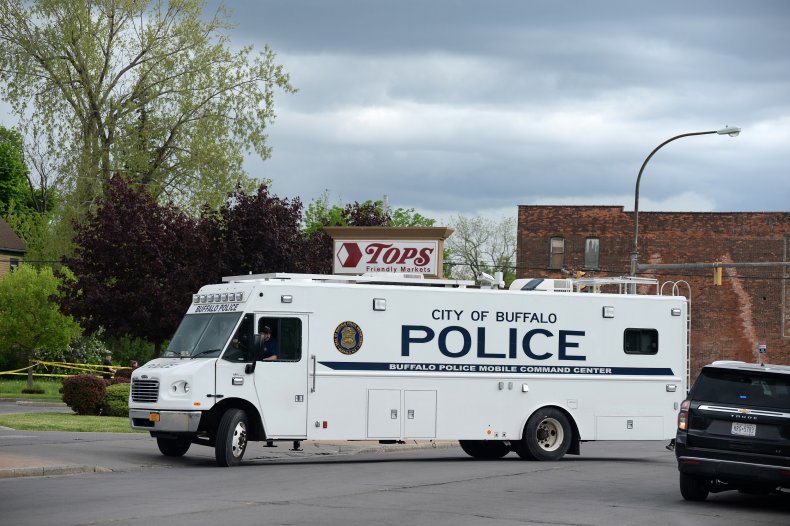 Meanwhile, Nick Fuentes, a right-wing political commentator, who has been classified as a white nationalist by the Southern Poverty Law Center, described the shooting as a "new false flag" in a Saturday post on Telegram.
Neither provided any substantial evidence to back up their claims the shooting was a false flag operation, nor did they provide any explanation for why they believed the shooting was staged.
Police arrested the suspected shooter, 18-year-old Payton Gendron, at the supermarket after he shot 13 people, including a security guard, local authorities said. A manifesto believed to have been posted by him has since emerged online, riddled with white supremacist, anti-immigrant views. In it, Gendron said the shooting was motivated by a racist ideology known as replacement theory, which claims that white Americans are at risk of being replaced by people of color.
Authorities are investigating the shooting as a racially-motivated hate crime and have said Gendron allegedly traveled hours from his home, also in New York, to conduct the shooting in an area with a high Black population.
Accusations of false flag operations have followed shootings and other violent events in the United States in recent years, but generally lack evidence.
Some claimed that the mass school shootings at Sandy Hook Elementary School in Newtown, Connecticut, in 2012, which saw several young students fatally shot, and Stoneman Douglas High School in Parkland, Florida, in 2018, were both hoaxes.
Believers of QAnon, a far-right conspiracy theory, claimed a mass shooting at a King Soopers grocery store in Boulder, Colorado, last year was also a false flag operation, claiming that nobody actually died. They claimed the shooting was staged by federal authorities in an effort to promote gun control efforts.
As with the Buffalo shooting, there was no presented substantial evidence to back up claims of a false flag operation.
Newsweek reached out to Rogers and Fuentes' America First Foundation for comment.