'Bulls**t' Restaurant Review From Patron Who Stayed Past Close Sparks Fury
An "entitled" restaurant customer's negative Yelp review has sparked fury among online commenters.
A screenshot of the review was posted to TikTok on Thursday by Dean Redmond (@deanredmonds), the woman's server. The post has amassed over 1.5 million views and thousands of comments from frustrated viewers venting about the "the customer is always right" mentality.
Before sharing the review, Redmond posted a video on Wednesday in which he recounted his experience with the customer.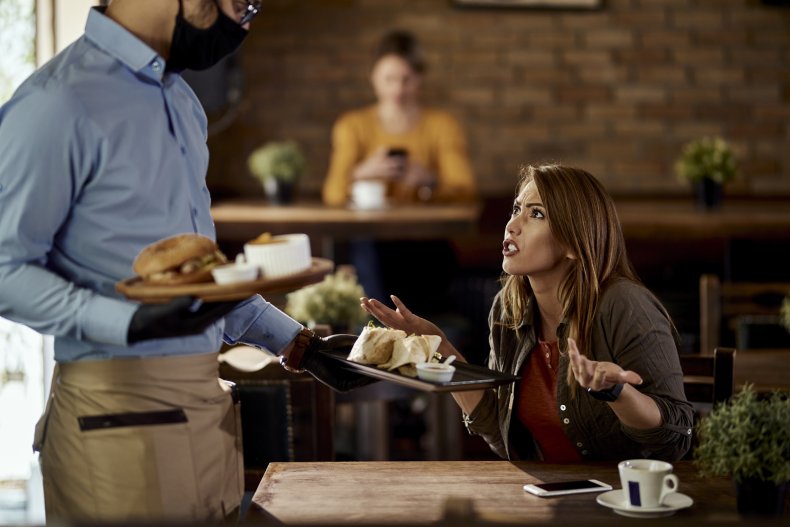 "The women that I just served at the end of my 10-hour shift just sucked the living life out of me," he said.
According to Redmond, the women walked in 13 minutes before closing and demanded a table. During that time, Redmond said one of the women ordered a "burning hot coffee" and then complained that it was "unbearably hot." He also said the women called him "rude" when he reminded them they only had a few minutes to get their orders in.
"She finally gives me the order, I get it in and the kitchen's already like, 'Dean, did you really just give us this order at 3:59 p.m. when we're leaving at 4:00 p.m.?'" Redmond recalled. "So they [make] these cheeseburgers and a pastrami sandwich and [I] bring it out to [the customers] and the lady, instantly, is like, 'This pastrami is disgusting.'"
When Redmond said that the kitchen likely wouldn't remake the sandwich due to the restaurant being closed, the woman complained, forcing Redmond to take it back. Fortunately for him, one of the cooks agreed to remake the sandwich before leaving.
Roughly 30 minutes past closing, Redmond gave the women their $70 bill, only they didn't want to leave. After some back and forth, and after threatening to write a bad review, the women finally paid, leaving only a $2 tip.
In Redmond's follow-up video, he shared the woman's review, which read: "I have never been treated with such disrespect as I was today, the boy serving us had backtalk on everything we asked him for...the customer is ALWAYS right. I have never been more rushed in my life and this young man needs to find a new line of work, but clearly, this is all he is capable of."
Poor Customer Behavior
If true, Redmond wouldn't be the first server to experience poor customer behavior in the past year. Last week, a woman was filmed berating a Subway worker over a chocolate chip cookie. In March, another woman was filmed throwing a "tantrum" at Starbucks. And last October, a restaurant manager said a customer threw a highchair at her after yelling at members of her staff.
An October survey conducted by Snagajob-Black Box found that 62 percent of restaurant employees have experienced "emotional abuse and disrespect from customers," said Nation's Restaurant News. A separate poll found that as of May 2021, 39 percent of food service employees reported quitting due to customer hostility and harassment, The Harvard Gazette said.
Though this behavior can be blamed on a variety of factors, some believe the increased hostility stems from the "the customer is always right" mentality.
"The idea that the 'customer is always right,' which dates back more than 100 years, has given rise to entitled consumers and more aggression toward retail workers," Insider reported last October.
Viewers React
Redmond's commenters said the reviewer was wrong and slammed "the customer is always right" mentality.
"Anyone that pulls that customer is always right bulls**t is most definitely WRONG. People are literally the worst," Amanda wrote.
"The customer IS NOT ALWAYS RIGHT. I'm so sick of self-entitled a**holes," peterandronnie said.
"We need to collectively stop saying the customer is always right. the customer is always a guest and should act like it," Tracy Rekow said.
Whattheheythere added: "She is definitely wrong. Sorry you had to deal with that."
Newsweek has reached out to Redmond for comment.