Burger Brand Goes Viral Over Hilarious Slogan Calling Rivals 'S***'
A fast-food brand has caused a stir online with their very blunt packaging, which infers others burgers are "s***."
While most outlets go for catchy slogans, one South Korean company opted for a more direct approach, and simply printed "we believe that other burgers are s***" across their packets.
The tagline is the brainchild of Billionbox, and it caught the eye of Twitter user Ryan King, @NoMagRyan, who shared a snap of their food to the social media site on Wednesday.
It was liked more than 47,000 times, and widely shared online, with numerous other Twitter users sharing the same image themselves. King, from the U.K., chatted to Newsweek, and explained that despite being a fan of the burger, he's yet to eat one himself.
He said: "I haven't tried them, I think I added a load of South Korean food Insta accounts when I was transiting through Incheon airport a few years back, just in case I had time to leave the airport and try any. I didn't have time to in the end so deleted them all when I got home but kept Billionbox because their slogan made me laugh. They've been using that slogan for at least two years.
"And that's it really. I tweeted yesterday morning that the slogan made me laugh and it went viral! I messaged them to explain where their new followers had come from, as they've gone from 920 to over 3,000, and they said I can have free burgers whenever I visit South Korea. So that'll be next on my travel list I think!"
The brand's Instagram page has also shared King's post, which they jokingly captioned "works for us." Their stories are full of social media posts raving about the slogan after King's post was shared on viral Instagram account @Madeinpoortaste.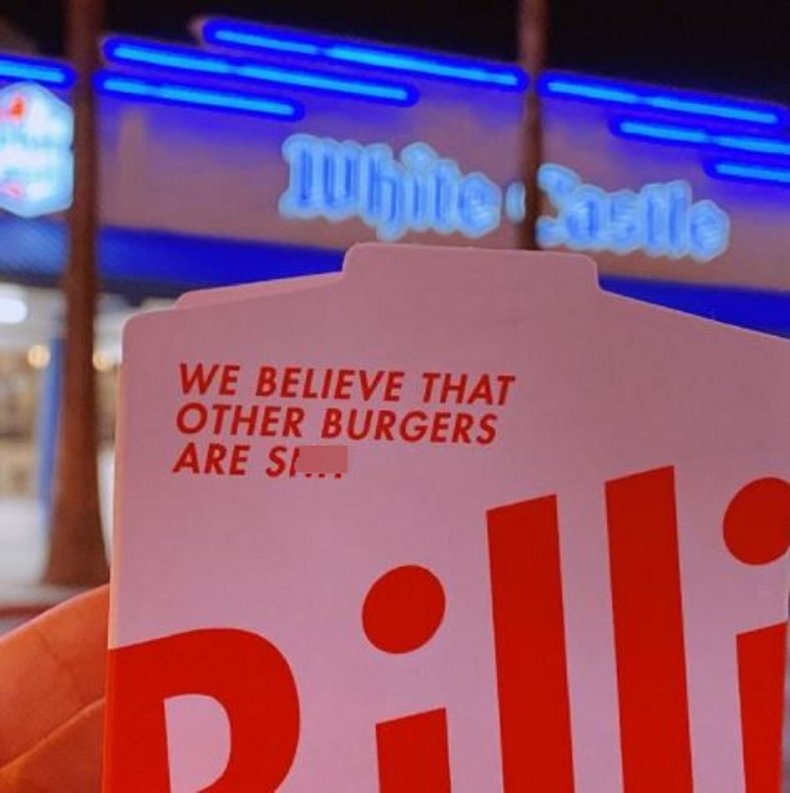 Seunghun Joen, CEO of Billionbox, told Newsweek he came up with the tagline. He said: "The Billionbox is based on hip-hop culture. Our logo looks like supreme."
Raving about the food at their four outlets in Seoul, he said: "Our sliders taste better than how it looks. As you know slider is small. We believe that small make the biggie."
And when asked about the reaction to their slogan which is sweeping the net, Joen added: "It is fantastic. And it is so motivated."
King's now-viral tweet was originally captioned: "There's a South Korean burger bar I follow on Insta just because their slogan always makes me laugh."
He added updates, saying: "They're now over 1,000 followers! I think they were on 920 when I tweeted this, so this is really nice to see
"I also had a chat with them to let them know where their new followers were coming from and they seem like a really nice bunch. And I've also made a new Insta friend!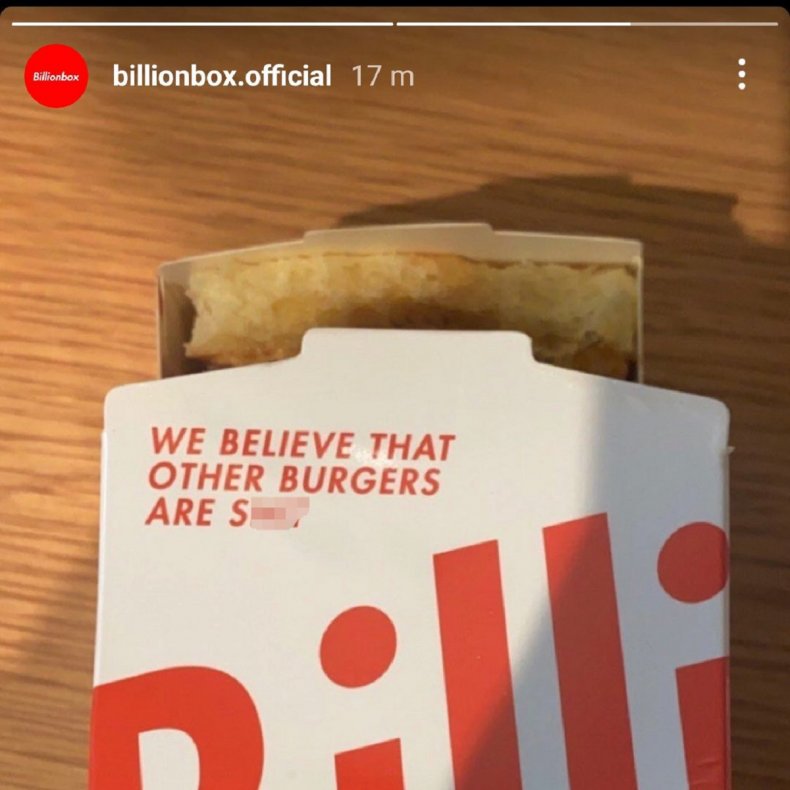 "Last update from me but they're now over 3,000 followers and said I can have free burgers whenever I visit south Korea."
Numerous people raved about the slogan in the comment section too, with Rhiannon R commenting: "I love that they did a bit of damage control with 'We believe.' Can't really argue with it can you?"
Max G joked: "Lol, that's a power move right there. Gotta respect it."
Henry Prince thought: "Great to see truth in advertising. You can't argue with a belief."
"They didn't hold back huh," @ZR3009 noted.
@BackendBb added: "Lmao straight to the point."
While Duke raved: "Gotta respect the confidence."