Burger King to Begin Serving Hot Dogs at All U.S. Locations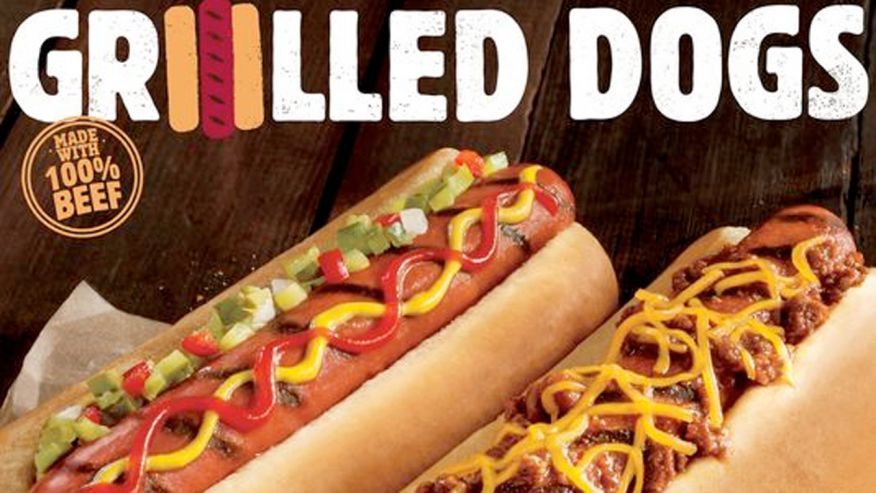 "Burger" King has done gone crazy.
Beginning February 23, the chain that brought America the Whopper will offer hot dogs, or "Grilled Dogs," in all 7,100-plus of its U.S.. locations. Two types of Grilled Dogs will be offered, a classic grilled dog and a chili cheese dog. The Grilled Dogs will be permanent installations on the restaurant's menu. Yes, BK is entering the hot dog market for good.
"The introduction of Grilled Dogs just made sense to our guests and for our brand," said Burger King North America president Alex Macedo in a statement. Considering Burger King's "brand" is quite literally a burger, we're not sure how exactly a hot dog "makes sense" other than that it is something the BK brass can imagine people paying money to eat, just like jalapeño chicken fries or easily dippable french toast sticks.
The move into the tubed meat game comes after Burger King tested hot dogs in five markets in 2015. Just as the chain is known for its flame-grilled burgers, so too will its hot dogs bear this tasty hallmark. They will not be boiled and tossed onto rollers. The dogs are also purported to be 100 percent beef, which is good. The classic dog will retail for $1.99 and $4.49 for a combo meal. The chili cheese dog will go for $2.29 and $4.79, respectively.
Previously, if you wanted a hot dog on the go, the gas station was the only reliable option. That or a Sonic, but who knows where Sonic is actually located anyway?
Burger King is the first major fast-food chain to introduce hot dogs, which seems strange considering the number of other inexplicable innovations chains continue to roll out to attract new customers. Gone is the idea that a restaurant must choose to rally behind either the burger or the hot dog. Or salads. Or breakfast sandwiches. Or cinnamon buns. There is now room for everything in the fast-food feed trough. Pizza can't be far behind.
Burger King has yet to make a definitive statement as to whether a hot dog is a sandwich.
Burger King to Begin Serving Hot Dogs at All U.S. Locations | Culture