'Burn the Witch' Anime: When and How to Watch Tite Kubo's Latest Online
The next anime from Bleach creator, Tite Kubo is finally here!
Burn the Witch follows two young women who are tasked with capturing dragons in Reverse London. Dragons aren't the typical mythical creatures that we know from folklore, these are beasts that are invisible to most people, but can cause incredible damage if not maintained.
That's where our protagonists Noel and Ninny come in. Working for the protection agency, Wing Bind, these two will see to it that any dragon is subdued, but there's more to the dragons and the agency than it seems.
Burn the Witch takes place in the same universe as Bleach, so viewers may see some similarities between the two series.
If you're still not convinced, here's the full synopsis on Burn the Witch followed by the official trailer.
Historically 72% of all the deaths in London are related to dragons, fantastical beings invisible to the majority of the people.
While unknown to most, some people have been standing up to these dragons.
Only inhabitants of Reverse London who live in the hidden "reverse" side of London can see the dragons. Even then, only a selected few become qualified enough as witches or wizards to make direct contact with them.
The protagonists of the story are witch duo Noel Niihashi and Ninny Spangcole. They are protection agents for Wing Bind (WB), an organization for dragon conservation and management. Their mission is to protect and manage the dragons within London on behalf of the people.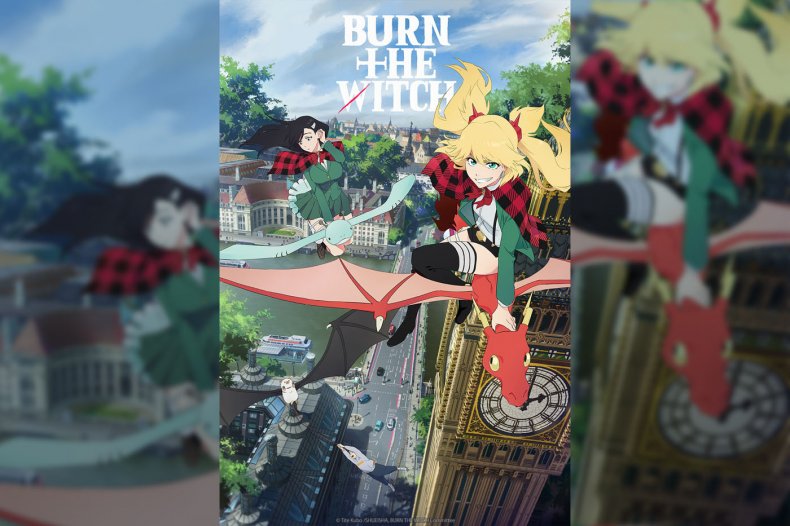 HOW TO WATCH BURN THE WITCH ANIME ONLINE
As with many anime at least one of the top streaming services will have Burn the Witch available to stream in the original Japanese language with English subtitles shortly after it airs in Japan.
Here are the methods to watching Burn the Witch:
CRUNCHYROLL
Crunchyroll will carry the simulcast of Burn the Witch starting Thursday, October 1 at 8 p.m. EDT.
The streaming service offers a 14-day free trial of its premium service. Like other streaming services, you must sign up for an account and provide payment details. There is also a free version of Crunchyroll that includes ads.
The Crunchyroll app is also available on PlayStation 4 and Xbox One, as well as iOS and Android devices.
SHONEN JUMP
This isn't about the anime, but if you want to read the adventures of Noel and Ninny in manga form, Viz Media is making the special one-shot and all four chapters of the story available for free just the week of the premiere so go read it before it's gone.
Are you excited for the next anime set in the Bleach universe? Let us know in the comments section.