Burned Florida Man Was Killed by Exploding Vape Pen
A man in Florida died when his vape pen exploded, firing two pieces of the device into his head before his house set on fire, leaving his body heavily burned, a medical examiners report has said.
The death is thought to be the first in the U.S. directly related to the use of one of the popular smoking devices.
First reported by the Tampa Bay Times, Pinellas-Pasco Medical Examiner's autopsy said that 38-year-old Tallmadge D'Elia died from a "projectile wound of head" and 80 percent of his body suffered burns in the subsequent fire.
The device was manufactured by Smok-E Mountain, with The New York Times reporting that the company's logo appeared on one of the object found in D'Elia's cranium.
Smok-E Mountain told ABC Action News that any explosion was likely caused by knockoff battery and are hoping to see pictures of the device in question. The company's Facebook page was deleted.
Speaking to The New York Times, the head of the American Vaping Association said that while vape products were used by millions, the sorts of tragic events suffered by D'Elia are "rare" and the devices carry the same amount of fire risk as other products with similar batteries like laptops and cellphones.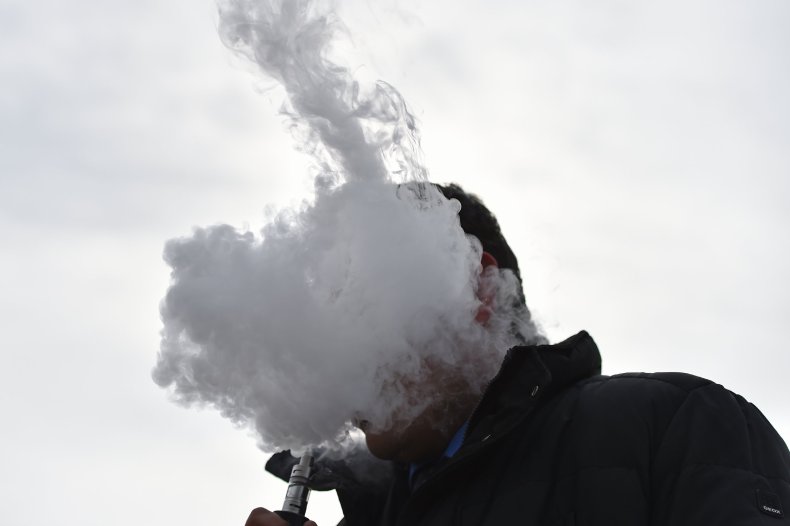 E-cigarettes are still a relatively new device, though their growing popularity has sparked the interest of U.S. regulators. In April, the FDA announced a crackdown on the illegal sale of JUUL products and other similar e-cigarette devices to minors.
"The illegal sale of these JUUL products to minors is concerning. In fact, just since the beginning of March, FDA compliance checks have uncovered 40 violations for illegal sales of JUUL products to youth," FDA Commissioner Scott Gottlieb, M.D., said in a statement at the time.