Bus Rider Mocks Muslim Woman's Accent, Says ICE Is Coming in Latest Racist Rant: 'You Can't Even Speak English'
During an argument on a bus in New York City, a woman named Ashley mocked a Muslim woman's accent, her ability to speak English, and warned her that Immigration and Customs Enforcement (ICE) was coming for her.
The 31-second video, which was shared on YouTube on Wednesday, begins after the argument has already started, and the woman, who later identifies herself as Ashley, is dancing in her seat as she looks at the woman and sings, "I am a citizen."
"Why you putting the middle finger up at me?" she asks the Muslim woman. "You mad?"
The Muslim woman's comments are predominately inaudible; however, she can be heard saying, "I'm a citizen, too." At which point, Ashley mocks her accent and responds: "You no citizen. You can't even speak English."
About halfway through the clip, Ashley turns to the person filming the altercation, gives her name, and explains she's getting into a fight with "some Muslim chick" because of the woman's attitude over thinking "she has rights that she doesn't have."
"Immigration at the door," she yells towards the window. "Oh, wait is that ICE? Oh, mama, they here for you."
The video ends right after that comment, but the person who allegedly took the video posted on Reddit that the argument began when the Muslim woman boarded the bus with a baby stroller. After she triggered the door proximity alarm a few times, Ashley screamed, "Get the f**k away from the door," and the altercation ensued. Newsweek reached out to MTA but did not receive a response in time for publication.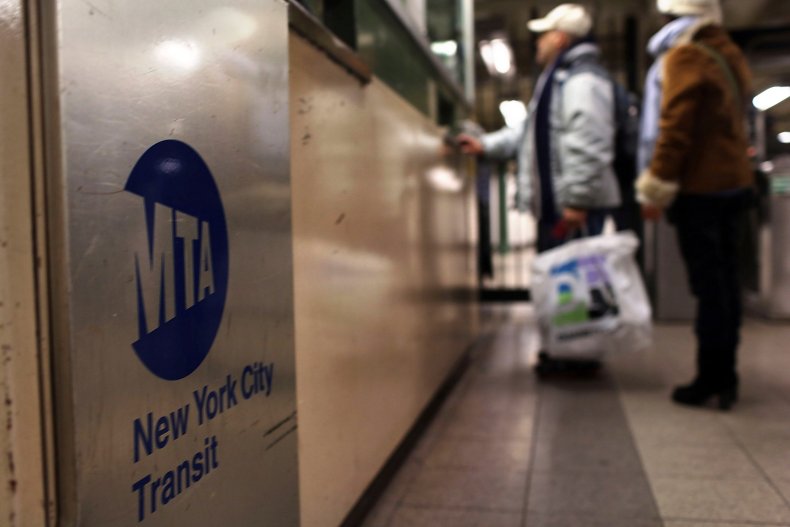 The user who posted the video later explained that shortly after the video was taken, the bus driver intervened and "defused the conflict."
"The women screaming in the video accepted the rebuke with about as much grace as you'd expect," the cameraman added. Newsweek also reached out to the person who posted the video, but did not receive a response in time for publication.
The tirade came only a week after 57-year-old Anne Marie Messiano was arrested on charges of aggravated harassment, disorderly conduct and criminal obstruction of breathing for an altercation that also occurred on a bus. Along with repeatedly using the n-word, video showed Messiano also railing against undocumented immigrants until the bus driver called the Orangetown Police Department.
Orangetown Town Supervisor Chris Day labeled her an "unhinged racist" and in a Facebook post, commended both police officers for arresting her and the other passengers for how they handled the situation.
Wednesday's video of Ashley's rant had been watched over 11,000 times by Thursday morning, and Twitter users have called for her to be publically identified.