Many of the more than 1,500 businesses in Minneapolis and St. Paul damaged during last year's riots following George Floyd's killing remain closed, while others are struggling to stay open. Along one especially hard-hit area, only 21 percent of the most damaged properties are back in business, according to the Star Tribune.
The newspaper also noted that with $500 million in damage to the Twin Cities, protests are the second-costliest civil disturbance in U.S. history behind the 1992 riots in Los Angeles.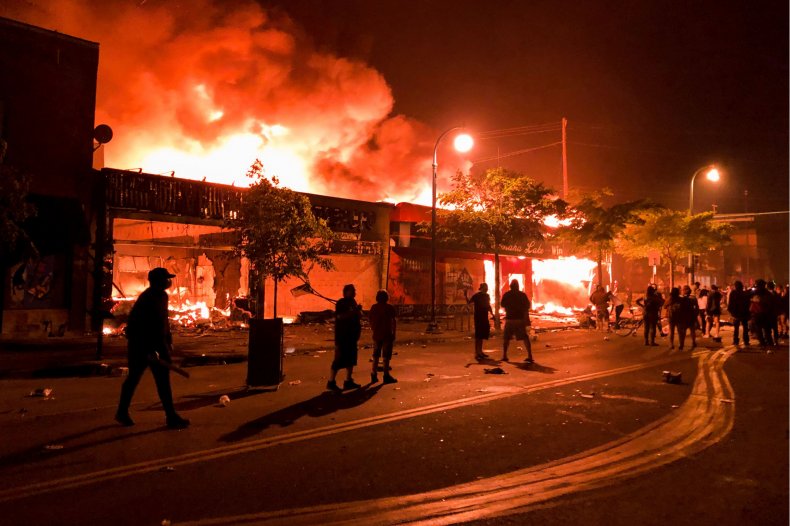 Lake Street was the hardest hit area during the riots. The route runs for miles through Minneapolis and over a bridge on the Mississippi River to St. Paul. The section was a vibrant, immigrant-heavy, business district prior to the riots that came in the days after Floyd was killed by Minneapolis police officer Derek Chauvin.
A year later, the Star Tribune detailed how Lake Street and Minneapolis–St. Paul at large have recovered. It reports that of 334 damaged businesses along a 6-mile stretch of the Lake Street route surveyed, 110 are still closed. Of those that aren't closed, several have only a "We're Open" message painted on boarded doors boarded to greet customers, according to the paper.
Allison Sharkey, executive director of the Lake Street Council, the nonprofit serving the businesses along what was a thriving business district, spoke of the issues continuing to hinder owners of places affected by the protests. She told the Star Tribune, "I continue to feel heartbroken when I hear what business owners are going through."
She added, "I hear about them struggling to reopen after a COVID shutdown, and then civil unrest hits, then they reopen again, and then they get broken into. It's been this series of trauma and setbacks."
The Star Tribune also noted that rebuilding is not yet halfway done and could take years.
Insurance and legal challenges are also cited as a major challenge for many owners. Not every cost associated with rebuilding is being covered by insurance plans, and government funds are said to not be as readily available as once promised.
Corporate donations and nonprofits are trying to help. The Minneapolis Foundation, which is a community foundation that partners with nonprofits, recently set a goal of raising $20 million for small businesses in business districts heavily affected by last year's riots.
The funds would equate to more than double the charity money raised so far, the Pioneer Press noted last week. Local business associations like the Lake Street Council and the St. Paul Midway Chamber of Commerce will help disburse the funds raised by the Minneapolis Foundation, with roughly half going to Lake Street in Minneapolis. Meanwhile, West Broadway in Minneapolis and the St. Paul Midway will each receive 25 percent of the donations from the foundation.