#PeteToBernie Trends as Bernie Sanders Supporters Call on Pete Buttigieg Voters to Join Them
The withdrawal by Pete Buttigieg from the Democratic primary race has sparked a push by social media users to appeal to supporters of the former South Bend, Indiana mayor to switch their allegiance to Vermont senator, Bernie Sanders.
Twitter users voiced their appreciation of the historic run of the 38-year-old Buttigieg and speculation has now turned to who his supporters will turn to ahead of Super Tuesday. On Monday morning, #PeteToBernie started trending as Twitter users asked whether a progressive like Sanders can inherit Buttigieg's center-left supporters.
One Twitter user with the handle the Bern Identity tweeted: "To all the Steyer + Buttigieg supporters who are now supporting @BernieSanders, welcome and thank you! We berners appreciate your support! Glad to work together to get Bernie elected POTUS to transform our country so it works for ALL!"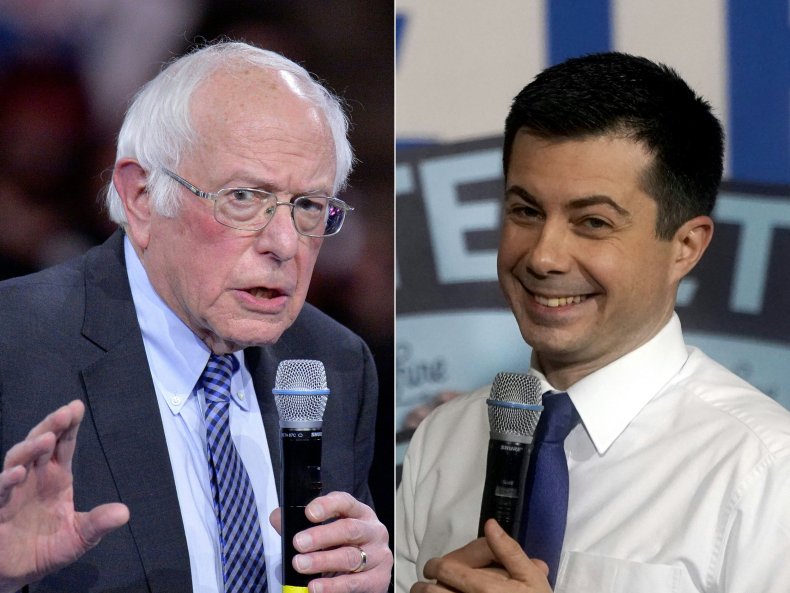 Another Twitter user writing under the handle VoteBlueNoMatterWho tweeted: "When I was out canvassing, there were many many MANY voters deciding between Bernie and Pete. These voters want to do something different from the status quo. #PeteToBernie is very real at the national level. Mark my words."
Another tweeted: "I sound like a broken record at this point but seriously we need to all get around the only candidate that has a clear path towards beating Trump. I have made the switch. I supported Biden, Pete, & Warren but I know what is at stake, let's unify around Bernie."
However there are moderates who view Sanders as too left-wing to win over the independents and conservatives needed to defeat President Donald Trump. On Twitter, some dismissed the idea that those who once backed Buttigieg could unify around the Vermont Senator.
"As if people who supported a centrist would vote for a progressive candidate. Sad, really," one tweeted.
Pamela Bennett tweeted: "I'm a Pete supporter and I do not understand the #PetetoBernie hashtag at all. Very clearly Pete does not think Bernie is the right person to lead the country so why in the world would we???"
Data from Morning Consult, which surveyed Democratic voters before Buttigieg's exit, suggests there is uncertainty as to where his supporters will turn to next and that his departure does not necessarily mean a boon for former vice president Joe Biden, considered to be a fellow center-left candidate.
Its survey said most of supporters would go for Sanders as their next choice for president.
Sanders campaign spokesman Mike Casca told Newsweek in a statement: "We welcome all of Mayor Buttigieg's supporters to join Sen. Sanders' movement to transform this country so it works for everyone."
Meanwhile, in an op-ed, USA Today said that other "hopefuls with negligible prospects of winning the nomination" such as Massachusetts senator Elizabeth Warren and Minnesota senator Amy Klobuchar, will have to decide soon whether they are to stay in the race, because, "the time for a reckoning is rapidly approaching."
Andrew Wroe, senior lecturer in American politics at the U.K.'s University of Kent, said some Buttigieg supporters will switch to Sanders, but it's likely to be a "small minority."
"Biden is a natural home for Buttigieg supporters if one thinks about it in policy or ideological terms. Buttigieg positioned himself as a moderate, but just slightly to the left of Biden," he told Newsweek.
"But, Buttigieg's supporters look demographically different to Biden's. They are whiter, more highly educated and more liberal—in fact, they look more like Warren's and Klobuchar's than they do Biden's."
Wroe said Democratic supporters will be making calculations based on tribal identities, ideology and policy positions, but also on who can beat Trump.
"Because it's not clear who has the best chance of beating Trump and because that is perhaps the key aspect to this contest, many voters do not know who to support."