Buttigieg Surges 12 Points In New Hampshire as Sanders Still Leads, Gaining 2 Points: New Poll
New polling out of New Hampshire has shown Democratic presidential candidate former South Bend, Indiana Mayor Pete Buttigieg surging, as Vermont Senator Bernie Sanders has also seen gains while being firmly positioned in the lead ahead of Tuesday's primary vote.
Sanders jumped two points in New Hampshire since January, rising to 29 percent support overall, according to the CBS News/YouGov Battleground Tracker Poll. Meanwhile, Buttigieg has surged 12 points since last month, polling at 25 percent.
Massachusetts Senator Elizabeth Warren came in third at 17 percent, while support for former Vice President Joe Biden has dropped substantially, placing him at fourth with just 12 percent. Minnesota Senator Amy Klobuchar comes in fifth, with 10 percent.
The poll predicts that the best case scenario for Sanders would be 31 percent support in the primary vote, compared to just 23 percent for Buttigieg. For Buttigieg, the data suggests a best case scenario of 29 percent compared to 28 percent for Sanders. The survey also noted that a significantly higher percentage of Sanders backers in New Hampshire (68 percent) are "enthusiastic" about their candidate, compared to Buttigieg supporters (47 percent).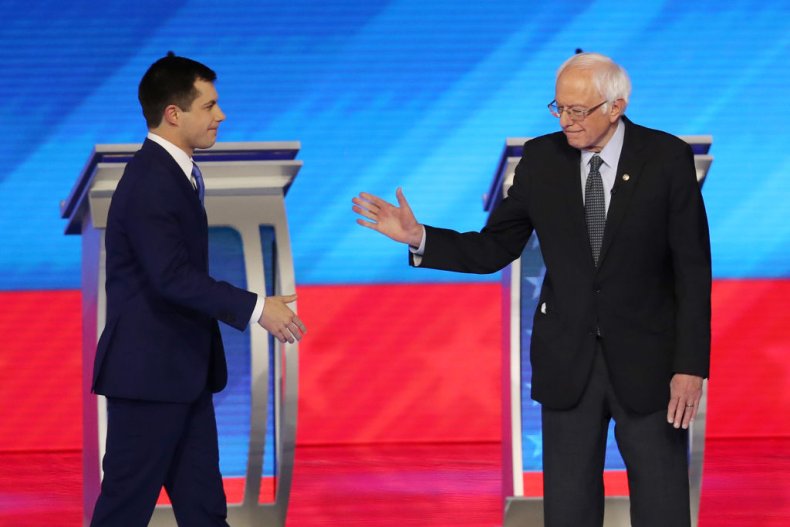 Buttigieg and Sanders have emerged as the early front-runners following the Iowa caucuses last Monday. While Sanders won more than 2,600 more votes than Buttigieg in the final round of voting, the former mayor won 0.1 percent more "state delegate equivalents," giving him a technical win in the state. Both candidates have claimed victory.
All the most recent polls in New Hampshire have shown Sanders as the front-runner among Democratic voters in the state. The polls have varied, however, in the gap they have shown between the Vermont senator and Buttigieg, who has been consistently polling in second place. Overall, an aggregate of polls has shown Sanders with an average of 26.7 percent support while Buttigieg is several points behind with an average of 21.5 percent.
An Emerson poll released this weekend found Sanders with a commanding lead at 30 percent in New Hampshire, compared to Buttigieg at 20 percent. But a Boston Globe/Suffolk survey found a much-narrower gap between the contenders, with Sanders at 24 percent followed close behind by Buttigieg at 22 percent.
Biden, who only came in fourth place in Iowa and is expected to do poorly in New Hampshire, still appears to be the favored candidate among Democrats nationally. The Real Clear Politics aggregate of recent polls shows the former vice president with an average of 27 percent support, followed by Sanders with 21.8 percent. Warren comes in third with 14.4 percent, while Buttigieg only has the backing of about 7 percent of Democratic voters.
Following Iowa, Morning Consult survey data showed that 52 percent of Democratic voters were now "more likely" to vote for Sanders. Enthusiasm was much lower for Buttigieg, with just 38 percent saying they were "more likely" to back the former mayor.