Caitlyn Jenner has hit out at Dwayne "The Rock" Johnson after Donald Trump Jr. accused the actor of deleting tweets that included transphobic remarks.
"Wow, @TheRock, you can't just try to quietly delete transphobic attacks without giving a groveling apology and expect to ever work in Hollywood again," the former president's eldest son tweeted on Saturday, alongside a screenshot of a 2011 tweet.
"Do @UnderArmour, @Ford, @Apple, @Netflix and the rest of his sponsors/partners agree with this hateful rhetoric?"
The screenshot showed a 2011 tweet from Johnson where he told a person: "It's not our fault you're turning tranny tricks to put yourself thru nursing school."
Jenner replied to Trump's tweet, writing: "Hmmmm... the double standard is real. @TheRock I love you but cmon dude...let's be real. Cancel culture has got to go. Use your platform. @DonaldJTrumpJr thanks for highlighting."
Johnson is being called out over past remarks after he initially supported podcaster Joe Rogan amid an ongoing controversy over his Spotify podcast, then backtracked after videos surfaced showing Rogan's past use of racial slurs.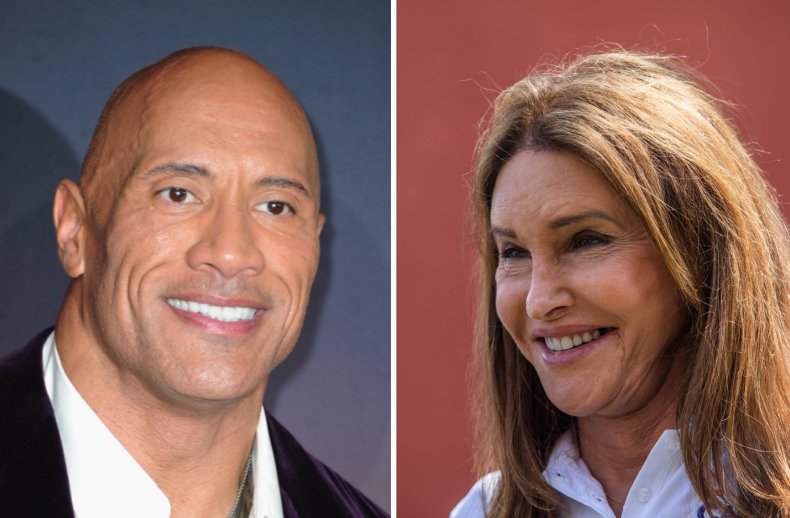 Spotify has been facing criticism from public health experts and musical artists who say the platform is allowing Rogan to spread COVID-19 misinformation on his podcast, The Joe Rogan Experience. Several musicians, including Neil Young and Joni Mitchell, have pulled their music from Spotify in protest.
Johnson commented a message of support on an Instagram video that Rogan had posted that addressed the controversy. "Great stuff here, brother. Perfectly articulated. Look forward to coming on one day and breaking out the tequila with you," the actor wrote.
That prompted a backlash, with some alerting Johnson to Rogan's past use of racial slurs.
"I was not aware of his N word use prior to my comments, but now I've become educated to his complete narrative," Johnson responded to a tweet from author Don Winslow on Saturday. "Learning moment for me."
Rogan apologized in an Instagram video after singer-songwriter India.Arie posted a video compilation that showed Rogan saying the N-word in clips of episodes over a 12-year span. She said she was also removing her music from Spotify.
Rogan said his use of the slur was the "most regretful and shameful thing that I've ever had to talk about publicly" and that he hadn't uttered the word in years. He also claimed the clips were taken out of context.
But videos showing Rogan arguing for people to be able to use the N-word, urging a guest to use it and using other racial slurs have since gone viral on Twitter.
In her video, Arie said Rogan "shouldn't be uttering the word" even if some of his conversations were taken out of context.
But Jenner, a former reality television star who last year ran as a Republican candidate in a failed bid to replace California Gov. Gavin Newsom, has defended Rogan amid the controversy.
"Bye bye Leftover hippies from the 60's boycotting @joerogan on Spotify. Nobody will miss you. Thank you @Spotify for standing up for Rogan!" she tweeted on Friday.
However, she blasted Rogan as "transphobic" after he discussed a joke he made about Jenner's transition in his 2016 Netflix special during an episode of his podcast in September 2020.
"He's a homophobic, transphobic a**," she later told TMZ.
Representatives for Johnson and Jenner have been contacted for comment.