Videos showing Joe Rogan arguing that people should be allowed to use the N-word and saying a host of other racial and ethnic slurs on a 2017 episode of his podcast have gone viral.
Rogan apologized for his past use of the N-word in a video posted on his Instagram account after Grammy-winning Black singer-songwriter India.Arie shared a video compilation showing the podcaster deploying the racial slur in clips of episodes over a 12-year period.
In his video, Rogan said his use of the slur in the video compilation was "the most regretful and shameful thing that I've ever had to talk about publicly."
But he claimed the clips were "taken out of context" and that he "hadn't said it in years," although he did not specify which years he said the slur.
The video prompted Patriot Takes, a group that says its mission is to "expose the far-right disinformation machine," to post several clips from an October 2017 episode of The Joe Rogan Experience.
The clips show Rogan urging the episode's guest, white comedian Greg Fitzsimmons, to say the N-word, before then bursting out laughing when he does.
"How long is it going to be before you're not allowed to say the N-word?" Rogan says in one clip.
"How long before people think that's just as bad as saying the word itself? Because it's coming. It's coming just like hoop earrings and braids and dreadlocks are getting people in trouble. People will run out of things to get mad at and they will go after people for saying the N-word, right?"
Later, Rogan argues that people should be allowed to say the word and mocks those who use the "N-word" to describe the slur instead.
"Don't you think by not saying it, it becomes this ridiculously charged magic word?" he said. "I mean, when you say the N-word, you're saying like it cannot be spake. It cannot be uttered. It is a sacred word. It is a magic word. If you say it, Candyman will come."
Rogan then moves on to discuss other racial and ethnic slurs that he claimed were "not as racially charged."
"Like, you could say sp*c, no one's gonna get mad," he said. "And then there's other ones that like you can just get away with all day, like Irish ones."
"Like mick or guido," Fitzsimmons interjects.
"They don't give a f**k," Rogan adds. "You can call me a guido all day. I don't give a f**k, no one cares."
"Ch**k is a tough one," Fitzsimmons adds. "They get very upset about ch**k."
Rogan then says: "G**k? How about g**k?"
"Oh that's a really rough one," Fitzsimmons says.
"Yeah but the N-word, you won't say it," Rogan says. "Look, look at you... say it."
When Fitzsimmons does utter the slur, the pair then both burst out laughing.
Rogan then suggests that anyone in a "marginalized group" can say the N-word.
"I've seen a lot of Chinese people use it," he says, adding that Black people "just throw it around like a beach ball at a concert."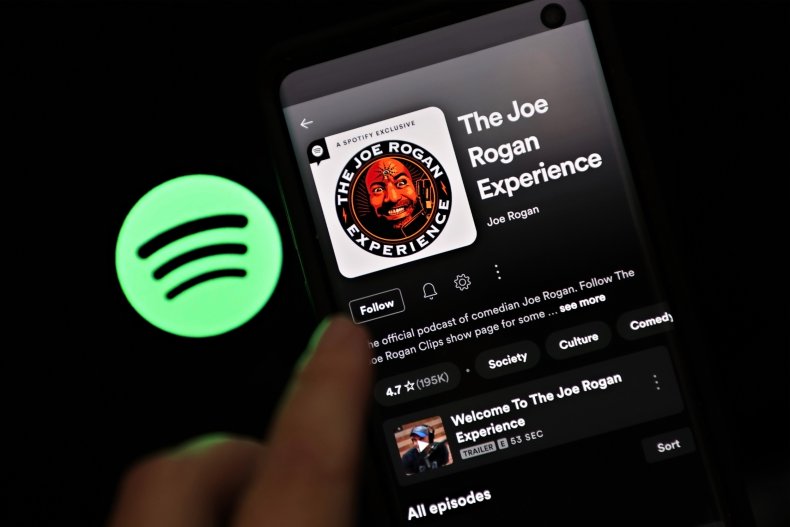 The episode—#1025—was still available on Spotify as of early Sunday, but did not include the portions that were tweeted out by Patriot Takes.
More than 70 episodes of Rogan's podcast were reportedly pulled from Spotify amid an ongoing controversy over COVID-19 misinformation and the podcaster's use of racial slurs.
The streaming service is facing mounting criticism after public health experts and artists, including Neil Young, accused the streaming service of allowing Rogan to spread COVID-19 misinformation on his podcast.
Spotify has been contacted for comment. Representatives for Rogan and Fitzsimmons have also been contacted for comment.