Spotify Quietly Pulls Over 70 Episodes of Joe Rogan's Podcast: Report
More than 70 episodes of Joe Rogan's podcast have reportedly been pulled from Spotify amid an ongoing controversy regarding COVID-19 misinformation and racial slurs used by the podcast host.
The episodes of The Joe Rogan Experience have been quietly taken off the platform, according to a new report from JREMissing.com, an online tool that tracks missing content.
The episodes were each recorded years ago and were initially spotted to be missing by the web tracker on Friday. Neither Spotify nor Rogan have commented on the matter, and it is not yet clear if the episodes were pulled as a direct consequence of recent controversies.
However, the timing of the missing episodes line up with several criticisms against Rogan. The comedian and actor has come under heavy fire this month over accusations that he has promoted COVID-19 vaccine misinformation and made racist remarks on his show.
A letter from over 200 medical experts, professors, and scientists this month accused Rogan's podcast of promoting "devastating proportions" of false information after he hosted controversial virologist Dr. Robert Malone, who has been known in the medical community to spread incorrect and harmful information about coronavirus vaccines. In response, several legendary musicians including Neil Young and Joni Mitchell pulled their music from the platform in protest.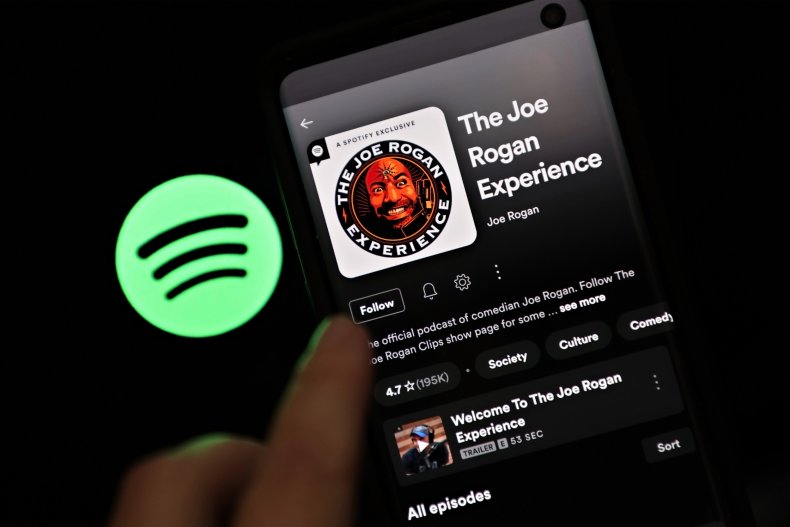 On Saturday, Rogan posted a message on social media in which he apologized after resurfaced clips showed him using a racial slur in past episodes. In the clips, the podcast host can be heard using a derogatory slur toward African Americans and comparing a Black neighborhood to the Planet of the Apes.
Rogan said the clips were taken "out of context" and addressed the issue as "the most regretful and shameful thing that I've ever had to talk about publicly."
"There's nothing I can do to take that back. I wish I could. Obviously, that's not possible," Rogan added in his apology video. "I certainly wasn't trying to be racist, and I certainly would never want to offend someone for entertainment with something as stupid as racism." Rogan added that compilation was drawn from "12 years of conversations" on his show, and that it looked "horrible."
On Friday musician India Arie, who is Black, posted the video on Instagram and said that Rogan "shouldn't even be uttering the word. Don't say it, under any context." Arie joined other musicians in removing her music from Spotify.
Spotify, facing pressure from fans and musicians to address Rogan's controversies, responded by updating its content policies and adding an "advisory" to any podcast that discusses information about COVID-19.
The platform has pushed back against arguments that it has editorial control over Rogan's show and has made no indication that it would drop its exclusive contract with the podcast, leading critics to claim that it is not "doing enough" to address concerns.
Rogan first began his podcast in 2009 on YouTube before signing an exclusive deal with Spotify for a reported $100 million in 2020. The Joe Rogan Experience is currently the most popular podcast on the platform.
Newsweek contacted Spotify for an additional comment, but did not hear back in time for publication.