Caitlyn Jenner Tells Larry Elder to Drop Out of California Recall After Past Comments on Women
Caitlyn Jenner on Friday called upon Larry Elder to drop out of the race to replace Governor Gavin Newsom in the upcoming California gubernatorial recall election, citing comments Elder made about women in an article published 21 years ago.
Jenner, an Olympian and reality television personality, is one of 46 candidates challenging Newsom in the upcoming September 14 recall election. Jenner is running as a Republican.
Elder, a conservative radio host who launched his gubernatorial campaign last month, is also running as a Republican and has been identified in recent polls as the top Republican candidate in the field.
"'[W]omen know less than men about political issues, economics and current events.' @larryelder DROP OUT NOW," Jenner tweeted shortly before noon local time on Friday. "You are not what CA wants let alone what we need. I am the proud father of very powerful, intelligent, successful women. You're as bad as @GavinNewsom towards women."
The line about women that Jenner quoted came from an article Elder wrote for Capitalism Magazine that published in May 2000. The article focused on "SHE issues," which Elder identified at the time as topics of interest to women voters, such as Social Security, health care and education. Using as an example the 1992 and 1996 elections of former President Bill Clinton, who was popular among women voters, Elder wrote "smart" politics "dictates paying attention to 'women's issues.'"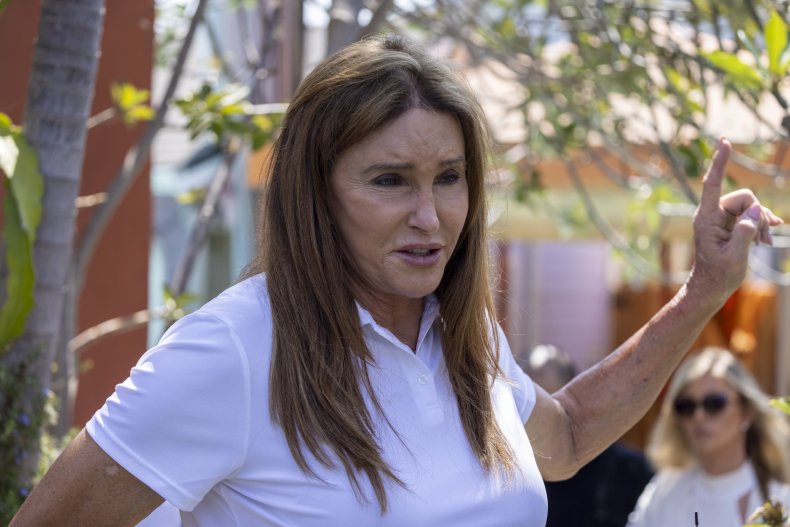 Elder's article went on to cite what was then a recent paper published by researchers at the University of Pennsylvania's Annenberg Public Policy Center. The researchers' findings "confirmed women's lack of knowledge of the issues," Elder's article said.
"Women know less than men about political issues, economics, and current events," Elder wrote in the article. "Good news for Democrats, bad news for Republicans. For the less one knows, the easier the manipulation."
Elder has in recent days come under fire by Democrats and some of his fellow Republicans for that resurfaced article's content. During a Tuesday debate for recall candidates hosted by CapRadio, former San Diego Mayor Kevin Faulconer, another Republican challenging Newsom, took issue with the Capitalism Magazine article and other controversial comments Elder has made about pregnant women. Elder was not at the CapRadio debate and has said he does not intend to participate in any debates unless Newsom is in attendance.
Faulconer continued his criticisms of Elder in a Wednesday morning tweet accompanying a clip from the Tuesday debate. "We deserve a governor who doesn't think women aren't equal to men," Faulconer wrote.
Meanwhile, the California Democratic Party on Wednesday tweeted an ad that displayed the same quote Jenner cited in her tweet Friday morning. The ad included a photo of Elder next to the quote and identified Elder as "the likely next Governor of California" if the recall effort is successful in removing Newsom from office.
Elder has pushed back against criticisms aimed at his Capitalism Magazine article, arguing the quote was "distorting" words he wrote more than two decades ago.
"Calif. Dems are desperate & slandering me, distorting what I wrote in a column 21 yrs ago," Elder tweeted Wednesday afternoon. He provided a link to the original article and encouraged people to "decide for yourself."
"Newsom is afraid of losing power, as he should be," Elder's tweet added. "He will say anything to try to avoid the humiliating loss that's coming."
Ying Ma, the communications director for Elder's campaign, told Newsweek when contacted for comment about Jenner's tweet that Elder would stay focused on his campaign instead of engaging in arguments with his fellow Republican candidates.
"Larry has said from day one that this is a recall election, not a GOP primary," Ma said. "Over 1.7 million Californians have signed a petition to kick Gavin Newsom out of office, and this campaign will be focused on that rather than participate in a circular firing squad among the replacement candidates."
Elder's campaign also referred Newsweek to comments Elder made when he was questioned about the article during a Wednesday press conference and during a Thursday interview with the San Diego-based television station KUSI-TV. During both appearances, Elder reminded reporters of the Annenberg study and said the quote from his article had been taken out of context.
"I also quoted a professor from that school, who explained why. And what she said is that women primarily get their primary news—forgive me for this—from local news. And what she said—and I'm quoting her, not me—'local news makes you stupid.'"
He added, "That's what this woman said. And that has been translated into, Larry Elder thinks women are dumber than men. It's absurd."
Updated 8/20 at 4:40 p.m. ET: This article has been updated to include additional information from Larry Elder's campaign.