As California Fires Rage, Pandemic Leaves State Hundreds of Firefighters Short
As California battles both wildfires and the ongoing coronavirus outbreak, resources have been "stretched totally thin," the California Department of Forestry and Fire Protection (Cal Fire) told Newsweek.
Cal Fire President Tim Edwards said: "In the last few weeks, resources across California have been stretched totally thin."
Nearly 150 firefighters from Cal Fire, which is responsible for fighting fires in over 96 to 99 million acres of California's nearly 101.7 million total acres of land, are currently in quarantine due to COVID-19 infection or exposure.
"For Cal Fire, right now statewide we have approximately 130 firefighters who are quarantined. Out of those, over half have tested positive [for COVID-19] and the rest were exposed due to it. So this adds to the strain on Cal Fire," he said.
Even before the outbreak began, due to budget cuts Cal Fire was short by 400 firefighters to bring the department up to its minimum operational requirement, Edwards noted.
In addition, Cal Fire's total number of inmate crews, who operate line construction around fires to contain them, have nearly halved from 99 to 45 crews, Edwards told Newsweek. Each inmate crew consists of 15 to 17 people.
Lack of manpower and additional aid
"Right now we have 30 different fires going on in the state of California. Five of them are at over 6,000 acres, three of them are at over 10,000 acres and the rest are under 1,000 acres. We're having problems getting resources staffed appropriately to fight all these fires," he said.
Edwards told Newsweek: "Federal firefighters are stretched across the country, so we're not getting crews in as much as we can from the federal forest service [U.S. Forest Service]."
Federal firefighters are reported to be dealing with the same issues around lack of resources while battling fires across the country, such as in Colorado, Utah, and Arizona, according to Edwards.
"CalFire is fighting fires on federal land, where it should be the federal forest service fighting them. So we're augmenting their fire service, on top of where our [Cal Fire's] responsibility is. We're responsible for over 96-99 million acres of land in California," he said.
Fires are being battled along the central coast, including the areas of "Santa Clara, Santa Cruz, Monterey, Sonoma, Napa. All up there along San Francisco, we have multiple fires going on right now," Edwards said.
"But because the fires in southern California, including in Los Angeles, Ventura, Riverside, San Bernardino areas, broke first, they got the majority of the resources," he said. So these areas are struggling to get their resources freed to help fight fires in the other parts of California.
"If it continues in this state, there will be a time when federal and state governments will have to decide whether to bring on additional resources," in the form of "hiring more federal firefighters and more single [individual contractors] firefighters to take over these fires on federal land," Edwards said.
"At some point in time, they [governments] will have to make that decision if it keeps going at the pace it's going now," he said.
High risk of crew injury
Firefighters have been doing shifts of up to 36 to 40 hours (nearly double the usual 24-hour shift rotation on a fire) before getting a break, according to Edwards.
"We're just starting the peak of our fire behavior, so we have a long way to go and we're already stretched. In the past two weeks, guys [firefighters] have literally gone from [fighting] fire to fire to fire to fire with no break," he told Newsweek.
One of the biggest threats firefighters face at the moment are the record-breaking temperatures hitting California at this time.
Edwards said: "It's been really difficult because we're having individuals do 36 plus hours straight on a fire line. And with the amount of heat [in the state] right now and especially given the terrain these fires are in, there's a high risk of fatigue and injury. We've had a lot of heat strokes [at least 15 individuals affected so far] already.
"With less manpower, the firefighters are working longer and harder, which puts a stress on their bodies. Fatigue can cause injuries. So right now, we're trying to keep our guys as rested as we can.
How sustainable are the current strained conditions? "Realistically, we're gonna have to keep going until these fires go out and get the job done. But at the end of the day, how many firefighters were gonna have injured is gonna be higher than normal," Edwards said.
"With every day that goes by that they're out there longer and longer [hours], the risk of injury goes higher and higher also. Fortunately the injuries so far have not been severe. We've had burns, heat strokes, strains but nothing too severe yet.
"We haven't had anyone turned away from hospitals for any injuries. I think for the most part, hospitals have been handling it well. We haven't had anyone refused medical treatment," Edwards said, noting hospitals have been able to accommodate crew who need to be held at hospital for observation.
Lack of space at base camps for social distancing
Holding morning briefings, which usually see fire crew members "just pile into an area," Edwards noted, has proved to be more difficult now, with enhanced safety measures required amid the ongoing pandemic, including temperatures checks before crew enter their fire base camps.
He said: "Our base camps (fire camps) have to be more strategically planned out because of the social distancing and mask requirements. We have to have bigger areas where crew can stand technically six feet apart.
"So it's creating a logistics problem, having to find a big enough area to hold these briefings, as well as house them [the firefighters], feed them [between fires]," he said.
"COVID killed the budget"
Cal Fire was said to be lacking 400 firefighters before the pandemic due budget cuts over the years.
"In the January budget, the governor [California Gvo. Gavin Newsom] proposed [hiring] 553 new firefighters just to bring us up to where we need to be. But we didn't get all of those. We're still short 400, so we were given 153 firefighters," Edwards told Newsweek.
"Because COVID came along and killed the state budget, we were not able to get them [the full 553 new permanent staff firefighters]. So COVID killed the budget. This just creates an even bigger problem [for staff shortages]."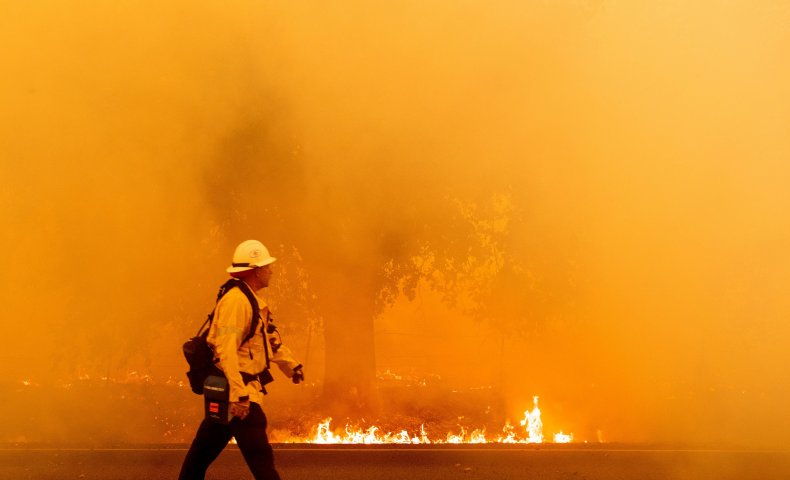 Wildfires continue to burn thousands of acres across the state, including most recently the LNU Lightning Complex fires (more than 120,000 acres burned) and the Hennessey Fire (around 100,000 acres burned). Residents from several counties have been ordered to evacuate.
Confirmed COVID-19 cases in California are approaching nearly 647,400. The three-day moving average of daily new cases in the state has been on a downward trend in the past two weeks from August 4-17, with a few peaks reported on August 9, 11 and 13, as well as dips on August 8, 12 and 16, according to Johns Hopkins University.
The graphic below, provided by Statista, illustrates the spread of COVID-19 cases in the U.S.