California Bishop Urges Christians to Pray for Defeat of Bill Requiring Colleges to Offer 'Abortion Pill'
Along with visiting legislators, a bishop in California urged people to collectively pray for the defeat of a bill that would require college campuses to offer medication abortions.
California State Senator Connie Leyva sponsored Senate Bill 24, which awaits consideration by the Assembly Appropriations Committee. If signed into law, California State University and University of California health centers would have to offer medication abortions, commonly referred to as the "abortion pill."
Leyva's bill made its way through California's legislature as other states voted to further restrict access to abortions. In May, Georgia passed a "heartbeat bill" restricting abortion access to about six weeks of gestation and Alabama Governor Kay Ivey passed the strictest law in the country with a bill that prohibited abortions except in the case of a threat to the mother's health.
Critics of the crackdown on abortion access argue the bills violated the landmark Supreme Court decision of Roe v. Wade and in July, a federal judge blocked Ohio's "heartbeat bill" from being enforced days before it was set to go into effect.
Newsweek subscription offers >
Leyva credited her bill with reaffirming California as a national leader in abortion care as legislators elsewhere actively turned "their backs on the needs of women." Then-Governor Jerry Brown vetoed a similar bill in September and the California Catholic Conference (CCC), the official public policy voice of the Catholic Church in California, urged people of faith to pray for the failure of Leyva's bill.
"At this critical moment, I urge all Catholics and all Christians to join together in prayer," said CCC President and Diocese of Sacramento Bishop Jaime Soto said in a letter. "From August 3 through August 11, pray with me a novena to Our Lady of Guadalupe, patroness of unborn children, asking her powerful intercession to defeat this bill. Our own political action is important but we must also draw wisdom and strength from prayer."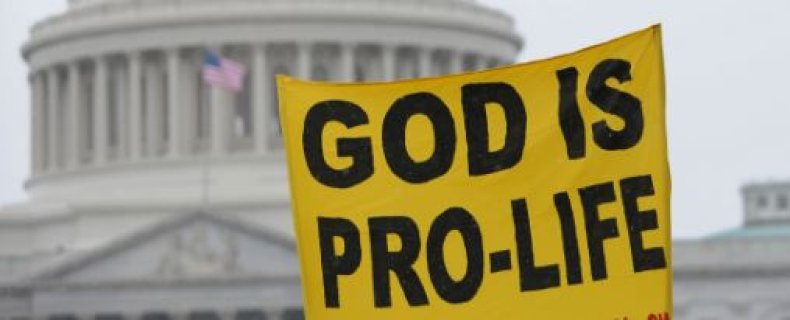 The novena, a special prayer said for nine consecutive days, asked the Virgin of Guadalupe to guide public officials to see the "tragedy and the injustice of abortion."
Newsweek subscription offers >
Soto characterized the bill as an "unprecedented intrusion" on college campuses and said it would "further indoctrinate the young to the ideology of abortion." Along with praying, Soto encouraged followers to continue to make their voices heard through letters, phone calls and in-person conversations.
"The State Legislature is on recess from July 12 to August 11. This means many legislators will be in their home districts. This is a good time to pay them a visit," Soto explained.
A medical or medication abortion is brought on by taking two drugs, mifepristone and misoprostol within 70 days of gestation. Mifepristone counters the effects of the hormone progesterone, which is necessary for pregnancy, and misoprostol causes the uterus to contract.
"As a national leader on access to abortion and reproductive healthcare, California must continue to proactively lead efforts to protect every individual's right to choose," Leyva said. "College students that wish to end their pregnancy should have the right to access that service on campus without delay."
Under the new law, public universities would receive a $200,000 grant to cover costs associated with providing the additional service, including equipment and training. In May, the bill passed the State Senate, with votes falling along party lines. If signed into law, it would go into effect in 2023.
California Bishop Urges Christians to Pray for Defeat of Bill Requiring Colleges to Offer 'Abortion Pill' | U.S.