California Agents Seize 50,000 Medical Masks From Business Owner Allegedly Selling Them To Nonprofits
Government agents in California raided three locations in Alameda County Tuesday, confiscating tens of thousands of medical masks that health professionals need as the coronavirus pandemic continues.
At one of the locations, a warehouse on Warm Spring Boulevard in Fremont, about 20 agents from the California Department of Justice reportedly collected about 50,000 face coverings, 1,000 of which were N95 protective masks, NBC Bay Area reported. The unidentified man, who claimed to be selling the masks to nonprofits, also told the news station that he hadn't been stockpiling them to make a profit.
It's unclear if the man will face charges, but he was given a citation. The man reportedly had a legal permit to sell the masks and claimed to have gotten them on eBay before mask sellers were shut down last month.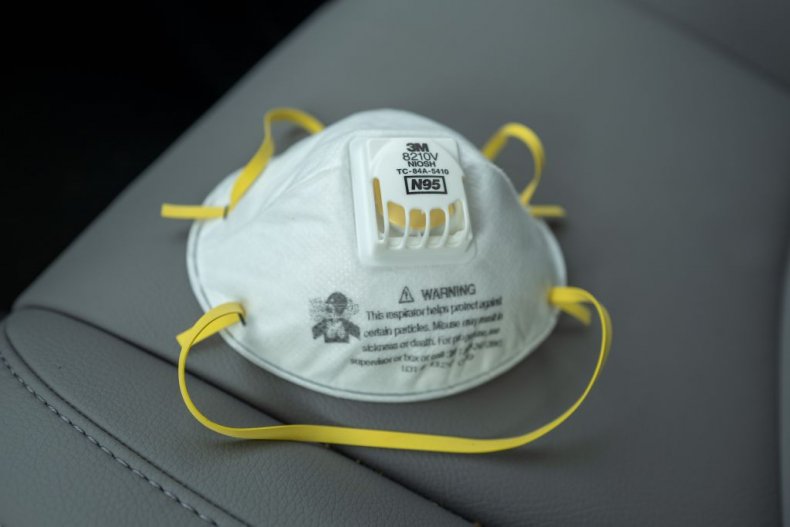 "Special agents from the California Department of Justice executed three search warrants in Alameda County yesterday in connection with an ongoing investigation. The agents seized numerous N95 respirators, surgical masks, and other items," the press office of the western state's Justice Department told Newsweek in an email.
The raids on the warehouses in Alameda County appear to align with a previous warning from U.S. Attorney General William Barr, which he issued during a press briefing on March 23.
"If you're sitting on a warehouse with masks, surgical masks, you'll be hearing a knock on your door," Barr said at the time.
The report also came as governors and health care professionals across the country have warned of a shortage of personal protective equipment (PPE) for doctors and nurses working with patients with COVID-19, the disease caused by the coronavirus. Some have explained that the cost of masks has surged in recent weeks, sometimes as much as 10 or 20 times higher than normal.
Speaking about the lack of supplies and its impact on his state, California Governor Gavin Newsom complained that U.S. states and countries around the world have been competing to get vital medical supplies. He also said that his state would spend nearly $1 billion to provide at least 200 million masks per month.
"We've been competing against other states, against other nations, against our own federal government for PPE—coveralls, masks, shields, N95 masks—and we're not waiting around any longer,'' Newsom told MSNBC host Rachel Maddow on Tuesday evening.
"We decided enough is enough: let's use the power of the purchasing power of the state of California as a nation-state," the governor said.
As of Wednesday morning, more than 17,600 people were confirmed to be infected with the coronavirus in California, according to a tracker updated by Johns Hopkins University. Of those confirmed cases, 452 people have died. In the entire U.S., there have been nearly 400,000 confirmed cases, with close to 13,000 deaths and more than 22,500 recoveries.
This article has been updated with a comment from the press office of California's Department of Justice.