California Churches Declare Victory, Plan Indoor Worship After Supreme Court Ruling
Some California churches have declared victory and are preparing to reopen indoor services this weekend after the U.S. Supreme Court lifted the state's ban on religious gatherings.
In a 6-3 decision, a divided Supreme Court on Friday night sided with religious rights in ruling that California cannot continue its ban on indoor church services that was put in place to limit the spread of COVID-19. The court, in response to two lawsuits filed by the South Bay United Pentecostal Church and the Harvest Rock Church, said the state can still limit attendance to 25 percent capacity, but concluded that Governor Gavin Newsom's orders may have violated the Constitution's protection on free exercise of religion.
Bishop Arthur Hodges, senior pastor of South Bay United Pentecostal Church in San Diego's Chula Vista, praised the decision, calling it a "major victory" for religious rights.
"We are thrilled and excited to go back to church without legal threat of fines or arrest," Hodges said on Fox 5. "And it opens up churches in the entire state of California. So this is a win for every church, every house of worship and every individual of faith that wants to go to their house of worship this Sunday."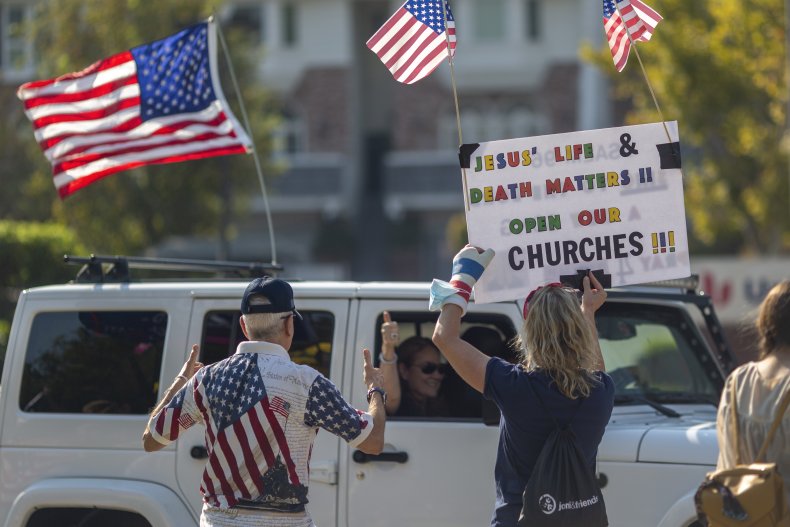 Ché Ahn, senior pastor of Harvest Rock Church in Pasadena, also celebrated the overturning of California's "confusing edicts" that gave "first-rate essential preferences to abortion clinics, marijuana dispensaries, and liquor stores."
"While we have come under fire from some community members, we stand firm that the fruit of meeting in person lies in the spiritual, emotional and physical healing that worshipping the Lord Jesus Christ has brought to so many throughout the world," Ahn said in a statement. "While it is one thing to lock down based on data, it is an entirely different motive to allow some groups a right that is denied to others."
Both churches and others in the state will hold indoor services this weekend.
On Saturday, Daniel Lopez, Newsom's press secretary, confirmed that the governor will revise indoor church service guidelines after Friday's ruling. "We will continue to enforce the restrictions the Supreme Court left in place and, after reviewing the decision, we will issue revised guidelines for worship services to continue to protect the lives of Californians," Lopez said in a statement.
The churches argued that Newsom's order that put on hold in-person services in areas that have been hit hardest by the pandemic violated their religious rights. The Supreme Court upheld their argument, but allowed the state to continue its restrictions on singing and chanting.
"The State has concluded, for example, that singing indoors poses a heightened risk of transmitting COVID–19. I see no basis in this record for overriding that aspect of the state public health framework," Chief Justice John Roberts wrote in a concurring opinion.
"At the same time, the State's present determination—that the maximum number of adherents who can safely worship in the most cavernous cathedral is zero—appears to reflect not expertise or discretion, but instead insufficient appreciation or consideration of the interests at stake."
Newsweek reached out to Newsom's office for further comment.