California Contends With Wildfires, Coronavirus, Heat Wave and Power Outages All At Once
As the California wildfires continue to rage, residents are also having to deal with the ongoing coronavirus pandemic, an unprecedented heat wave and rolling power outages—all at the same time.
"We've had a four-fer, with COVID, a heat wave, wildfires and the threat of roving power outages," Janet Upton, a spokeswoman for Napa County and a former deputy director of the California Department of Forestry and Fire Protection (Cal Fire), told NBC News.
More than 14,000 firefighters are working to help battle the flames, which have now grown to cover more than 1.25 million acres of the state, an area over four times larger than Los Angeles.
At least 136,000 people remain evacuated from their homes throughout the state, as the wildfires have affected communities from the San Francisco Bay Area to southern California.
This has presented a unique challenge for health officials. About 3,000 of the evacuees are in shelters or hotels, Dr. Mark Ghaly, California Health and Human Service Secretary, said during a press conference Tuesday. The shelters have instituted temperature checks, a mandatory face mask requirement and physical distancing rules to try and help mitigate the spread of coronavirus.
For the other 133,000 evacuees, many are staying with friends or family who they might not have seen in a while, Ghaly said. This could also increase the risk of the virus spreading.
"This is no time to put down our guard," he said. "If you are staying with a family member or friend, follow as many of our precautions as you can."
Ghaly acknowledged during the press conference that he "won't be surprised if we have some increases in transmission" in evacuation areas because of the pandemic situation. As of August 24, California health officials reported 673,095 total coronavirus cases and 12,257 fatalities.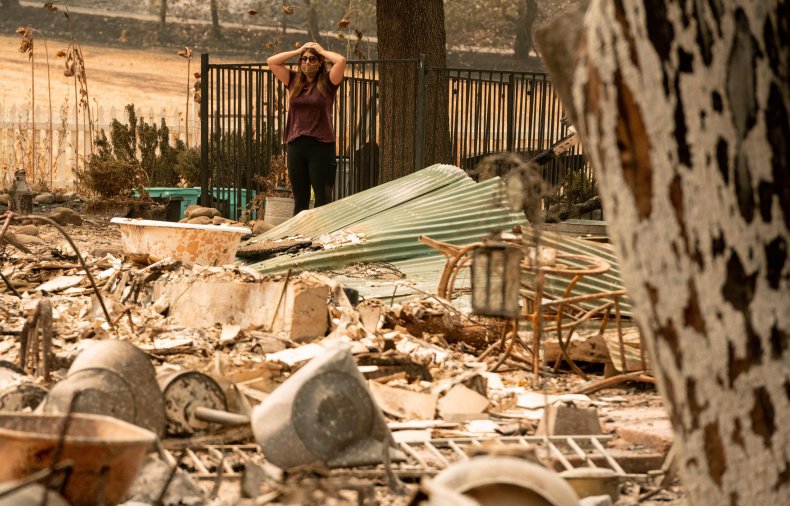 The state is also in the midst of battling an unprecedented heat wave, which experts say inadvertently triggered many of the wildfires. Around 11,000 lightning bolts struck California during an intense period of storms within 72 hours last week, Cal Fire spokesman Jeremy Rahn said during a news conference.
Cal Fire spokesman Brice Bennett attributed the lightning siege to changes in weather not typically seen in the San Francisco Bay area. The region is usually cooled by breezes coming off the ocean, but it has recently seen gusts of hot and dry wind coming from the desert. The combination of these different winds created the burst of lightning strikes, which is what sparked many of the wildfires, he told Newsweek.
"All of it kind of aligned in the perfect storm to create the fire siege," Bennett said, adding that Cal Fire wasn't afraid to say that the difference in weather could "absolutely" be attributed to climate change.
The heat wave is also responsible for causing rolling power outages throughout the state, leaving hundreds of thousands of Californians without air conditioning. The blackouts were intentionally implemented to conserve electricity following power shortages with increased usage of air conditioning units across the state because of the heat wave.
An Excessive Heat Warning was in effect for several days last week across most of central and southern California, with temperatures soaring into the 100s (Fahrenheit), 110s and 120s, the National Weather Service tweeted August 17.
During a press conference Tuesday, California Governor Gavin Newsom expressed his thanks to both firefighters and health care workers, highlighting the unique set of crises the state is simultaneously facing.
"We must, always, just extend an expression of appreciation to the...14,000 now firefighters that are on the front lines battling these fires in addition to the tens of thousands of healthcare officials doing the same to mitigate the spread of this disease," he said. "We owe them a deep debt of gratitude."