California Convenes Reparations Task Force for First Time as Gavin Newsom Touts 'More Equitable' Future
Governor Gavin Newsom touted California for leading the way on reparations as a state task force to study the matter met for the first time on Tuesday.
"As our country reckons with our painful legacy of racial injustice, California again is poised to lead the way," Newsom said. "Lead the way towards a more equitable and inclusive future all. Our tireless pursuit of equality in every aspect of life—economy, health, housing, education, criminal justice, and more—continues today."
Newsom added that he heard the demands for racial justice from advocates and community leaders in the wake of George Floyd's death, and that he was "honored" to sign the legislation that created the task force on reparations.
"With this bill, we're bringing together some of the best, the brightest minds to chart a path forward, to move to a more equal California," Newsom said.
The governor's pre-recorded message was played at Tuesday's inaugural meeting, where the state's nine-person task force met for the first time.
Newsom is all but certain to face a recall race as early as this fall, after his critics gathered enough signatures to force a special election by year's end. While polling shows most Californians want Newsom to remain governor—the latest survey from the Public Policy Institute of California found 57 percent of likely voters would vote no on recalling Newsom—the task force on reparations could boost support among his liberal base.
AB 3121, authored by then-Democratic Assemblymember Shirley Weber, charges the force with studying the institution of slavery and its lingering negative effects on living Black Californians. The group will also recommend appropriate remedies, such as compensation or restitution, with special consideration for the descendants of slaves.
According to the bill, the task force will also take a look at existing state laws and policies that disproportionately impact African Americans.
The task force will have to turn in a report to the California state legislature by June 1, 2022. It's findings will also be made available to the public.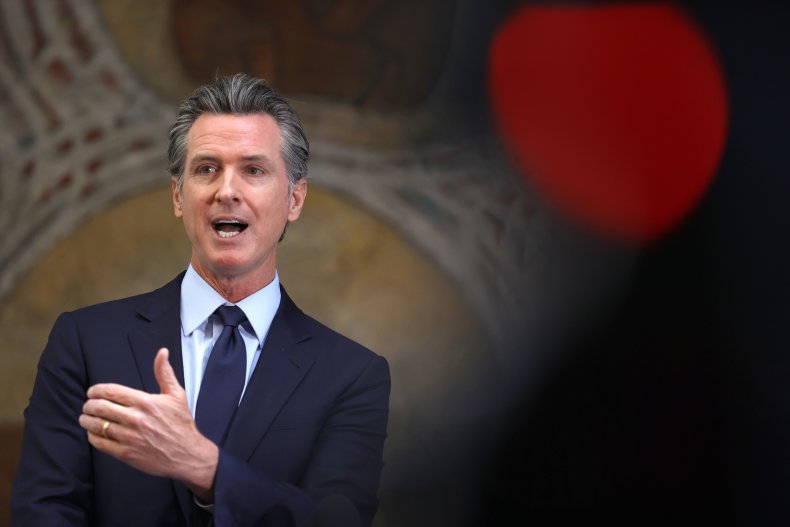 After the bill's passage, Weber became California's first Black Secretary of State in January. She also appeared with Newsom and California Attorney General Rob Bonta for Tuesday's virtual meeting.
"It is time," Weber said Tuesday, "time for folks to acknowledge the harm that has been done, the harm that continues to be done."
She added, "We are here today because the racism of slavery birthed an unjust system and a legacy of racial harm and inequality that continues today in every aspect of our life. We cannot separate the things people are crying for in the streets in terms of justice and what has happened in the past."
California is the first state to mandate a study of how it can provide reparations for Black residents. In 2019, Congress held its first-ever hearing on the issue, and in July 2020 the city of Asheville, North Carolina voted unanimously to create a reparations commission to benefit Black residents.
"California, we must acknowledge our dark history and the role that slavery played in our state's founding," Attorney General Bonta said Tuesday.
Newsweek reached out to Newsom's office for additional comment on the task force but didn't receive a response before publication.
Update: This story has been updated to include information about the recall effort against Newsom.