California Vaccine Lottery—How to Sign up for Chance to Win $1.5 Million
California became the latest state to launch a vaccination lottery scheme on Thursday after Ohio revealed that a 22-year-old had won the state's $1 million vaccine lottery prize.
Governor Gavin Newsom (D) said the "Vax for the Win" program would include $116.5 million worth of incentives, with $100 million in $50 prepaid or grocery cards making up the bulk of the prize fund.
The remaining $16.5 million in the fund will be set aside for cash prizes available to all vaccinated Californians.
Releasing a statement on the scheme, Newsom said: "Getting every eligible Californian vaccinated is how we bring our state roaring back from this pandemic." He added that his administration would do "everything it takes" to make sure Californians are vaccinated by the June 15 reopening date.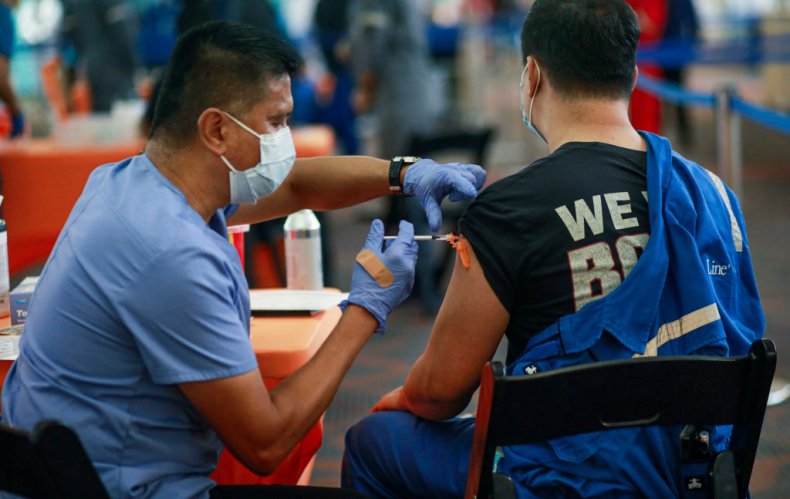 "Some Californians weren't ready to get their COVID-19 vaccine on day one, and that's okay," Dr. Tomás J. Aragón, the California Department of Public Health director, added. "This program is designed to encourage those who need extra support to get vaccinated and help keep California safe."
The latest California Department of Public Health data shows more than 17 million residents have been fully vaccinated, and 36.9 million doses of COVID vaccines have been used overall.
All Californians aged 12 and above will be eligible for the cash prize draws taking place in June. Thirty Californians will be eligible to win $50,000 cash prizes on so-called "$50,000 Fridays" on June 4 and June 11.
Then 10 Californians will be awarded $1.5 million each on June 15—making a total of $15 million in cash prizes. Winners must complete their vaccinations if they want to claim their winnings.
Those under 18 will have their prize funds put into a savings account that they can access at a later time.
How to sign up for California vaccine lottery
If you have already been vaccinated, or have received at least one shot, and live in California, you can sign up for the $1.5 million and $50,000 cash prize draws on the Vax for the Win website.
You will have to have a complete course of COVID-19 vaccine shots to receive the prize.
If you are a Californian who was vaccinated on Thursday or plans to book a vaccination, you will be eligible to receive a $50 virtual card or grocery gift card if you are within the first 2 million to start and complete their COVID vaccination.
If you are vaccinated on or after May 27, you will get a code for the $50 card by text or email within 10 days of your last shot. All entrants for the prizes have to be aged 12 or older to qualify.