A driver has been busted with an eerily lifelike mannequin in the passenger seat of his car in a bid to dodge Los Angeles traffic.
An officer with the California Highway Patrol noticed the unusually rigid passenger traveling in a Toyota Tacoma in the carpool lane in the Baldwin Park area on Friday.
The concerned officer saw the passenger was not moving and pulled the driver over for tinted windows on the 210 Freeway near the Grand Avenue exit in Glendora, NBC Los Angeles reports.
However, after the windows were rolled down, it became clear the passenger was nothing more than a clever ruse.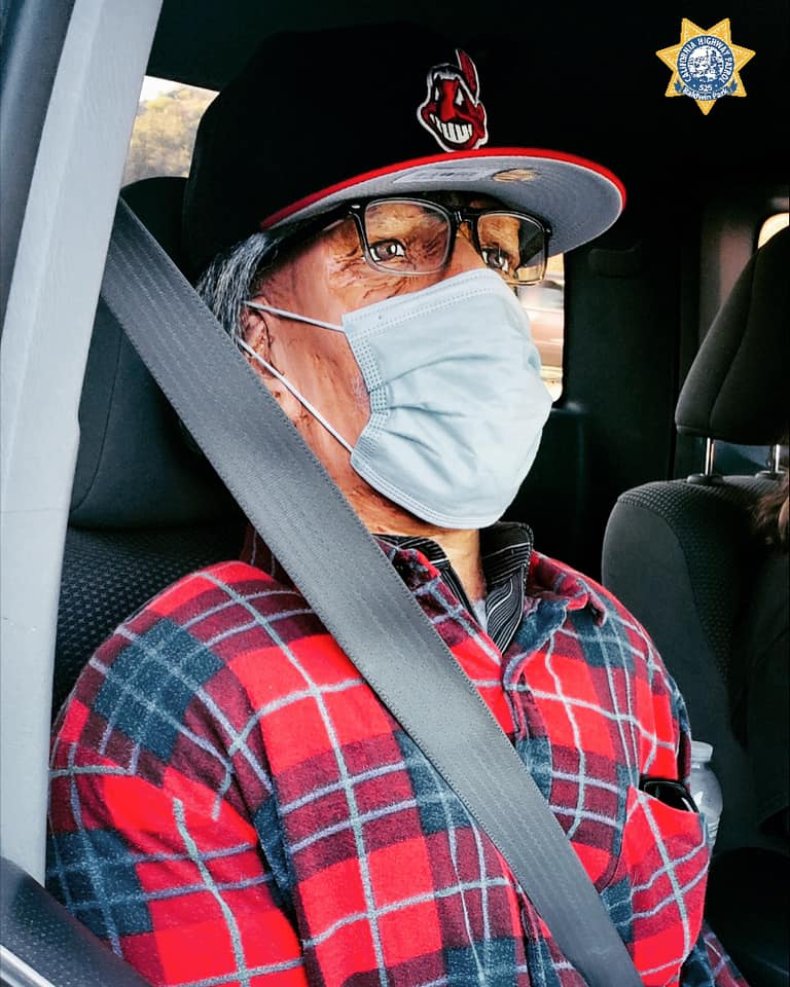 "By far, one of the best dummies we have ever seen," the Baldwin Park California Highway Patrol posted to Facebook alongside a snap of the eerily lifelike carpooler. "To clarify, we are referring to this fake passenger."
In the photo, the mannequin can be seen propped up and secured with a seat belt, complete with reading glasses, a flannelette shirt and a baseball cap. It even boasts graying hair and wrinkles around the eyes.
"At least he was following CDC guidelines by wearing his face mask," the Baldwin CHP quipped.
The driver reportedly told the officer he had been driving with the dummy for a year and half before he was finally caught.
The clever stunt caught on, with fellow CHP West Valley reposting the photo and asking other drivers whether they believed a ticket should be issued.
"Fake passenger to avoid a carpool ticket? Or Disneyland animatronic just trying to assimilate to normal life outside the park?" the force asked in a Facebook post. "Should we ticket for violation or give a warning based purely on ingenuity?"
Fellow commuters rushed to give their opinion, with most commending the driver's creative efforts.
"Definitely give a warning. This individual definitely gets an A for creativity and effort," one man noted. "Warning for artistic ability, wearing a seatbelt, and mask," another added.
"Would have been more realistic if he was wearing a Dodger hat," one critic quipped.
The driver, however, was issued a ticket for carpool violation, the Baldwin Park California Highway Patrol confirmed.
It's certainly not the first time motorists have attempted to evade heavy traffic on Californian roads.
Last year, California Highway Patrol officers stopped a man for driving in the carpool lane with a female mannequin.
The fake passenger was made out of a mannequin head, complete with a long brown wig and a bright red Los Angeles Angels sweatshirt stuffed to make it seem more lifelike. Officers nicknamed her "Angel."
"Angel didn't have much of a personality as a passenger when we met her this morning during our Carpool Enforcement on #hwy4," the Contra Costa California Highway Patrol (CHP) tweeted. "She just oddly stared at us while we issued her chauffeur a ticket for carpool violation."
The unnamed driver was issued a citation and sent on his way.