California Fairground Opens as Emergency Site to Hold Migrant Children as Unprecedented Numbers Cross Border
A fairground in Southern California is opening an emergency intake site to temporarily house unaccompanied minors arriving at the U.S.-Mexico border.
Los Angeles County Board of Supervisors Chair Hilda L. Solis announced on Friday that the Pomona Fairplex has agreed to shelter the unprecedented number of migrant children crossing the border.
"Los Angeles County has a responsibility and an opportunity to care for unaccompanied minors coming to the United States. This is not a border crisis—but, instead, it is everyone's crisis," Solis said in a statement.
"That is why I was so moved that the Pomona Fairplex has agreed to provide an emergency intake site for these young people, "the statement reads. "Unaccompanied minors are escaping gang violence, poverty, persecution, and challenges that no young person should have to endure—only to make the dangerous journey to the United States for a better life. But we acknowledge the pain they are trying to escape comes with them in the form of trauma that we all have a responsibility to help address."
A day before the announcement, U.S. Customs and Border Patrol officials announced that nearly 19,000 unaccompanied children traveled across the southern border in March—the largest number ever seen in one month.
President Joe Biden has promised that migrant youths who travel to the U.S. alone will not be sent back to their countries of origin, but instead placed in federal shelters until they can be reunited with sponsors in the U.S., such as a family member, while they await for their asylum claim to be processed.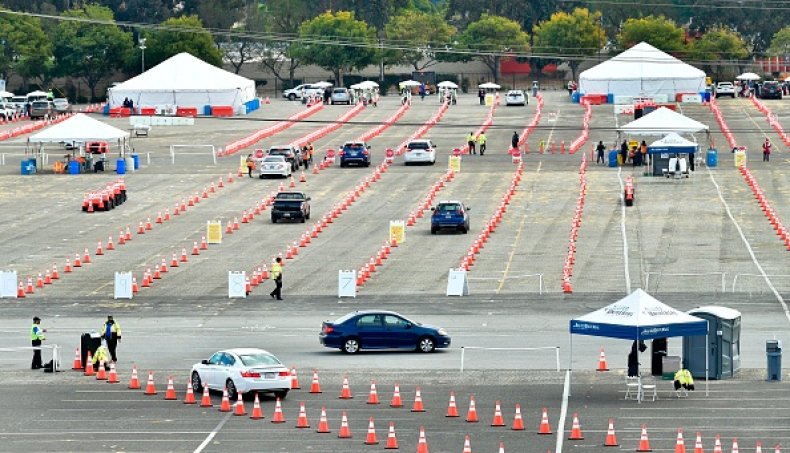 However, the surge in unaccompanied children has left Border Patrol scrambling to find enough resources to shelter these children.
In an attempt to find more space for these migrants, the Biden administration has been reaching out to communities across the nation to help alleviate overcrowded Border Patrol facilities.
"When the White House called me to see if Los Angeles County would be receptive to helping care for these young people, I did not hesitate," Solis said during a Friday press conference. "I knew this community would say unequivocally yes."
Long Beach and San Diego have offered their convention centers as temporary shelters, as well.
County officials told ABC7 that the Pomona Fairplex could become at least the third major facility of its kind in Southern California.
"In this exhibition hall and on this campus of Fairplex, there will soon be thousands of young people inhabiting this space," Solis announced at the site.
"These children are undertaking a dangerous and traumatic journey, all to get a chance at a new life," she added. "And that dream of a new life will start right here at Pomona Fairplex, where they will be welcomed."
Solis did not specify exactly how many children the site would hold or when the plan would start.
"It's not a detention facility. It's not cages. It's not a jail. It's certainly not a detention camp. Nothing could be further from the truth. And staying here at the Pomona Fairplex, as you know, is temporary. I want to underscore that," she said.
"The ultimate goal is to ensure these young people are transitioned out of the Fairplex and either reunited with their families here in the United States or with a loving sponsor, who can care for them and give them that family support that they deserve," she added.
Under law, Border Patrol must transfer unaccompanied children to Health and Human Services (HHS) within 72 hours. However, some have been held even longer due to HHS' lack of holding facilities.
Newsweek reached out to Solis' office for comment but did not hear back before publication.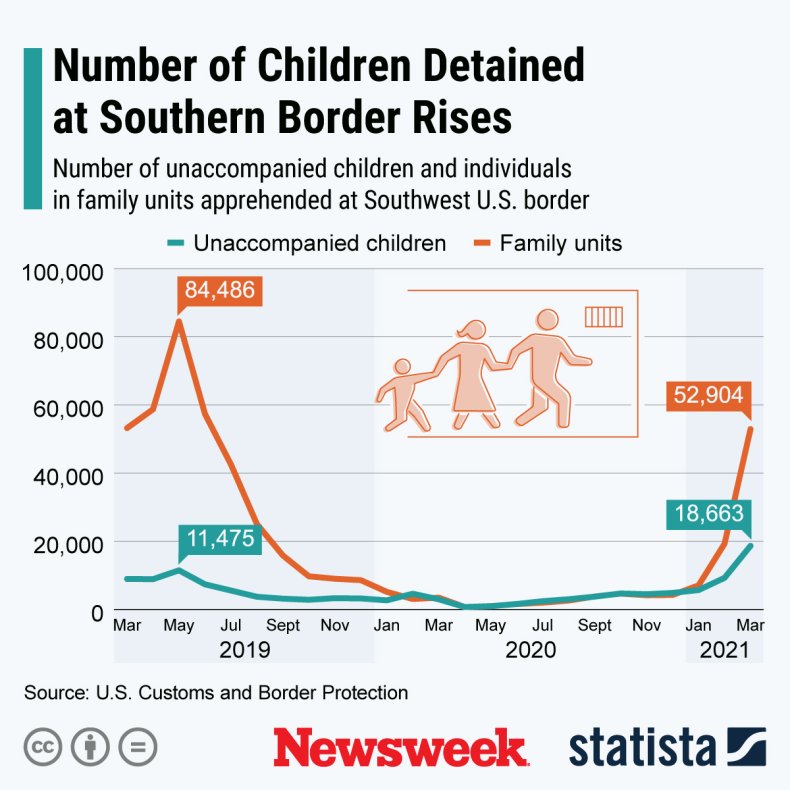 Statista: https://www.statista.com/chartoftheday/