California Fire Map, Active Fires Update as Kincade Fire, Maria Fire, Eagle Fire Fully Contained
Several fires have now been fully contained including the latest Eagle Fire, which broke on Tuesday, as well as the massive Kincade Fire, which has been burning since October 23.
But the risk of wildfires is expected to remain high for the rest of the year, according to the National Weather Service's (NWS) Wildland Fire Potential Outlook, which forecasts "above normal significant wildfire potential" for November and December in parts of Northern and Southern California.
The latest NWS fire weather forecast for Northwest California predicts a "dry air mass combined with east-northeast ridgetop winds gusting to 20 mph [miles per hour] may yield elevated fire weather conditions over the higher ridgetops over the next couple of nights and mornings, but will not be a major threat. Otherwise, no precipitation is expected during the next seven days," the NWS website states.
Meanwhile, in Southwest California "weak offshore flow [winds moving towards the sea] Thursday through Sunday will bring lower humidity to the valleys.
"A warming trend is expected Thursday through Saturday due to high pressure building aloft. Weak offshore flow on Friday and Saturday will bring locally gusty east to northeast winds 20 to 25 mph near the coastal slopes of the mountains and below passes and canyons.
"The combination of decreasing humidity and locally gusty east to northeast winds near the coastal mountain slopes on Friday and Saturday could bring elevated fire weather conditions for those areas," according to the NWS fire weather forecast for Southwest California posted on Wednesday.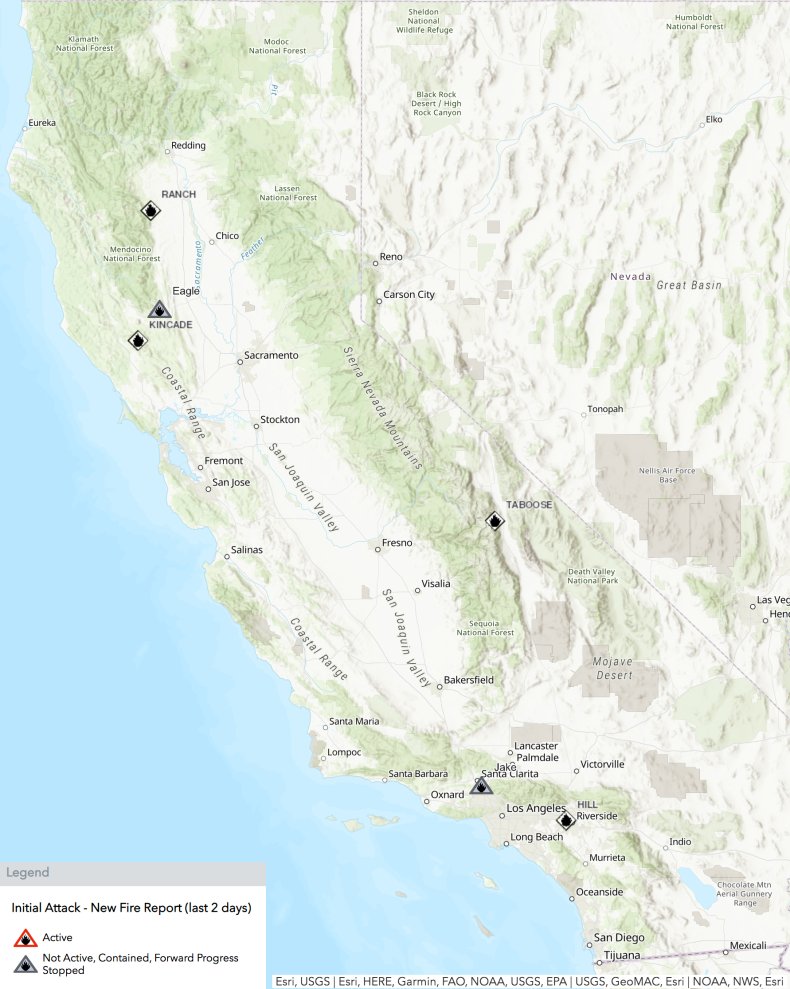 Ranch Fire
The raging Ranch Fire in Tehama County–which grew by nearly sevenfold in a day on Tuesday– is currently at 3,768 acres with 30 percent contained, according to a report by Cal Fire posted on 7 p.m. (local time) Wednesday on its official Twitter account.
"Today [Wednesday], diminished intensity of fire behavior, compared to the past few days, allowed firefighters to make good headway constructing containment lines. Difficult areas and steep terrain remain challenging. Crews will continue to mop up and construct containment lines," the report said.
There are no road closures but evacuations are in place on Colyear Springs Road from Red Bank Road to the Mendocino National Forest Boundary.
Kincade Fire
As of 7 p.m. (local time) Wednesday, the Kincade Fire has been fully contained at 77,758 acres, according to a report posted on the official Twitter account of the California Department of Forestry and Fire Protection (Cal Fire).
While all evacuations have been lifted, the Sonoma County Public Health Order is still in place, while the County of Sonoma is working on safe debris removal. Those affected are advised to call 211 for more information on the recovery process, the report said.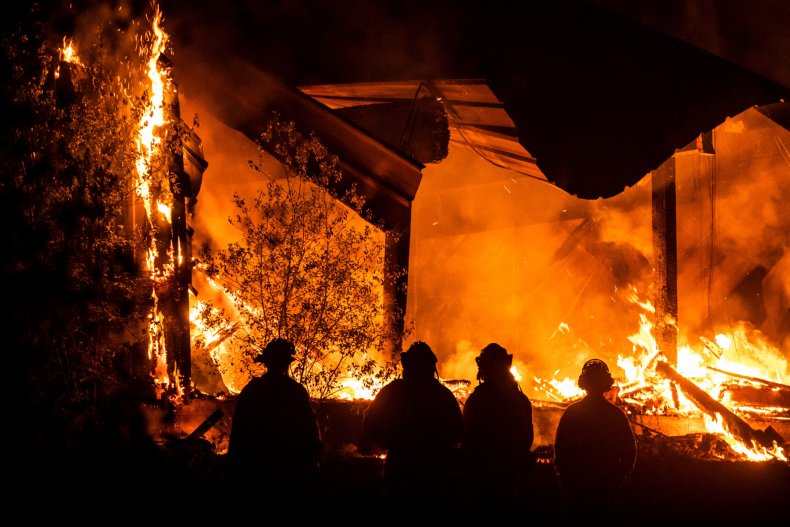 There are no longer any structures under threat and 374 structures were destroyed, 174 of which were residential. There were 4 injuries among first responders but no reported civilian injuries or fatalities.
Maria Fire
Cal Fire also reported the Maria Fire in Ventura County was full contained at 9,999 acres, according to a post on its official Twitter account.
"Compost like piles may continue to smoke for a few days. Fire crew are aware and are using hand tools, hoses and heavy equipment to fully extinguish these piles. These smoking piles are well with the Fire perimeter and are not a threat to the established control lines," the Ventura County Fire Department Public Information Office (VCFD PIO) said on its official Twitter account on Wednesday.
Eagle Fire
The Eagle Fire, which broke off Walker Ridge Road and Bartlett Springs Road in Lake County, was also reported to have been fully contained at 75 acres, according to a post on the official Cal Fire Twitter account on Wednesday.
There are currently seven large fires burning across California, 5 of which have yet to be contained, according to the latest data from the Active Fire Mapping Program of the U.S. Department of Agriculture (USDA) Forest Service.