California Fire Map, Update as Electra Blaze Spreads Through Amador County
Residents have been urged to evacuate their homes as a massive wildfire rages across almost 1,000 acres of land in California, wiping out power for more than 13,000 households and threatening to destroy 100 buildings in its path.
Dubbed the "Electra Fire," because it is burning along the terrain by Electra Road near Highway 49, the inferno has been growing across the arid land since July 4 with firefighters on the ground and plane tankers in the air trying to contain its "dangerous rate of spread." Firefighter podcast the Hotshot Wake Up tweeted incredible pictures and footage of the blaze and fire crews' efforts to get it under control.
Giant plumes of thick smoke were visible for miles across the greater Sacramento area as the land burned, with dry grass made brittle from the beating sun providing acres of fuel for it to consume.
A first responder was hospitalized with "minor to moderate injuries" after 104 fire crews were deployed to tackle the blaze, according to officials cited by local news channel KCRA.
The California Department of Forestry and Fire Protection (known as Cal Fire) said the wildfire broke out shortly before 3:45 p.m. local time on Monday and it has been growing exponentially ever since. Officials said the blaze measured around 300 acres at 6:30 p.m. but less than an hour later, at 7:20 p.m, it had more than tripled in size and now stretched across 959 acres. The cause of the fire is unknown but under investigation.
A spokesperson from Cal Fire said in an incident report that the flames are "burning at a dangerous rate of spread up the drainage moving in a southerly direction. Steep and rugged terrain is making access difficult by ground but firefighters are making access. Air resources are dropping retardant in efforts to slow the spread."
Newsweek has contacted Cal Fire for further information.
The Twitter account for the Fire Integrated Real-Time Intelligence System (FIRIS), a program intended to provide information for first responders, shared aerial shots online showing the size of the blaze and the thick column of smoke rising into the air. The organization also provided a detailed map of the blaze's perimeter.
Meteorologist Mark Finan warned there is a lot of dry fuel in the area, but he told KCRA that wind has not been a factor so is not fanning the flames and driving the spread.
As Independence Day drew to close, about 13,100 Pacific Gas and Electric Company (PG&E) customers in Jackson and parts of Amador County had lost power, KCRA reported.
After the fire broke out in the late afternoon, around 100 people who had been at the river at Box Beach were moved to a PG&E station amid fears for their safety and the group remained stuck there for several hours, according to KCRA, citing the Amador County Sheriff's Office. They were later safely evacuated. Resident Josh Newlun, who was evacuated from his home, said he had faith that his home would be spared, adding: "At first it's a little scary, but firefighters seem like they're doing pretty good on it."
Officials have urged residents in some areas to voluntarily leave their homes while others have been told the orders were mandatory over fears the fire could prove life-threatening.
KCRA said 100 structures are thought to be at risk.The Jackson Fire Department listed the following areas as being under mandatory evacuation orders: a two-mile radius around Lake Tabeaud, Ponderosa Way and the Butte Mountain Road area, including all roads south of Butt Mountain Road from South Clinton Road to Amador Lane. While Cal Fire said evacuations are ordered north of Highway 26 from Montgomery Drive to Lower Dorray Road.
And Calaveras County's Office of Emergency Services said the order is in effect for Evacuation Zones 103, 104, 358, 352, 350, 340, and 341, with residents advised to check their local government websites to find out if they live within an evacuation zone and find further up-to-date information.
The Red Cross said evacuated residents can seek shelter at the San Andreas Town Hall at 24 Church Hill Road. Shelter is also available at the Italian Picnic Grounds at 581 Highway 49 in Sutter Creek. Residents with large or small animals were advised to bring them to the Amador County Fairgrounds to keep them safe.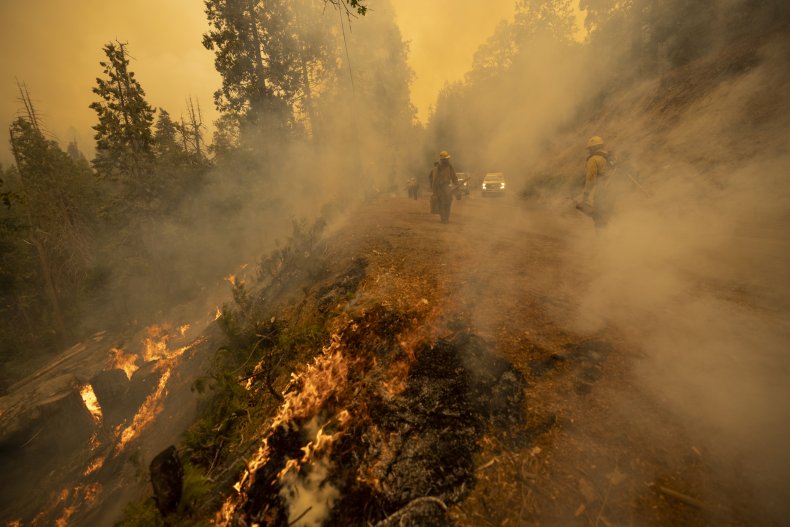 News of the latest Californian wildfire comes just two months after more than a dozen homes in a wealthy community near the coastline went up in flames after a brush fire grew out of control amid strong winds. Houses in the city of Laguna Niguel, in Southern California, became engulfed by a blaze in May.
Experts warned much of the U.S. has become a "tinderbox" with drought and climate change blamed for making wildfires, both more likely to occur and more likely to be serious when they do. Mingfang Ting, a Lamont research professor and associate director for Ocean and Climate Physics at Columbia University, told Newsweek: "With almost the entire state of California, and the majority of the southwest U.S. for that matter, in severe drought conditions or worse, the condition is certainly ripe for a bad wildfire season."
Discussing a fire in Laguna Beach, California, in February, Orange County Fire Authority Chief Brian Fennessy lamented: "We used to talk about fire seasons, we now call them fire years."