U.S. A Giant Tinderbox as Megadrought and Wildfires Combine
Texas, California, and several other U.S. states are currently experiencing extreme droughts due to climate change, which could mean that wildfires are no longer restricted to the summer months.
Temperatures have soared to record levels, with 12 states hitting 100 F this week. In February this year, researchers declared that the western U.S. was drier than it had been for over a thousand years.
According to Mingfang Ting, a Lamont research professor and associate director for Ocean and Climate Physics at Columbia University, the ongoing drought in western states is directly related to the La Niña condition that emerged in August 2020, causing low rainfall two winters in a row.
"With almost the entire state of California, and the majority of the southwest U.S. for that matter, in severe drought conditions or worse, the condition is certainly ripe for a bad wildfire season," he told Newsweek.
Drought is a large contributing factor to wildfires: as grasses, trees and other vegetation dry out, they become more flammable, increasing both the probability of ignition and the rate at which a fire spreads.
"Climate change has made wildfires worse," Matthew Casale, environment campaigns director for Public Interest Research Group (a non-profit organization that advocates for the interest of the public), told Newsweek. "There have always been wildfires, but it's hard to deny that things are different now. The number of annual large fires in the West has tripled. Five of California's ten largest wildfires on record occurred in 2020, as the state set a new record for acres burned."
"In many parts of the country, wildfire season is now virtually year round. Until we adopt robust policies to reduce emissions and address global warming, climate change will keep exacerbating our wildfire problem."
Wildfires used to mostly occur within a four-month period, and tended to affect the western U.S. worst. In the last three years, Alaska, California, Oregon, Texas, and Utah are the top six states with the most acres burned by wildfires, and wildfire season is now beginning to last between six and eight months.
This month, Texas Governor Greg Abbott declared a disaster proclamation regarding wildfires in counties across the state. In Texas, an estimated 19,639,828 people currently reside in drought areas.
As Luke Metzger, the executive director for Environment Texas, tells Newsweek, meteorologists have warned that 2022 may be similar to 2011 for drought—Texas' worst drought and worst wildfire season ever.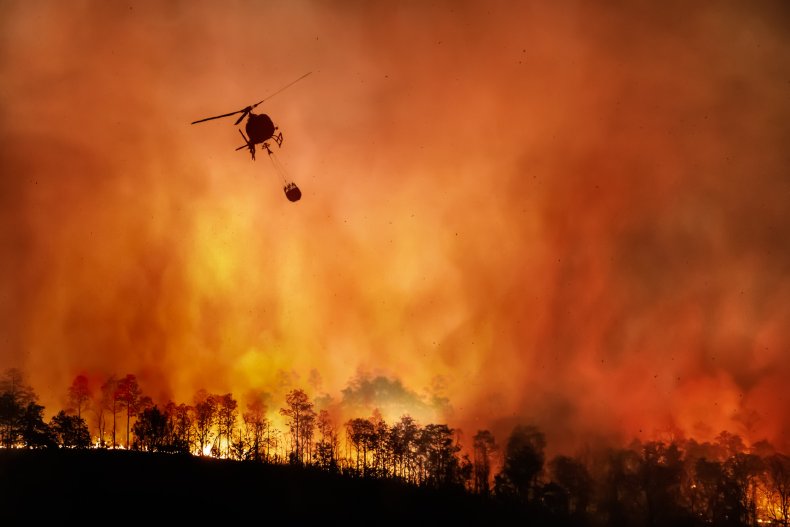 "Texas faces the worst overall wildfire threat in the nation and by 2050, the average number of days with high wildfire potential is projected to double from 40 to nearly 80 days a year, he says.
"Irresponsibly, Texas hasn't conducted a state-wide climate change vulnerability assessment or prepared an adaptation plan."
Newsweek has contacted the Abbott office for comment.
Human interference with wildfires has made the problem even worse, said Benjamin Cook, a climate scientist at the NASA Goddard Institute for Space Studies.
"The last 100 years of fire suppression has allowed for a large build up of fuels (vegetation) on the landscape. Finally human ignitions—intentional or accidental—have made it possible for fires to potentially start at almost any time of year. Prior to people, the only real natural ignition source was lightning, which is associated with convective storms that only really happen during the summer," he tells Newsweek.
Both drought and resultant wildfire are only going to be exacerbated by climate change, as global warming causes soil to get even drier. A Climate Science Special Report by the U.S. Global Change Research Program predicted that the southwestern U.S. "may experience chronic future precipitation deficits, particularly in the spring." Very large wildfires (greater than 50,000 acres) are also expected to increase in frequency.
Without somehow reversing climate change, dealing with these increased wildfires is going to be complicated, says Lisa Dale, a climate, Earth and society lecturer, at Columbia Climate School.
"Wildfire management is complicated by land ownership patterns including federally managed public land, private property, and state land," she tells Newsweek.
"Those patterns make landscape-scale wildfire risk reduction activities more difficult. But it is important to remember that many forest types rely on fire to maintain ecosystem health, so we never talk about 'preventing' fire; instead, we should look at the goal as reducing risk from unwanted fires."