Heat Dome: What Is Weather Phenomenon Impacting U.S.?
An extreme heatwave has gripped parts of the U.S. in recent weeks.
Almost 35 million people will be affected by sweltering temperatures across the country, and heat advisories have been issued for many areas, CNN reported.
The National Weather Service has also warned of high temperatures in nearly every part of the country.
At the moment, the only states not expected to see searing temperatures are areas in Colorado, Montana, New Mexico, and North Dakota.
Parts of California, Texas and Georgia are even expected to reach triple digits in the coming days.
The heat gripping the country has already wreaked havoc in southwest Kansas, where temperatures reached 108 degrees Fahrenheit in past weeks. Thousands of cows died as cattle struggled to acclimatize to the sudden change in temperatures.
Meteorologists have said that these persistent temperatures are caused by a record-breaking heat dome that will linger over states for weeks.
So what is a heat dome and what is causing it?
What Is a Heat Dome?
A so-called heat dome can occur when "a persistent region of high pressure traps heat over an area," according to William Gallus, professor of atmospheric science at Iowa State University.
Gallus, in an article on The Conversation, said the dome can then expand over multiple states, and stay there for weeks.
This will cause hot air that remains trapped over an area, creating the persisting heatwave. And as it lingers, effects will only worsen, leading to incidents such as that seen in Kansas.
Heat domes are usually caused by jet streams—a band of fast flowing air currents that encircle the earth, running west to east.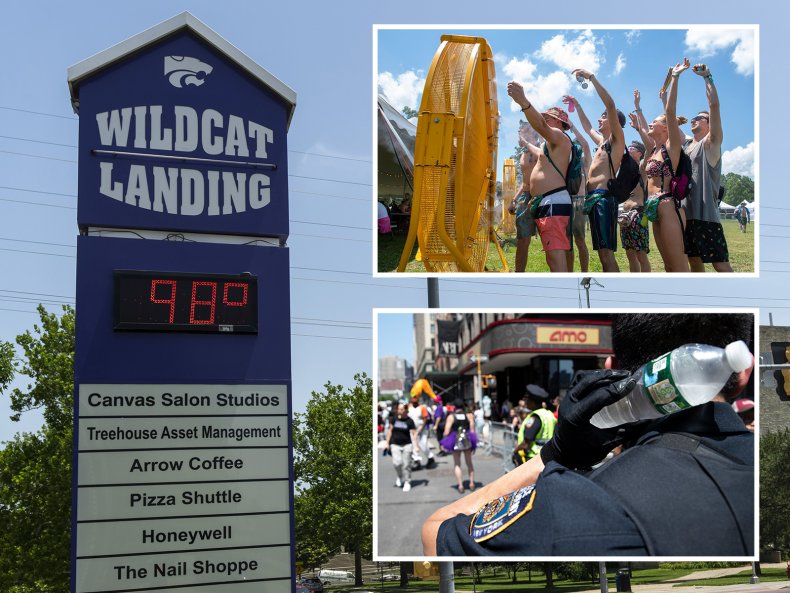 Jet streams will usually move in a "wavelike pattern, meandering north and then south and then north again," Gallus said.
"When these meanders in the jet stream become bigger, they move slower and can become stationary. That's when heat domes can occur," Gallus said.
Occasionally, if a jet stream moves to the north, the air warms up as it sinks to the ground. This in turn will create even hotter temperatures.
It is not the first time a heat dome has stationed itself over the U.S. In 2021, air lingering on the ground passed over mountains and sunk, causing even hotter temperatures. This caused record temperatures in the Pacific Northwest.
Portland broke its all-time heat record at the time, reaching 108 degrees Fahrenheit. The temperature at Seattle-Tacoma International Airport reached 102 degrees Fahrenheit on Saturday, making it the city's second hottest day on record.
Gallus said that this current heat dome has "crept eastward over time."
Usually, the heat dome will pass through over several days. On rare occasions, however, they can persist for longer.
The most intense example of this was seen in June 1980, when a heat wave spread across the central and eastern U.S. According to the Homeland Security Digital Library, up to 10,000 people died.