A TikTok star has been accused of setting fire to a nature reserve that is home to nesting migratory birds for views and shares on social media.
Influencer Nosheen Syed, also known as Dolly, has received backlash on social media after posting a video of her posing in front of a forest fire in The Margalla Hills— a hill range in Pakistan.
The video, which has since been removed because, was in partnership with a fashion brand, Bling, the Express Tribune reported. The TikToker has over 11 million followers on the platform.
Following the incident, the influencer had a police complaint filed against her, under wildlife and environment protection laws, the Express Tribune reported.
The Margalla Hills Range is home to about 218 species of birds. According to a report from Pakistani news outlet The News, of these species 82 are residents and live there all year round, 32 only migrate here during the summer and 73 only migrate there during the winter.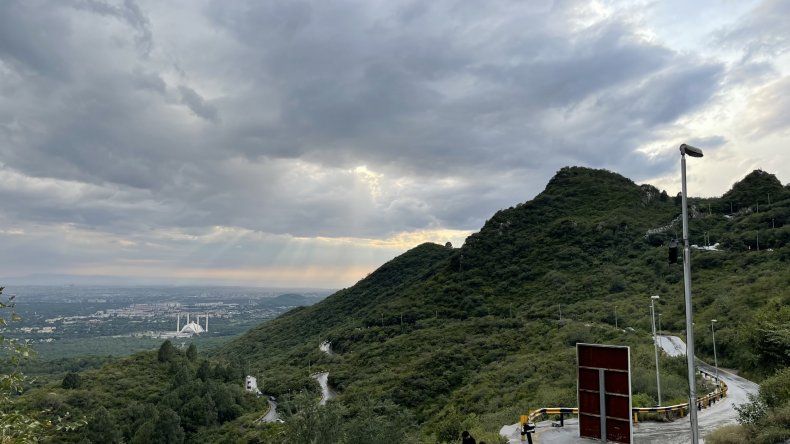 Chair of the Islamabad Wildlife Management Board, Rina S Khan Satti, expressed outrage at the incident on her Twitter account.
"Those who set fire to forests don't realise damage they do to wildlife! It is breeding season for birds in Margallahs right now & their ground nests destroyed by fire, can't even escape," she wrote.
Alongside the tweet, she posted a video of baby birds rescued from forest fires.
Dolly is not the only influencer who has been accused of the trend recently. A man in Abbottbad city was arrested earlier in May for using another forest fire to create an eye catching video, Vice reported.
Khan Satti said the trend was "disturbing and disastrous."
"Young people desperate 4 followers are setting fire to our forests during this hot & dry season! In Australia it is lifetime imprisonment for those who start wildfires. We need to introduce similar legislation," she said.
Dolly has since responded to the outrage on her social media accounts. The influencer has claimed in a statement that she did not deliberately set the fire, but found and took one that was already raging.
She also said that the location in the video was not near the Margalla Hills, but an area close to a motorway, gesturing to a nearby billboard sign.
Newsweek has approached her for a comment.
The video has caused a stir on social media platforms including Reddit.
On a Reddit thread, social media users questioned why CGI wasn't used to create the same effect.
Other users were skeptical as to whether she had comes across the fire by chance.
"She just happened to be next to the fire taking photos fully dressed up? i think most people would help trying to put it out or call the firemen, not take photos. 100% she lit it herself," Thembosses1232 wrote in a comment.
KidCaker said: "It's impossible for people to be near any forest fire by coincidence. Anytime anyone is near a forest fire, there's a 100% chance they deliberately started it."
Correction 05/18/2022 6.18 a.m. ET: The headline of this article has been updated to say Nosheen Syed has been accused of setting the fire.