Texas AG Creates Holiday in Celebration of Overturning Roe v. Wade
One high-ranking government official in Texas has created a holiday to recognize the U.S. Supreme Court's decision to overturn nationwide abortion access.
After the court issued its 6-3 ruling in Dobbs v. Jackson Women's Health Organization Friday morning, reversing the decision on abortion in the landmark 1973 Roe v. Wade case, many conservatives celebrated. Texas Attorney General Ken Paxton took the celebration one step further.
Paxton announced in a news release that he was closing his office's doors statewide for the day at noon on Friday, creating a holiday in "honor of the nearly 70 million unborn babies killed in the womb since 1973."
"June 24th will be an annual Office of the Attorney General holiday in recognition of this momentous decision—and the many lives lost before it," the release said.
Paxton, in the release, said that Roe v. Wade had "absolutely no basis in the U.S. Constitution."
Following the ruling from the Supreme Court, the abortion issue returns to the states. Some, including Texas, had trigger laws on the controversial procedure that will now go into effect, according to the Austin American-Statesman.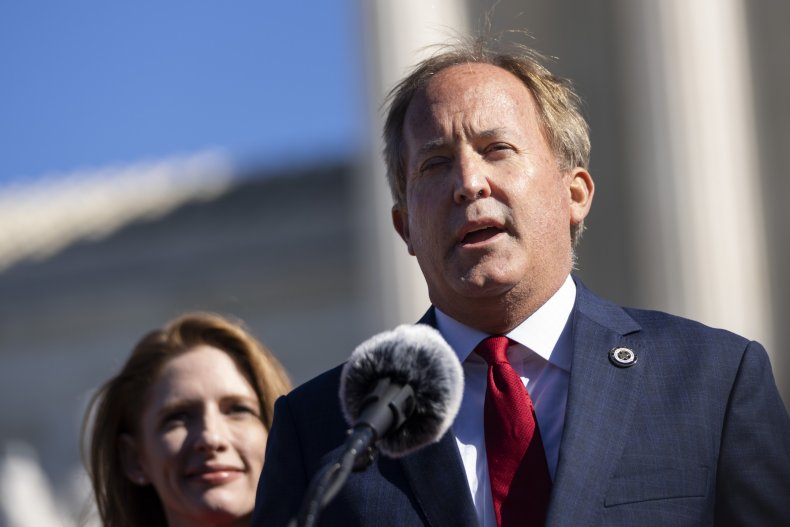 "Today, the question of abortion returns to the states," Paxton said. "And in Texas, that question has already been answered: Abortion is illegal here. I look forward to defending the pro-life laws of Texas and the lives of all unborn children moving forward."
Rochelle Garza, the Democrat running against Paxton for attorney general in November, had a much different take on the situation. She criticized Paxton for his decision to close his offices and to make June 24 a holiday.
"Ken Paxton celebrates while millions of women across the country are losing their constitutional right to an abortion. Shameful," she wrote on Twitter.
In a follow-up tweet, Garza accused Paxton of "cheering" and pushed for action.
"We should be angry! Our rights are being stripped away and Texas' Attorney General is cheering it on. I say hell no! It's time to hit the streets, organize, and get ready to vote these anti-Roe Republicans OUT!" Garza posted.
As Paxton mentioned, the state's trigger law effectively bans all abortions in Texas.
Other states with similar such laws include Arkansas, Idaho, Kentucky, Louisiana, Mississippi, North Dakota, Oklahoma, South Dakota, Tennessee, Texas, Utah and Wyoming.
Indiana could soon join that list of states with strong anti-abortion laws.
After the ruling from the court, the Indiana Republican Governor Eric Holcomb announced on Twitter that he expects lawmakers in Indiana's Republican-controlled Legislature to take up the issue of abortion during a special July 6 session.
Update 6/24/22, 4:15 p.m. ET: This story was updated with additional information.