Texas Republicans Aim to Make Abortion 'Unthinkable' in State
With the Supreme Court of the United States (SCOTUS) poised to overturn Roe v. Wade, conservative Texas lawmakers have said that they aim to make abortion "unthinkable" in the Lone Star State.
Texas law contains something known as a "trigger law," according to the Texas Tribune, which would automatically make performing an abortion a felony in the state 30 days after a SCOTUS decision overturning Roe v. Wade. Should this happen later in the year, Republican state lawmakers have said that their next orders of business would be to prevent people from traveling to get abortions, expand social safety nets for mothers, and invest more in services like adoption and foster care.
"It only makes sense," Representative Steve Toth told the Tribune. "The dog's caught the car now."
Another Republican belonging to the far-right Freedom Caucus, Representative Briscoe Cain, stressed the need to prevent Texans from leaving the state to get abortions.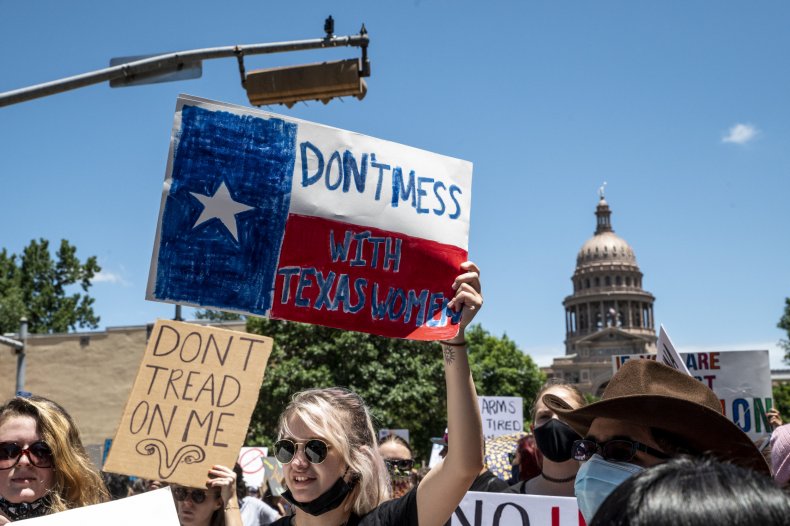 "I think I can speak for myself and other colleagues that align with my policy beliefs — we'll continue to do our best to make abortion not just outlawed, but unthinkable," Briscoe said.
Briscoe also said that he is interested in stricter enforcement against funds that aim to help women with the costs of out-of-state travel to get abortions. He specifically cited to the Tribune a law that concerns "furnishing the means for procuring an abortion." The possibility of prohibiting people from getting abortions where they are still legal, however, is viewed by many pundits as an uncharted legal avenue going forward.
"Helping people go get abortions is going to be one of these difficult questions that's going to arise in a post-Roe world if a legislature tries to criminalize the ability of a pregnant person to get an abortion someplace where it's legal," South Texas College of Law Professor Charles Rhodes told the Tribune.
Numerous companies have also pledged to help cover the costs for employees who might need to travel out of state for an abortion, including Amazon, Yelp, Lyft, Uber, and CitiGroup, according to CNN. Yelp currently has around 200 employees in Texas, while CitiGroup has around 8,500, according to The New York Times. Amazon reported having around 70,000 employees in Texas in August 2021, according to the Dallas Morning News.
The leaked SCOTUS draft opinion, written by Justice Samuel Alito, came in response to a case challenging a law in Mississippi that made most abortions illegal after 15 weeks, according to The New York Times. That limit is roughly two months less than the time frame guaranteed by Roe v. Wade, setting up a major challenge to the nearly 50-year-old SCOTUS decision.
In response to the potential end of Roe, some Texas Democrats, who make up a minority in the state legislature, called the situation bleak and called for the codification of abortion protections at the federal level by Congress.
"This will only power our fight to codify the right to abortion at the federal level," Hannah Roe Beck, co-executive director for the Texas Democratic Party, said in a statement. "It's more important than ever that we elect leaders who are ready to put everything on the line to get this through Congress. We cannot tolerate anything less."
Newsweek reached out to the Texas Democratic Party for comment.
Texas lawmakers were widely criticized last year for enacting a slate of abortion restrictions considered to be draconian by critics. Among their various effects, the laws banned abortions after around six weeks of pregnancy, which many women said was earlier than most people can even tell that they are pregnant, and empowered citizens to report anyone they suspected of having an abortion or of helping someone obtain one.