The Supreme Court is prepared to overturn Roe v. Wade, Politico reported Monday, citing a first draft majority opinion written by Justice Samuel Alito and obtained by the news organization.
The draft shows enough support to suggest the court could strike down the landmark decision on abortion rights that has stood for 50 years.
"We hold that Roe and Casey must be overruled," Alito wrote, according to Politico. "It is time to heed the Constitution and return the issue of abortion to the people's elected representatives."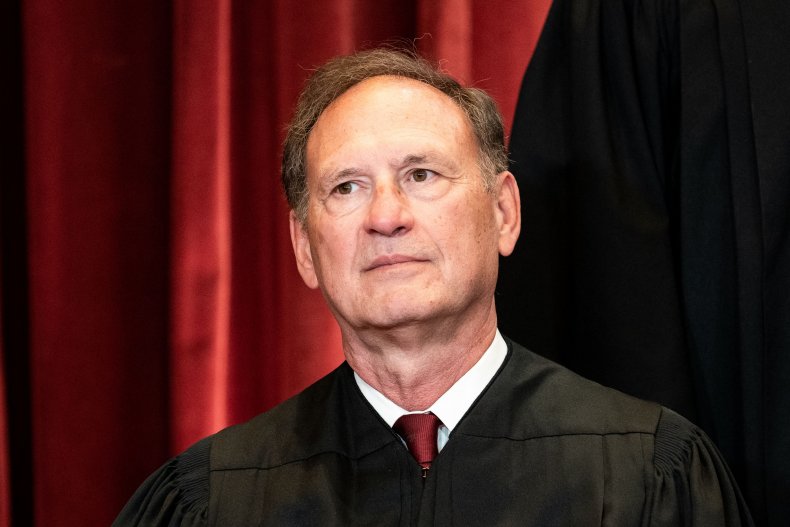 The 98-page document is not the final say, and its release during a pending case, a legal challenge in Mississippi, was a first in the high court's modern history, Politico said.
The court's decision is not expected for a few months.
As outlined in Alito's draft, the decision would overturn Roe, the 1973 ruling protecting the rights of women to seek an abortion "without undue restrictive interference from the government," guaranteed under the Fourteenth Amendment. Planned Parenthood v. Casey from 1992, which mostly protected those same rights, would also be repealed.
"We hold that Roe and Casey must be overruled," Alito wrote. "The Constitution makes no reference to abortion, and no such right is implicitly protected by any constitutional provision, including the one on which the defenders of Roe and Casey now chiefly rely—the Due Process Clause of the Fourteenth Amendment. That provision has been held to guarantee some rights that are not mentioned in the Constitution, but any such right must be 'deeply rooted in this Nation's history and tradition' and 'implicit in the concept of ordered liberty,'" Alito wrote. "The right to abortion does not fall within this category."
The decision should be returned to the people and elected representatives, he said.
"We end this opinion where we began. Abortion presents a profound moral question. The Constitution does not prohibit the citizens of each State from regulating or prohibiting abortion. Roe and Casey arrogated that authority. We now overrule those decisions and return that authority to the people and their elected representatives," Alito wrote. "The judgment of the Fifth Circuit is reversed, and the case is remanded for further proceedings consistent with this opinion."
According to an unnamed source in the Politico report, "a person familiar with the court's deliberations" said Justices Clarence Thomas, Neil Gorsuch, Brett Kavanaugh and Amy Coney Barrett side with Alito. Stephen Breyer, Sonia Sotomayor and Elena Kagan are not in favor of overturning the decision, while Chief Justice John Roberts' decision is unknown.
Alito addressed the significance of overruling a precedent.
"No Justice of this Court has ever argued that the Court should never overrule a constitutional decision, but overruling a precedent is a serious matter. It is not a step that should be taken lightly. Our cases have attempted to provide a framework for deciding when a precedent should be overruled, and they have identified factors that should be considered in making such a decision," Alito wrote. "In this case, five factors weigh strongly in favor of overruling Roe and Casey: the nature of their error, the quality of their reasoning, the "workability" of the rules they imposed on the country, their disruptive effect on other areas of the law, and the absence of concrete reliance."
According to Alito, the legal principle "on which Casey's controlling opinion was based, does not compel unending adherence to Roe's abuse of judicial authority."
"Roe was egregiously wrong from the start. Its reasoning was exceptionally weak, and the decision has had damaging consequences. And far from bringing about a national settlement of the abortion issue, Roe and Casey have enflamed debate and deepened division. It is time to heed the Constitution and return the issue of abortion to the people's elected representatives," he wrote.
If overturned, states could decide their abortion laws, paving the way for states such as Texas and Mississippi to ban or narrowly restrict abortions.
"We do not pretend to know how our political system or society will respond to today's decision overruling Roe and Casey. And even if we could foresee what will happen, we would have no authority to let that knowledge influence our decision. We can only do our job, which is to interpret the law, apply longstanding principles of stare decisis, and decide this case accordingly. We therefore hold that the Constitution does not confer a right to abortion. Roe and Casey must be overruled, and the authority to regulate abortion must be returned to the people and their elected representatives."
Patricia McCabe, the court's public information officer, declined comment to Newsweek late Monday.
Update 5/2/22, 11:33 p.m. ET: This story has been updated with additional information and background.